Every Janmashtami, my mom's daily schedule goes for a toss or may I say she develops superhuman ability to stay awake longer hours because whatever may happen getting up at twilight is compulsory according to her inner alarm.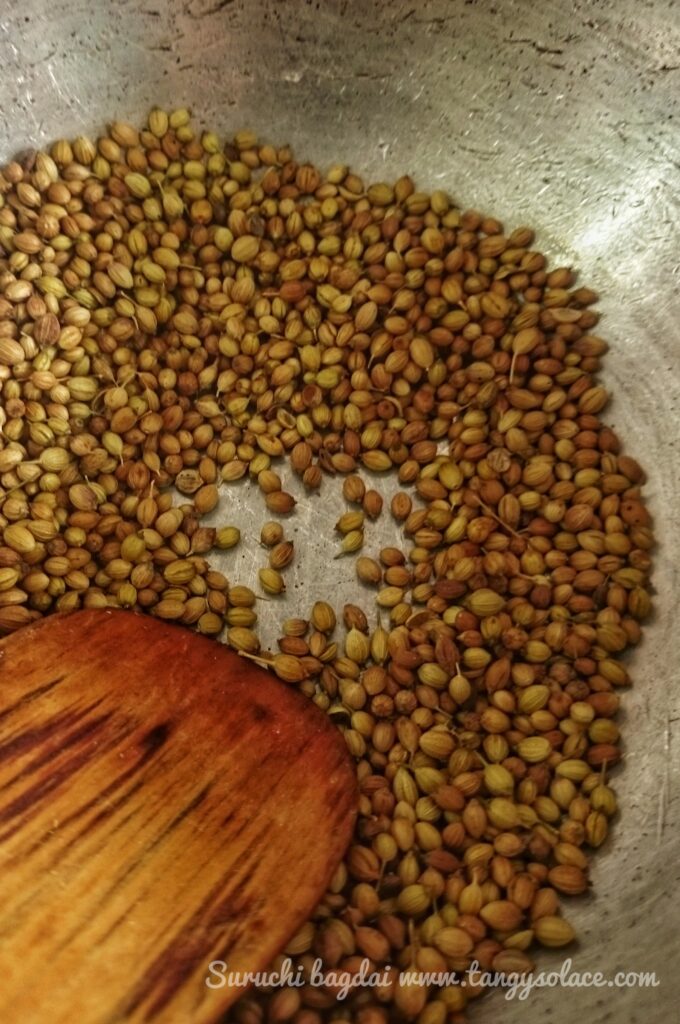 Don't worry no issues for us. We, like all other millennial find our solace in being night owls maybe we learnt the rules of surviving and thriving years ago. Or was it quarter life crisis? Discussion for some other day I suppose.
We all love wishing birthdays at twelve and are always anticipating calls from near and dear ones. And Krishna being born at midnight, is expecting a different level of gala time I feel. Getting dressed, decorating the temple-as simple as we can keep it, making garlands, preparing sweets and offering, organizing all the play toys, making a swing seat, singing aartis, and taking turns to ordain the lord we all spend our time wishing Krishna a happy birthday.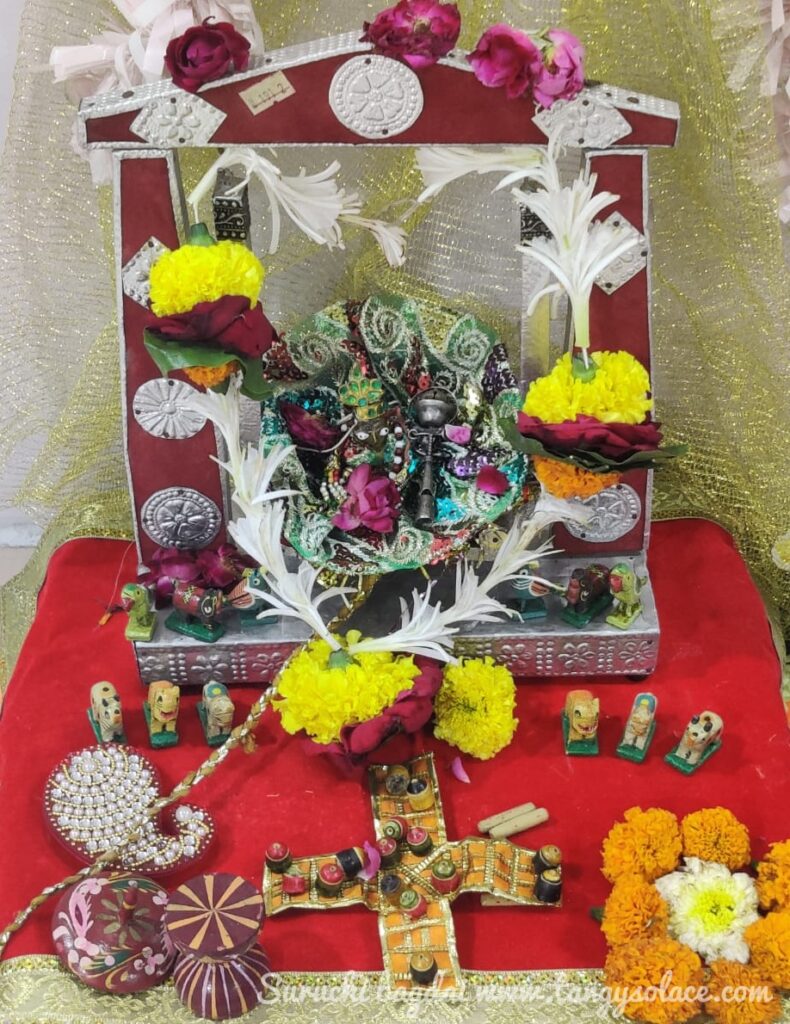 It is during these times we are glad my cousins live as my neighbor. After all what else does a Gujarati want on occasions like these, festivities turning to bigger festivities as we all get together and every little space is turned into a circle of, we are feeling high literally accompanied by claps and garba steps only these time not appeasing Mataji but very well singing praises for lord Krishna. To be more specific chanting Nand ghera Nand bhayo- those who don't know google it.
Taking turns in visiting each other's houses every year, although this year couldn't be the same due to social distancing but nonetheless, we sang bhajans and ate our prasad and maintained the ritual of sharing pictures via Whats App.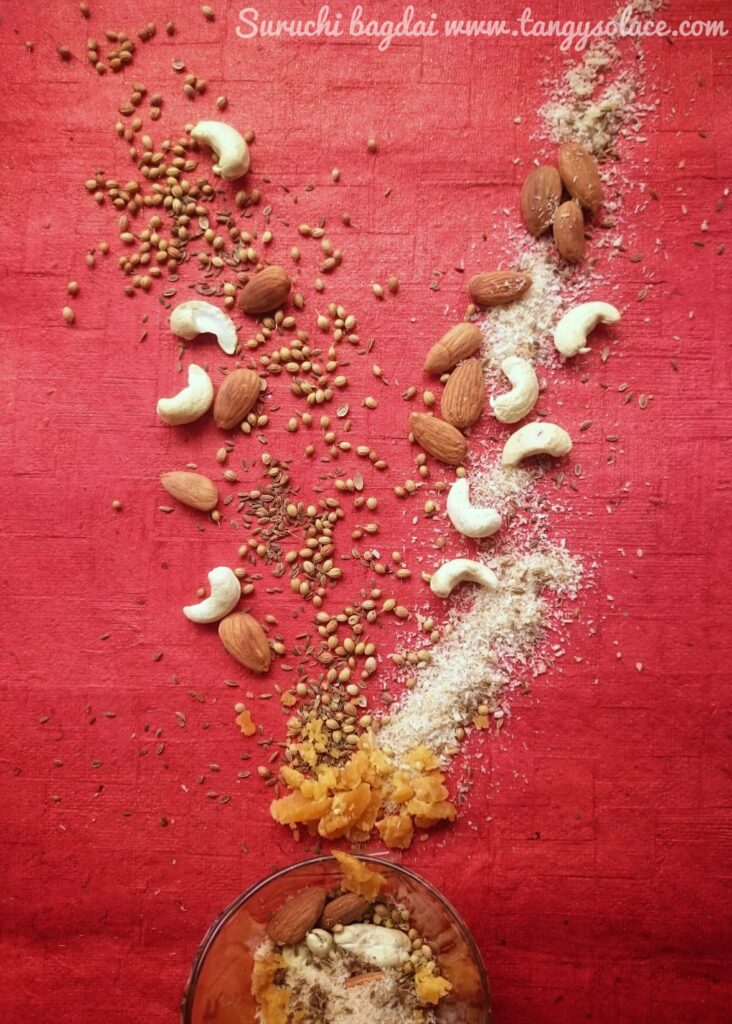 Panjeeri and panch-amrit are my personal favourites. Panjeeri is a prasad made for Janmashtami and is a great post-par-tum food. Due to the presence of nuts, jaggery, ghee, gond (edible gum) and all warming spices it's a energy giving food and is usually consumed during winters to warm the body and store year long energy in the body.
And truth be told have researched more about Panjeeri and although there are variations available on the internet with wheat flour and lotus seeds and amaranth etc I have never had those. As long as the meaning of the recipe stays same, I feel all variations are beautiful.(Roasting warm energy giving ingredients and mixing with sweetener to be offered as prasad)
My love and the memories will all be surrounded with this particular recipe that revolves around using crushed coriander seeds and which I have eaten as prasad not only at my own home but relatives house and local Gujarati mandirs as well. Maybe it is a community recipe or maybe I am misinformed, So please share your personal recipes, post anecdotes surrounding it and lets enlighten each other.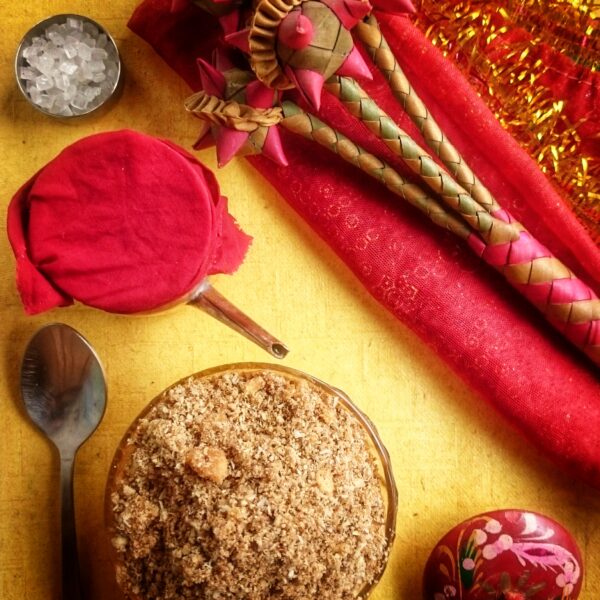 Dhaniya panjeeri ( Coriander nutritional mix-Janmashtami dessert)
Ingredients
1/2

cup

Coriander seeds

roasted

1/2

cup

Dry coconut

grated and roasted

1/2

cup

Dry fruits (cashew and almond)

roasted

1/4

cup

Dill seeds

roasted

1/4

cup

Edible gum

roasted

3

tbsp

ghee

1/2

cup

jaggery

grated

1

tbsp

Tea spice mix
Instructions
Clean all the ingredients.

Dry roast the following ingredients separetely.1. Dill seeds 2. Coriander seeds. 3. Cashew nuts .4. Almonds. 5. Coconut. Finally grind gond (edible gum) but don't mix.

Individually grind the above ingredients in the given sequence and mix them together. (except gond)

Heat the required amount of ghee and saute the edible gum until it swells and forms mini granules. Lightly crush in pan itself turn off the heat and remove from flame. Add to the mix and blend once cool.

Finally add the grated or crushed jaggery adjusted according to taste. Mix. well and serve.