Come summers and…
Let the clock strike four and we would be waiting for the ding-dong of the bells of our kulfi wala as he crossed the streets, he had a distinct tune to lure us all in. Our local matka kulfi vendor would daily ask us what would we like to have even though he had only one flavour and three options the one worth 2rs, 3 rs, and 5 rs.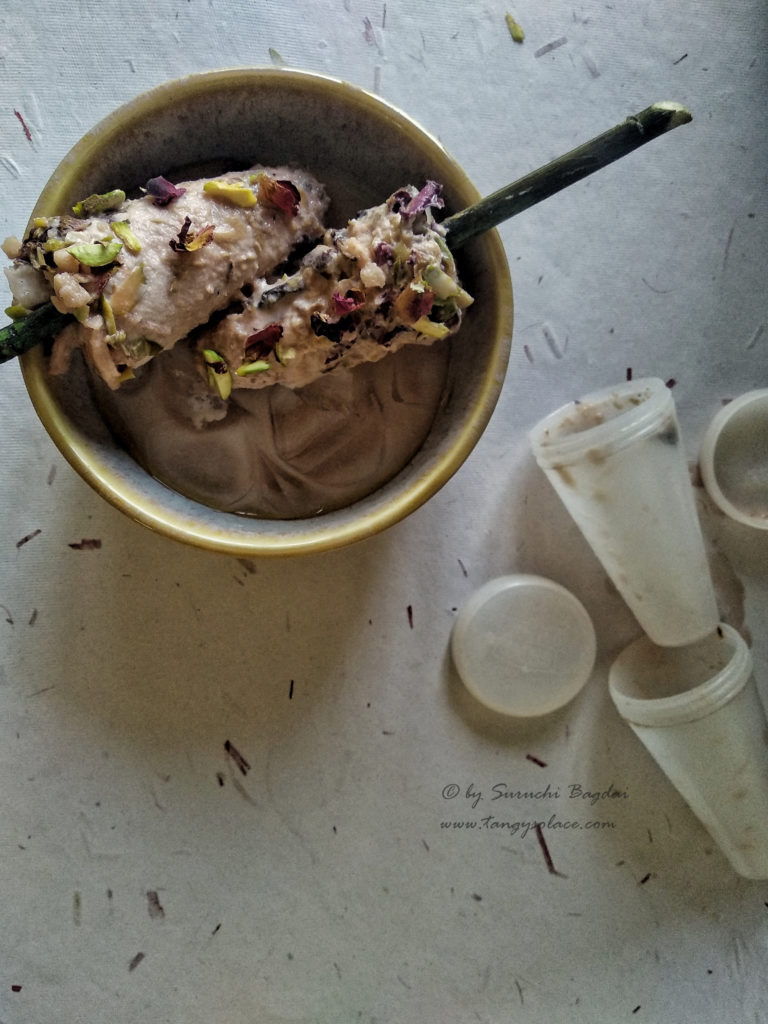 Even though we all eyed the 5 rs kulfi we all knew we aren't going to get that and would settle for the oval 2 rs worth kulfi never to be disheartened though. Because a simple trick of asking your nani instead of maa would usually end us in getting one more to enjoy.
We would enjoy the creamy no churn earthern pot icecream which he would remove from an aluminium mould after rubbing it between his palms to warm and loosen it up and chimimg his bell at regular intervals to entice more children.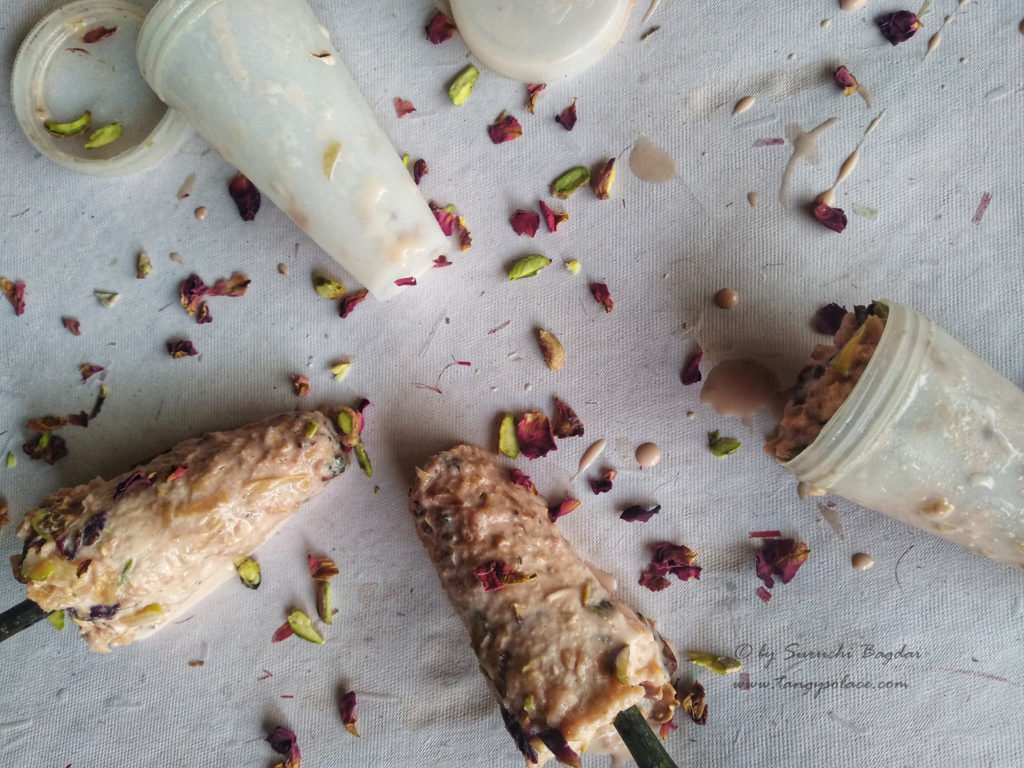 I still remember how we all cousins met a few years back in our nanis house and were reliving our childhood. And boy! How did we relive? We each gobbled down 6-7 of the kulfis and shamelessly went to our mama to ask for a 100 rs note which he happily gave us expecting at-least half of the money to come back … well he should have known us better 😛
But that is all summers right and they dont start a little late after childrens final exams in an around April in the northern hemisphere. But lets celebrate a little early, shall we? In the fond remembrance of the nostalgic trip we are currently embarking on .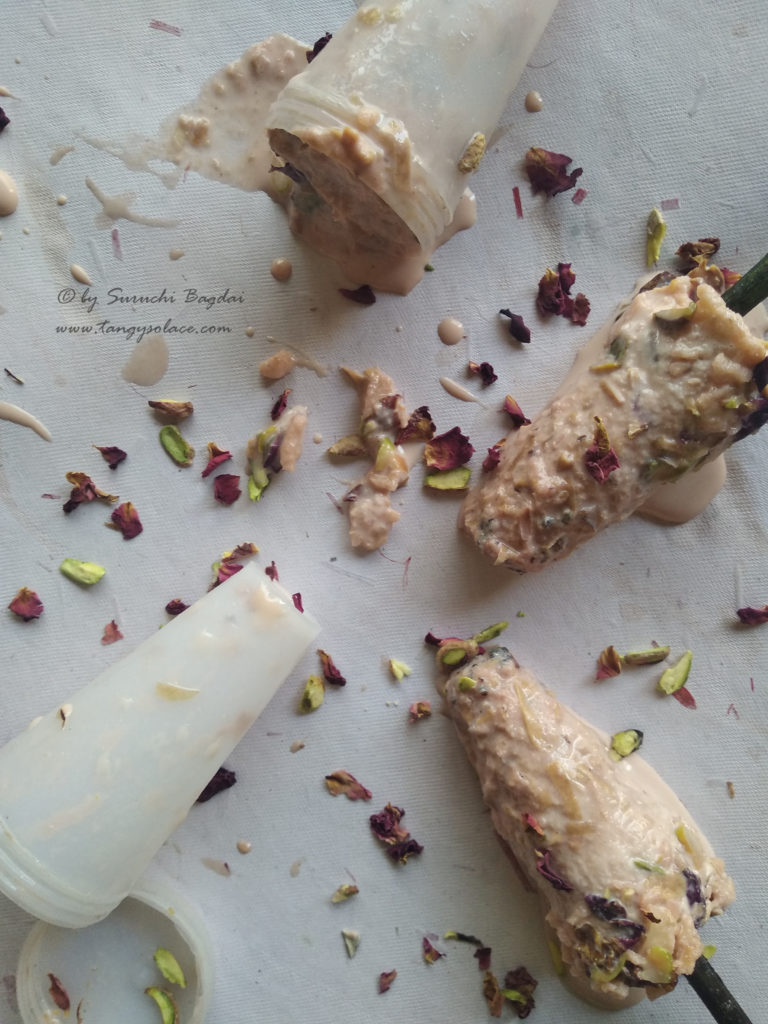 But why today ?
Well it has nothing to do with the day but the month.
Isn't the entire february month beautiful owing not only to the valentines week or for that matter my birthday, but also the fact that we are nearing the onset of vasant ritu and we would be soon finding some happy flowers blooming by and who can forget the roses. Doesn't the valentine week include a rose day to?
So in order to celebrate this time of love and flowers and gifts in form of desserts what better than making a rose kulfi so that I could relive my fond remembrance.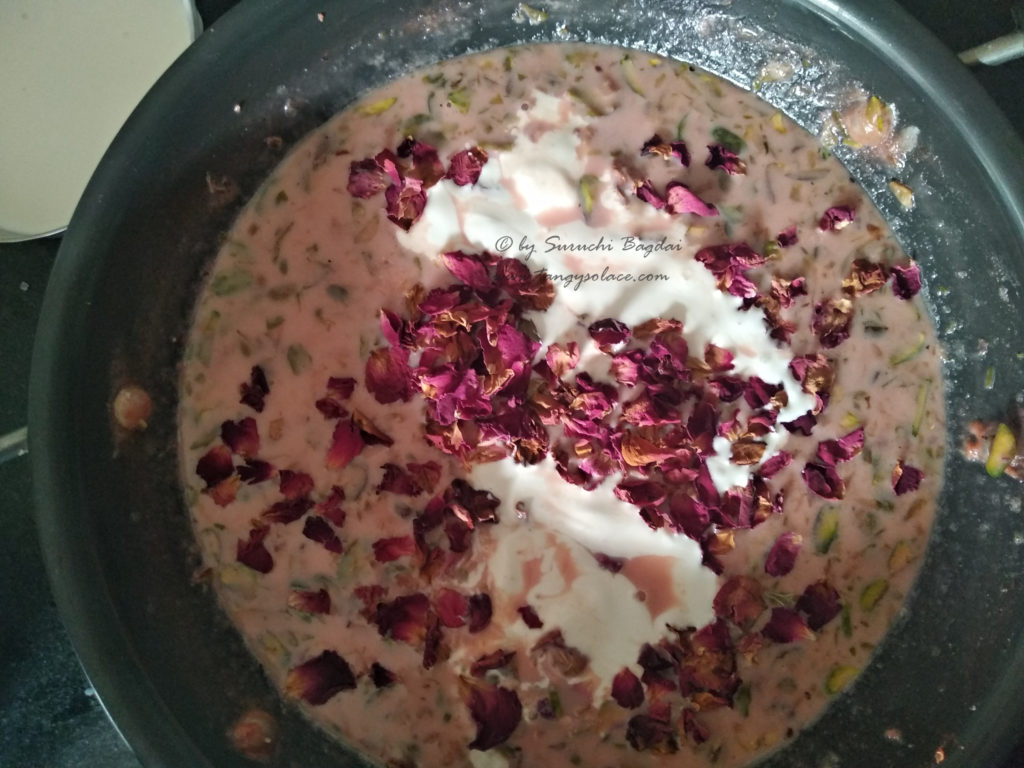 But making a dessert out of rose yeah, pretty common right? You would think it's perfumy, it reminds you of the middle east, the mughal era, the palaces, but for me the stories of it yes it would, but not the real rose desserts. I would get close to nausea even if I smell something so intense nearby. For me I am a fan of the subtle natural rose fragrance but bottle it up and I might gag with the intensity.
But each story has a twist right? Two years ago I had a dessert during my college valentine event where one of my friends put up an idea of doing a pista rose brulee.
And one taste of that and I realized how intoxicating it could be only if you knew some flavors enhance the dish to all together another level only if you could use it subtly.
This recipe uses gulkand which is a very beneficial proprietary medicine used in India in summers it acts as a laxative, cools the body and reduces hyper-acidity although sweet and perfumy and having a hint of aniseed taste please do ensure that you don't take it in higher quantities during winter because that would go against the natural body temperature cycle.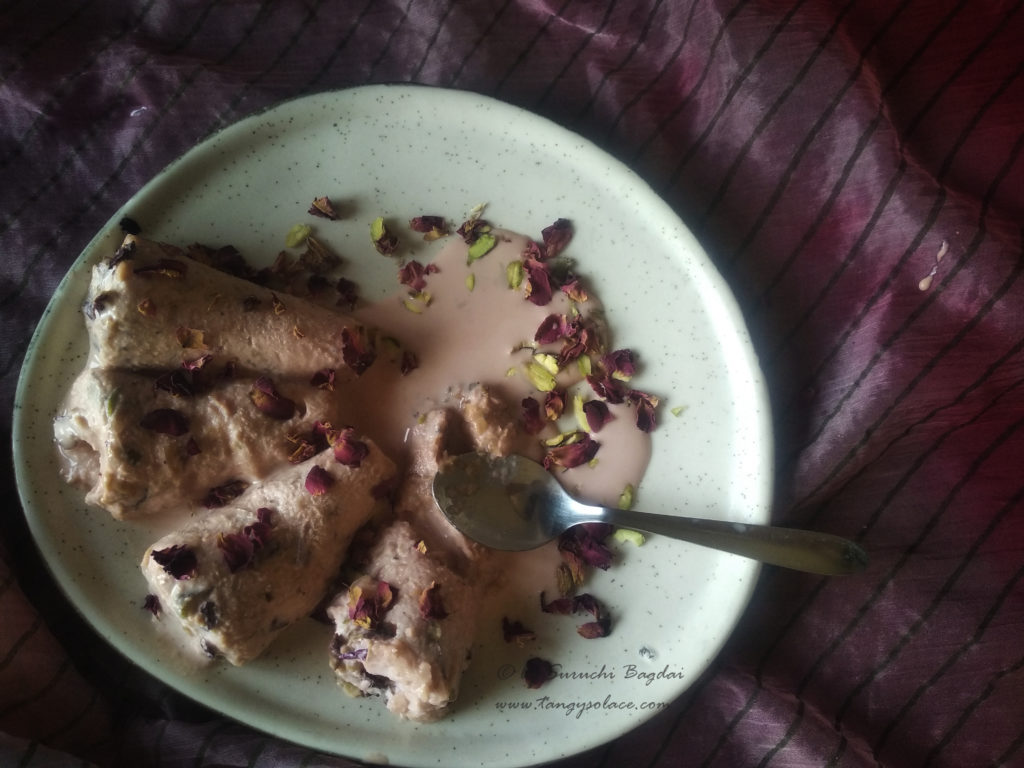 This post is dedicated to our kulfiwala (apna kulfiwala-for those of you who get the hint ) and the first memory of a beautiful rose dessert a few years back so here I am joining the bandwagon because this lovely rose has me under its perfumy spell.
Just ensure that you have it before it melts, because you might just stay transfixed by its beauty cause its as beautiful as it tastes.
Try soon before it goes drip drip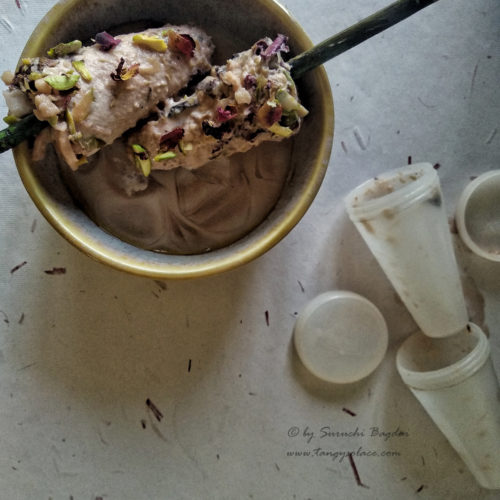 Gulkand kulfi (Rose petal jam creamsicles)
Ingredients
1

litre

Milk

full fat buffalo milk

1/2

cup

Gulkand

1

tbsp

Rose water

1/8-1/4

tsp

Red colour

1/2

cup

Sugar

4

tbsp

Sliced pista

1/2

tsp

Cardamom powder

1/2

cup

Fresh cream

4

tbsp

Rose petals

(dried)

3

nos.

Roasted khichi papad
Instructions
Boil a litre of milk. And let it reduce on low flame. Keep on stirring at regular intervals.

When you see the milk has boiled and reduced a little add in the gulkand, rose water and the red colour. keep on stirring and scraping the reducing milk.

you need to be cautious and keep on scraping the sides at regular intervals. This not only stops the milk from burning but also adds the caramelised creamy bits back to the milk helping us make a rich rabdi.

When the milk reduces to half of the original quantity add in the sugar, cardamom powder, sliced pistachios and a pinch of salt.

mix and scrape well for next 5-10 mins. remove from heat and let it cool until it gets a little warm now mix in the fresh cream, rose petals and crushed papad churi.

Pour the thick milk in the kulfi moulds and freeze for -10 hours or overnight to get a rich , creamy and interestingly chewy kulfi.
Notes
PLEASE KEEP IN MIND  Ensure that you keep your kulfis over salted ice to get the creamy texture.