The onset of winter, a market visit and you find a flourish of new vegetables coming up. One of them is valor paapdi, small flat curved greenish beans, ideally used as a vegetable to be consumed with chapati. Found in abundance it is easily available in the market at really low prices.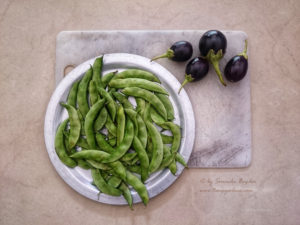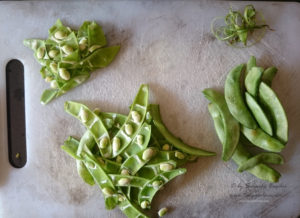 I have not consumed paapdi much, you know the love for vegetables like potato, okra, cauliflowers and cabbage that you are not really much accustomed to seasonal variety found in your nearby market.
But nevertheless it was sometimes prepared in my house as curries or usually as dry preparation with a light undertone of thin gravy because the elderly love it albeit accompanied with potatoes or brinjals. Sometimes so that the potatoes could play their role to lure in children perfectly until the child in you doesn't realize the grown up in you loves ringna and paapdi too for their wholesome rustic flavor. And you are now trying to incorporate such veggies as much as possible.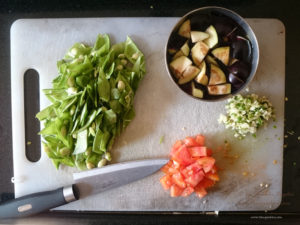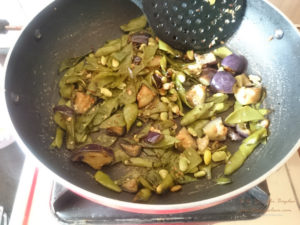 While choosing vaal look for fresh young paapdi while its tender. Ensure its free from worms clean and without a moss deposit over it and do ensure that you string them before cooking.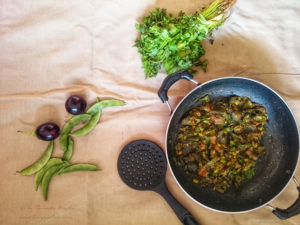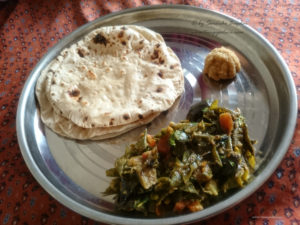 These guys are a rich source of protein and a good amount of fiber in it. To aid digestion and maintain weight just ensure that you try to incorporate some form of digestive spice in your cooking method as beans tend to be a little heavy on the stomach.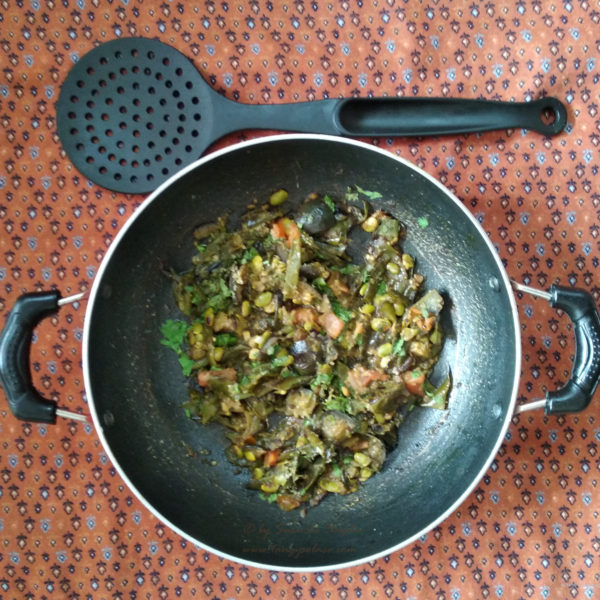 Paapdi ringna nu shaak (Beans brinjal curry)
Ingredients
2

tbsp

Oil

1

tsp

Cumin seeds

1

pinch

Asafoetida

1/2

tbsp

Chili garlic paste

250

grams

Hyacinth beans

250

grams

Brinjal

1/2

tsp

Turmeric powder

1

tsp

Coriander cumin powder

to taste

Salt

1

tbsp

Jaggery

1

medium

Tomato (chopped)

1

tsp

Garam masala

3

tbsp

Shredded coconut

few sprigs

Coriander
Instructions
In a pan heat up oil, as soon as the oil heats up add cumin seeds and asafoetida and let the cumin crackle.

Then add in the chilli garlic paste and sauté for a minute on a low flame add in your beans and brinjal and sauté it for a minute.

Add in turmeric, coriander and cumin powder and saute for a few seconds.

Cover and cook on a low flame for 10-15 mins or till the vegetables are almost cooked through with a closed lid stirring at intervals.

Keep on adding dashes of water so that the vegetables don't stick to the pan.

Add in the jaggery and chopped tomato and sauté till the jaggery melts and the tomato is cooked through this is added to get a sweet and sour balance in the recipe.

Add salt to taste and garam masala powder and mix well.

Meanwhile also keep and eye on your brinjal and beans and cook for 5 more minutes with lid on or till all the vegetables are cooked through.

Taste and finish with freshly grated coconut and coriander.
Notes
PLEASE KEEP IN MIND
Keep the diced brinjal in water as they tend to get black I had added dry coconut as it was handy please do add fresh coconut as it imparts a better mouthfeel to the recipe