You eat something once and you postulate the taste of all versions. Well how much can it change? The hunch never goes.
The first taste of something new and it lingers in your subconscious mind making an impression which is hard to leave.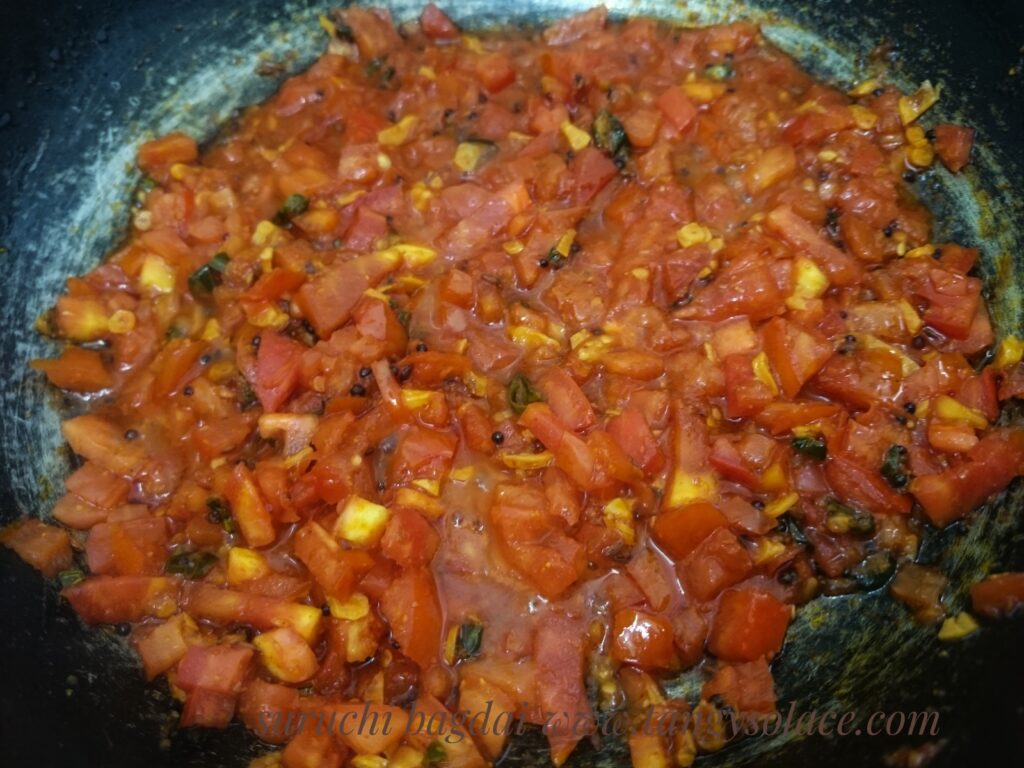 If you taste a great version of something you know you are going to be on an never ending inquisitive trip of finding the same or even better version of it or if the dish was not up-to the mark the very first impression will cause you to shy away however many times you see it… the answer simply is no I have already tasted it not any more .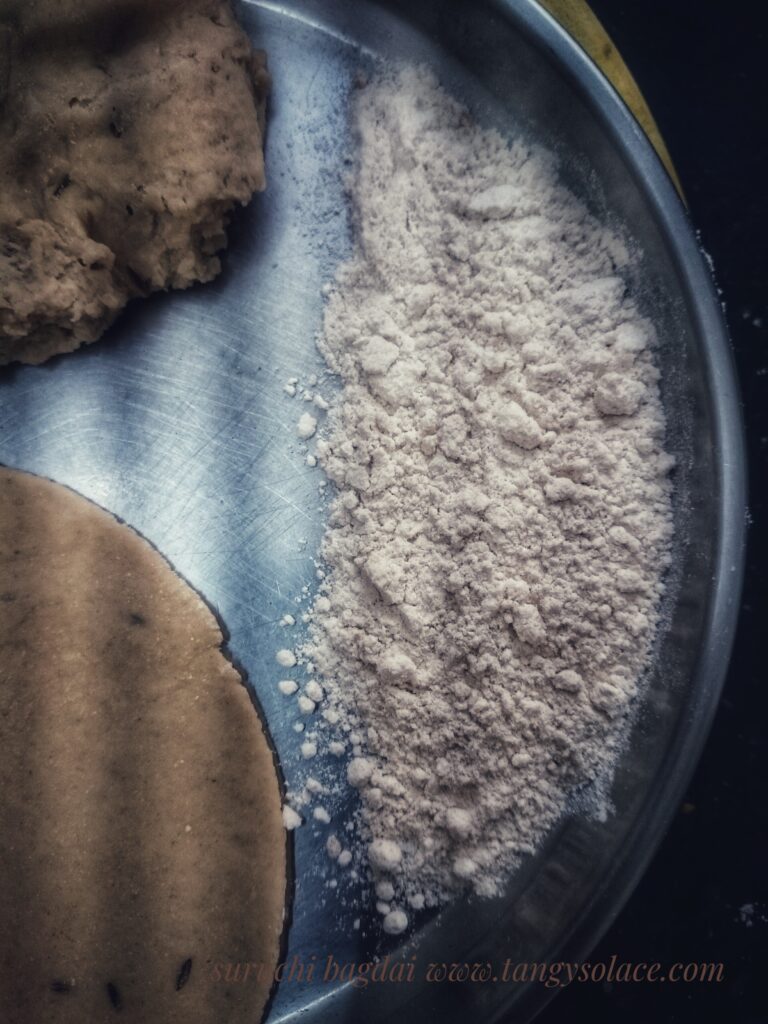 I hold the same emotions for sev tametanu shaak. Being lived my entire age in Maharashtra, I was not the one eating almost every dish of mine with some gadaas (sweetness) or that's the quintessential thinking about Gujrati cuisine. And to top that my first ever experience was not that good. My first trip to Gujrat, no visible food joints on a long trip of windy sandy afternoons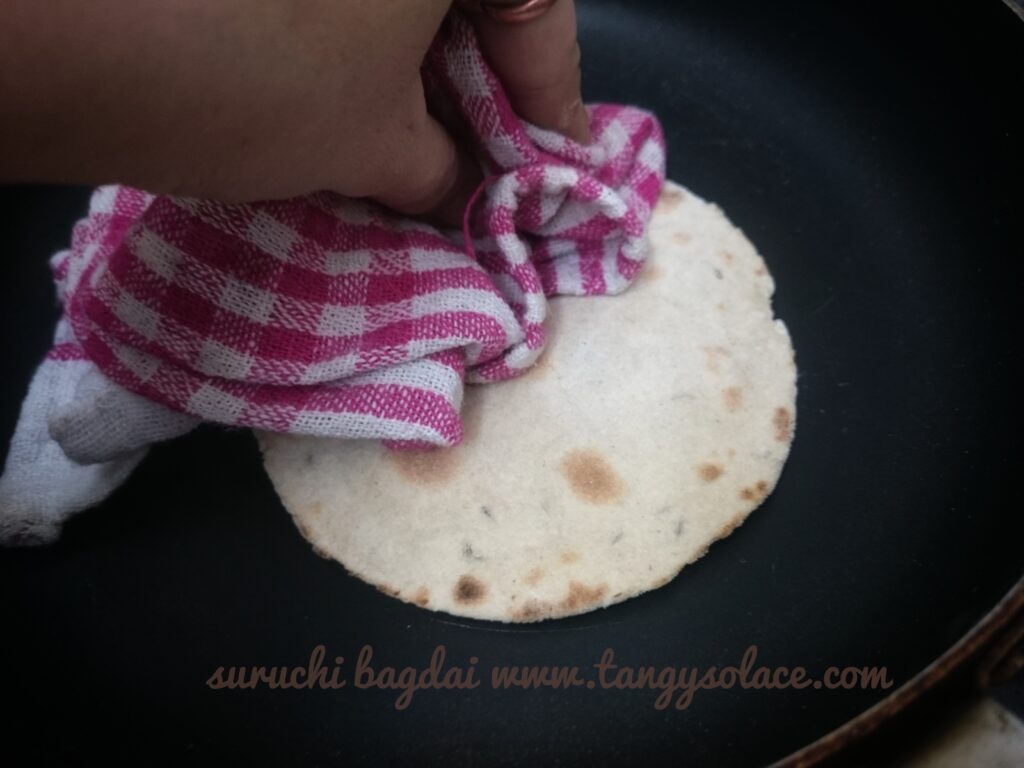 We stopped at a lone highway restaurant. The one with the likes of too good interiors but no good food kinda restaurant. Ordered sev tameta nu shaak well that's what you do in Gujrat right as a tourist. A tomato with onions based gravy and fried sev to top with lots of masalas yet the only taste I could sense were loudly sweet and raw tomatoey .. and to top it the incessant chatter of my father of how it is different in Maharashtra growing up with all spicy food eating friends.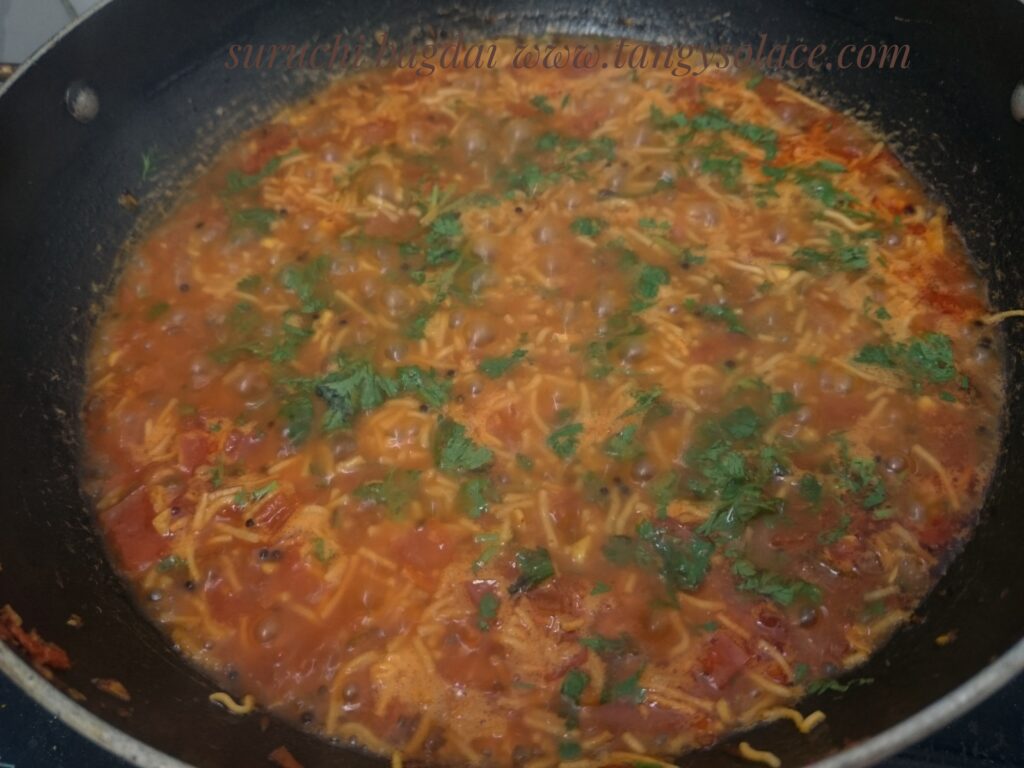 And I know we are thinking all these negative comments so why post sev tameta nu shaak .
As it would turn out I hadn't been posting from couple of months busy with life shifting and setting up stuff. Laptop gone for a toss and other nitty gritty issues which we all face and a solace through all these were maa's phone calls at sharp 8.
And as luck would have it couple of mention of sev tameta being made once by her other time by my aunt .. as she would come home to distribute, and the new need to make everything quick and easy, spiked up a forced nostalgia and pushed me to try it out once more . But the only thing was I wanted it to be as homely authentic as possible hence had to resort to my mother again for the recipe.
There were some rules she mentioned
1 serve it piping hot it should be warming for the cold
2 Garlic and curry leaves is must according to her
3 Sev made on time if you can but sorry maa I am feeling lazy. The sev made on time get cooked in the boiling curry and seeps in all the flavours instead of the fried version and hence is much more tastier .
4 Balance of sweet, spicy and sour also add sugar or god at the end
5 Masalas only as required not too much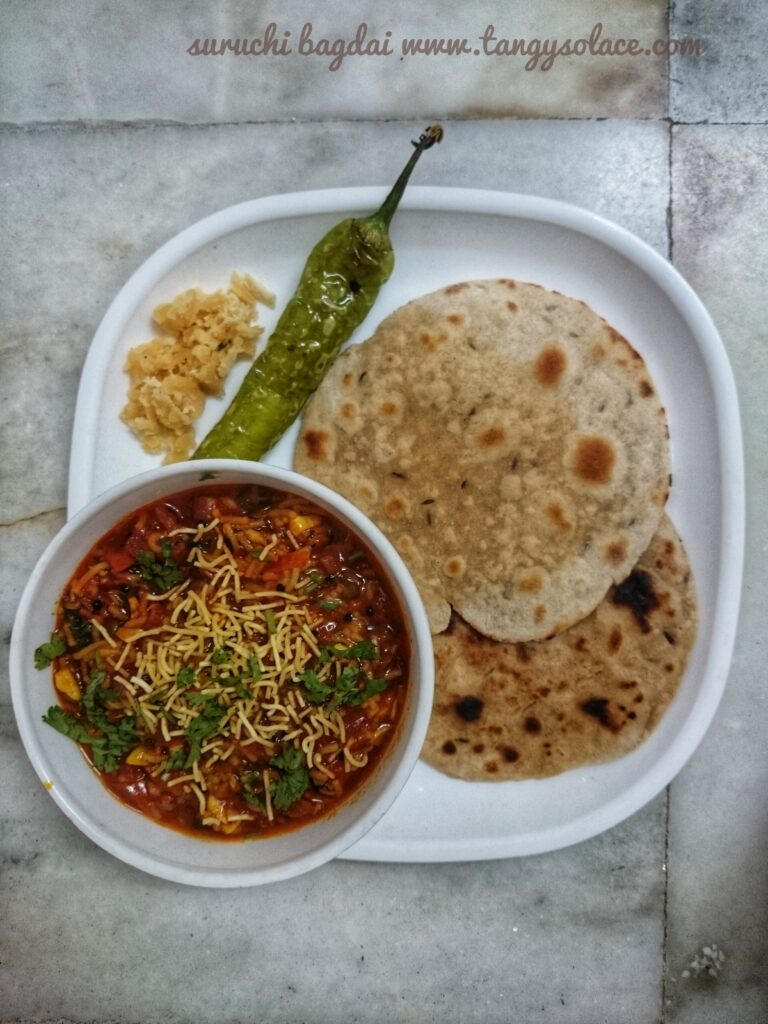 Also, as we consume tomatoes so much and due to the requirement of a temperate climate it is available all year round. It is one of the most important cash crops of India. Which can be grown in both rabi and kharif season. Tomatoes have 90-95 percent water and are great for weight loss.
Well, you have the weapon in your arsenal, you just need to know how to use it.
Summers and you make a salad or add it to your raitas, winter and you make hot curries or soups for your chilling trips .
Or even a sev tameta shaak right?
As we go through autumn and approach winter lets welcome it by consuming this classic piping hot yet a simple rustic soul warming curry.
And With this post let's not only finish a year but also start appreciating not only what's new but the old as well. Revisit your native land and culture and try something you didn't particularly enjoy. And let the result be anything from still the same or thank you suruchi .. trying is always fun.
P. S- Is this some lost version of pasta recipe ??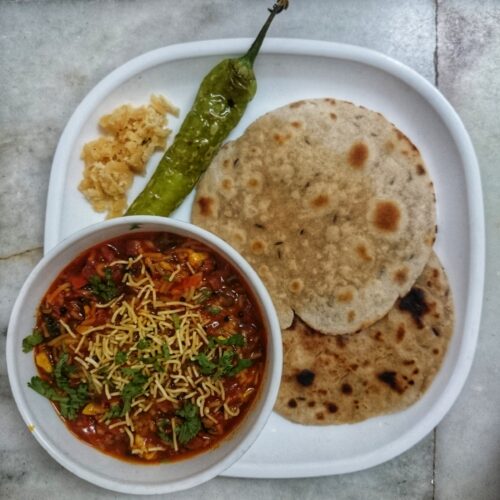 Sev tameta nu shaak (Tomato and gramflour vermicelli curry)
Ingredients
3

tbsp

Peanut oil

1

tsp

Mustard seeds

1

tsp

Cumin seeds

1

pinch

Asafoetida

4-5

leaves

Curry leaves

3-4

tbsp

Garlic

4

nos

Small green chili

1/2

tsp

Turmeric

1 1/2

tsp

Coriander-cumin powder

1

tsp

Red chili powder

3-4

nos

Tomatoes

chopped finely

to taste

Salt

1/4

cup

Vermicilli

1

tbsp

Jaggery

Coriander leaves

chopped finely
Instructions
Prep the ingredients for the curry. Chop the garlic, chili and tomatoes.

 In a pan heat some groundnut oil. splutter mustard seeds, cumin seeds, asafoetida, curry leaves respectively.

Then add the chopped garlic, chili and let cook. Keep on continuously sautéing. Next add the turmeric, coriander cumin sauté for 20-30 secs and then add red chili powder.

Let the chili powder cook for 15-20 secs . Add the chopped tomatoes and salt and sauté for a few minutes.

Add 3-4 times water cover and let it cook on a medium flame. Keep on checking and stirring in between.

Now add the salty sev according to choice (keep in mind it will thicken the gravy). Let cook for a few more minutes. Finish with chopped jaggery and chopped coriander leaves.

Adjust salt and serve with hot wheat flour bhakri  laden with ghee and accompanied with fried chili and some grated jaggery.