While driving back home from work I pass many peanut carts being hand driven on the way busy roasting and serving cones of hot fallis at a meagre price of 10, 20 rupees. And just the image takes you back to the courtyard of your house of snacking upon various types of peanuts raw, boiled and roasted while everyone having their own preference.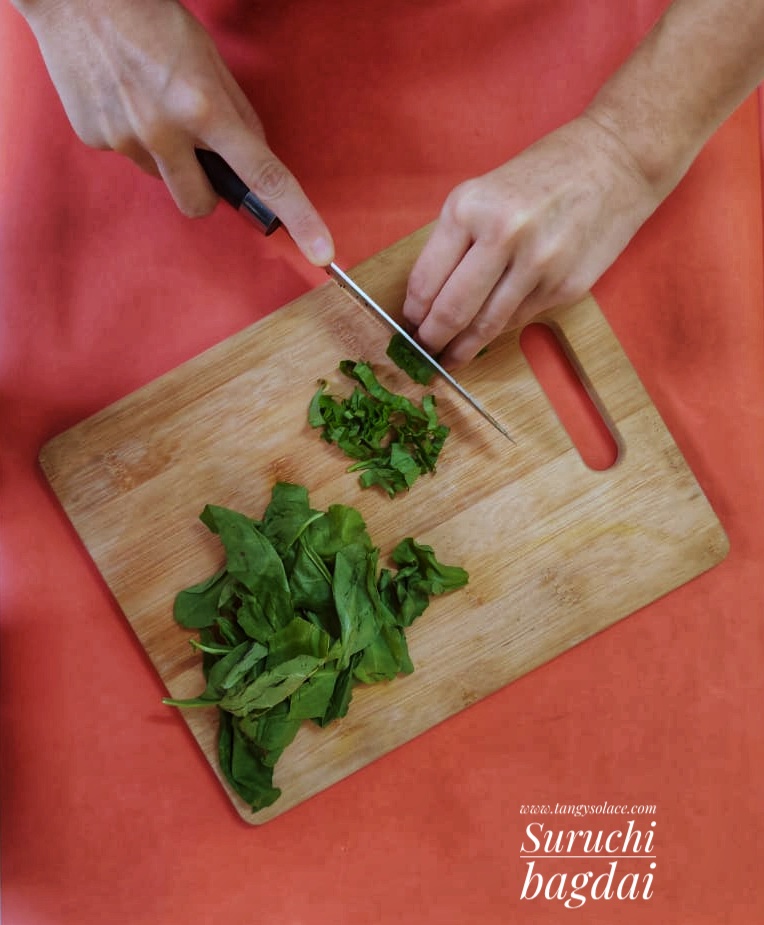 Its amazing how when you see these street sellers selling different food items fruits and vegetables there is an epiphany of the season arriving. The custard apples, guavas and oranges are a treat to the eyes. You want to have the hot sweet potato being baked on the cart itself or at-least look back to our old rataadu salad post. Well yes, it's been more than a year now to our blog and it makes me so happy that we are continuing with the same gusto.
One dish that often gets made on winter Sundays at my house is paalak falli dal although I don't like crunchy things a lot in my sabjis or dal the love for paalak or any greens as you might have come to know by now has made me fall in love with this dal.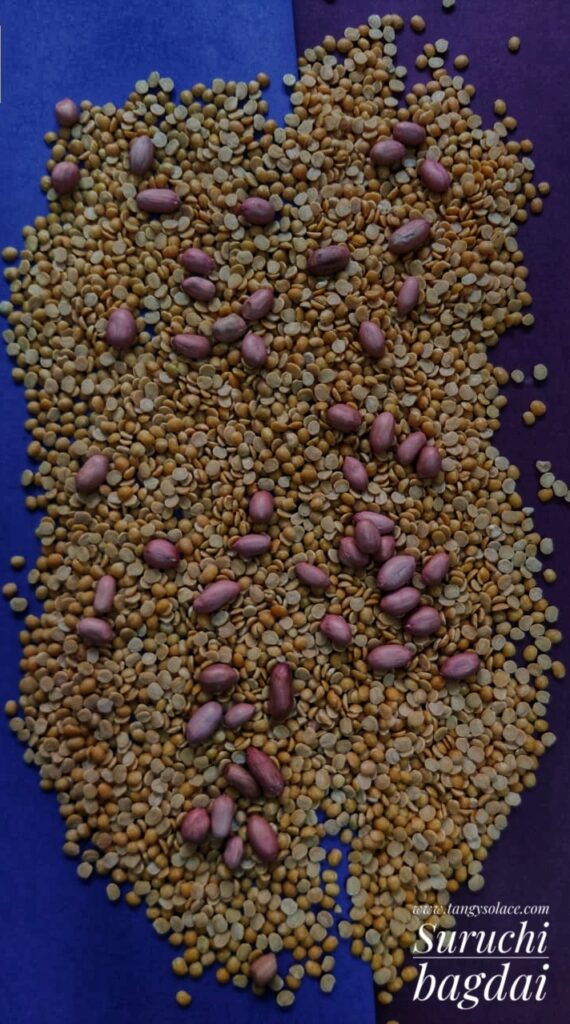 Its like winter in a bowl and when served with hot phulkas you are all set for the chilling weather.
Paalak being a rich source of iron combined with protiens in the dal as well as the peanut alongwith the healthy unsaturated fat tossed in combined with necessary carboyhdrates of a roti your meal is now energy packed and that's how winter meals should be-energising or in other words meals and foods that provide immunity for the entire year.
Paalak dal although prepared using chanadal is modified with the use of toor dal at my house the modification solely depending on the fact that we usually prefer to use that dal. And this makes me realise although I have a lot to showcase but our food choices were quite limited too.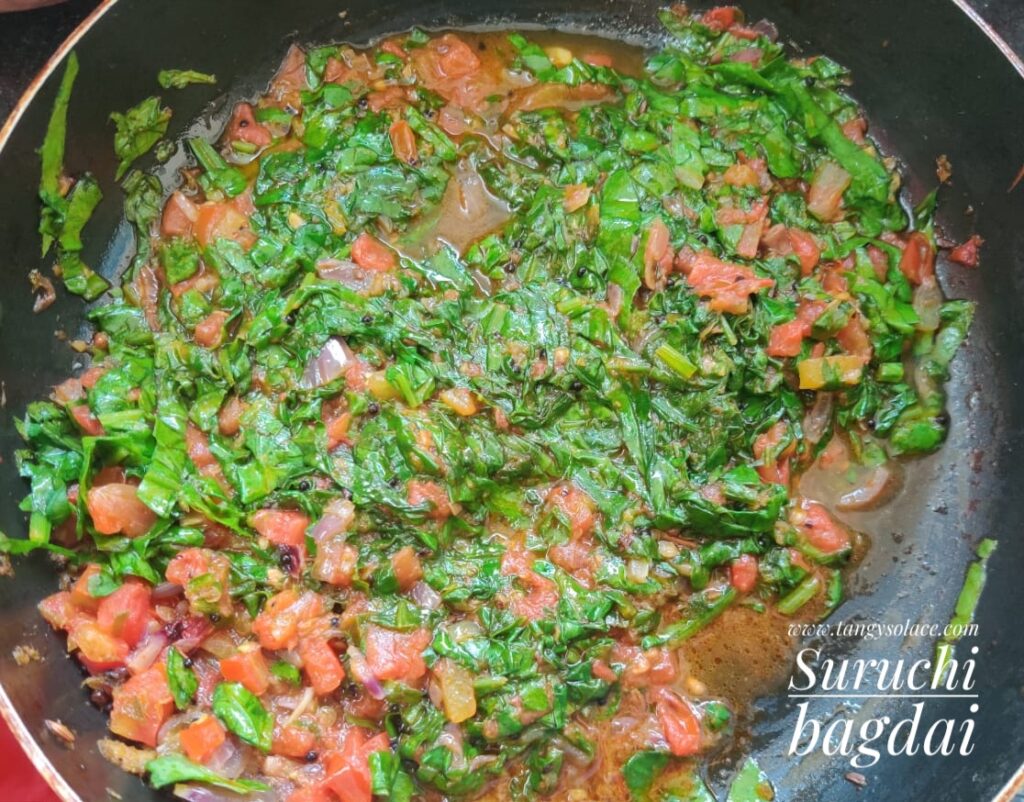 Hell, I don't even remember masoor dal being simply cooked at my house any day as rice accompaniment but that's the fun part, it's all about your culture, eating habits, region you grew around and that's what makes recipes from even one cuisine to vary from house to house.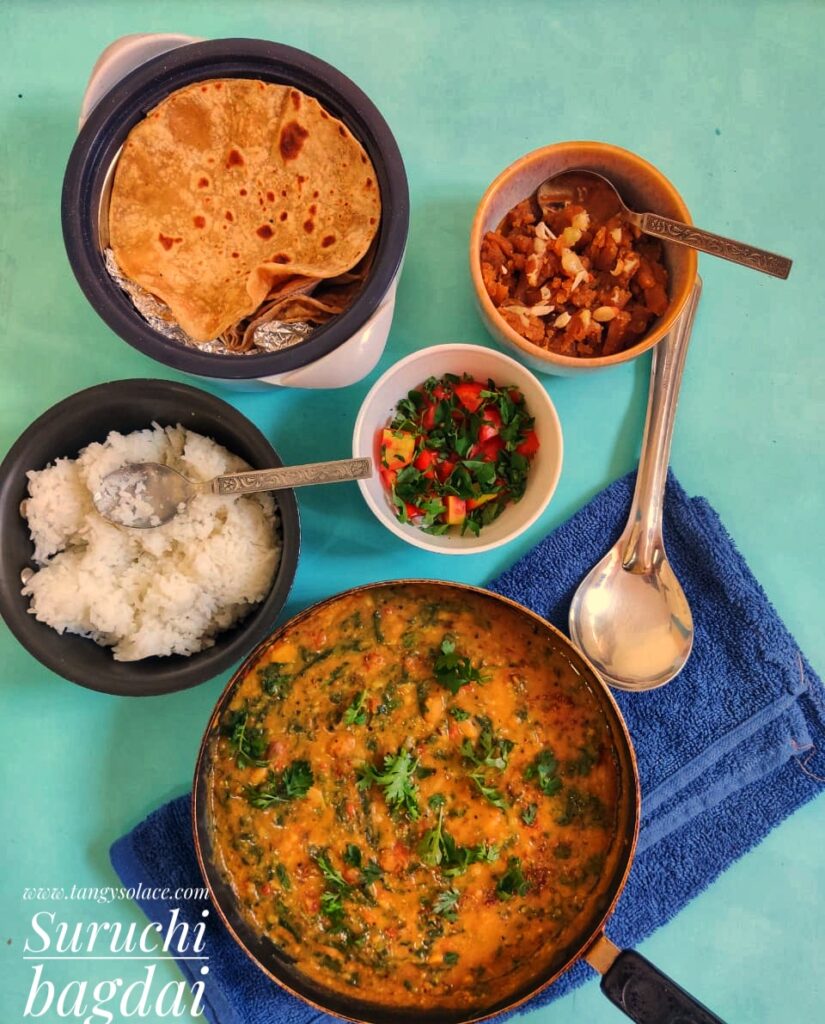 But with the advent of growing food blogs people are becoming more acceptable towards trying out recipes from different regions.
And I hope you will try out this variation too.
We enjoyed our meal with a little sheera and seasonal tomato fenugreek leaves kachumber as accompaniment.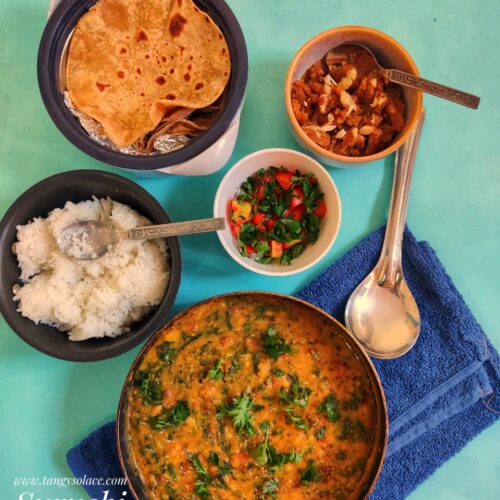 Singdana Paalak dal (Spinach and peanut lentil)
Ingredients
1

cup

Toor dal

2

bunch

Spinach leaves

chopped

1/4

cup

Peanuts

raw

2

tbsp

Peanut oil

1

tsp

Mustard seeds

1

tsp

Cumin seeds

a pinch

Asafoetida

1/2

tsp

Ginger paste

1

tsp

Garlic paste

1.5

tsp

Chilli paste

1/4

cup

Onions

chopped

1/2

cup

Tomato

chopped

1

tsp

Red chilli powder

1

tbsp

Coriander powder

to taste

Salt

1/2

tsp

Garam masala

1/2

no.

Lemon
Instructions
Clean, wash and boil the toor dal for up-to 3 whistles along with the raw peanuts. Meanwhile prep your spinach, onions and tomato.

In a pan heat oil. Crackle mustard , cumin and a pinch of asafoetida.

Add a little ginger, garlic and chilli paste and sauté. Add the chopped onions and sauté till slightly golden brown.

Next add the chopped tomatoes, coriander powder, red chilli powder, salt, spinach and sauté till the raw flavors of tomato are gone and the spinach is completely wilted.

Add the cooked dal and peanut. Let it come to a boil. Check seasoning and finish off with garam masala and squeeze of lime.