Years go by, seasons change, but how beautiful and reassuring is the sense that it is a cycle and this season is going to visit soon.
Bade adieu to summers and mangoes? Fret not a few months and markets will be laden with them.
Did you make carrot halwa last winter, or you might ask yourself- "Do I see thorn brinjals?"
You might wonder- "I miss the monsoon time when bitter gourds were fresh and abundant, wasn't it just some time back I relished the Colocasia leaf patras for my evening snacks?"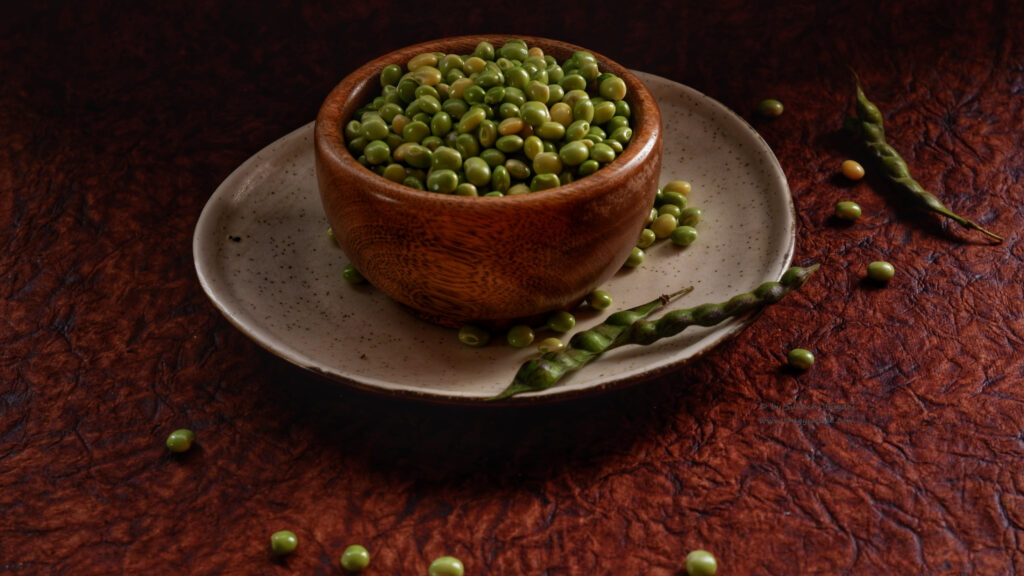 But what better market sights than winters. "Oh, dear winters". Right?
And one such most amazing, giving you a seasonal sense and notifying you of winter arrival is seeing fresh green turi na dana.
The process very well starts with one buying the early variety however costly, consuming the first few batches of this delicious young pods in the best way possible. That is, enjoyed as it is with boiling or sauteing just like peas and relished as an absolute snacking delight.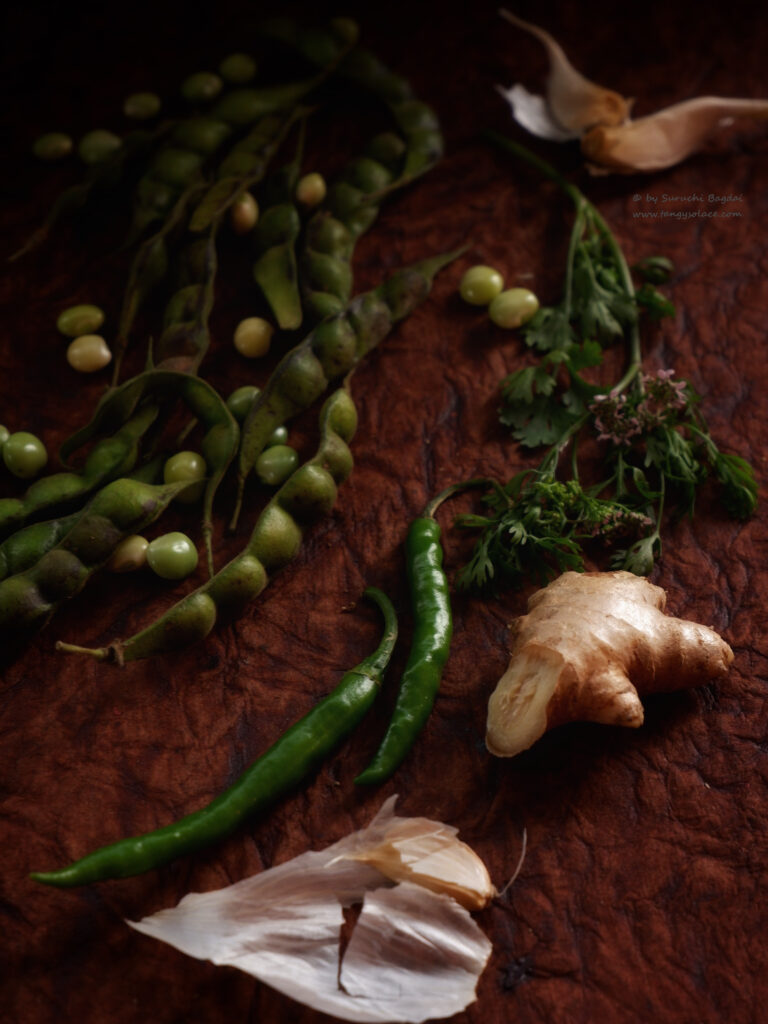 As the fresh pods hit the market in abundance around January, you move on to applying cooking methods to make it more nutritious and part of your meal.
Many recipes are also made using the fresh pigeon peas like turi dana nu shaak, lilva ni kachori, turi danyachi usal, turi ringna and restaurants coming up with fusion dishes around the seasonal produce and we may explore them someday.
But best places to start are with one's absolute favorite. So, keeping this wonderful sentiment in mind let's make turi daana ni amti today.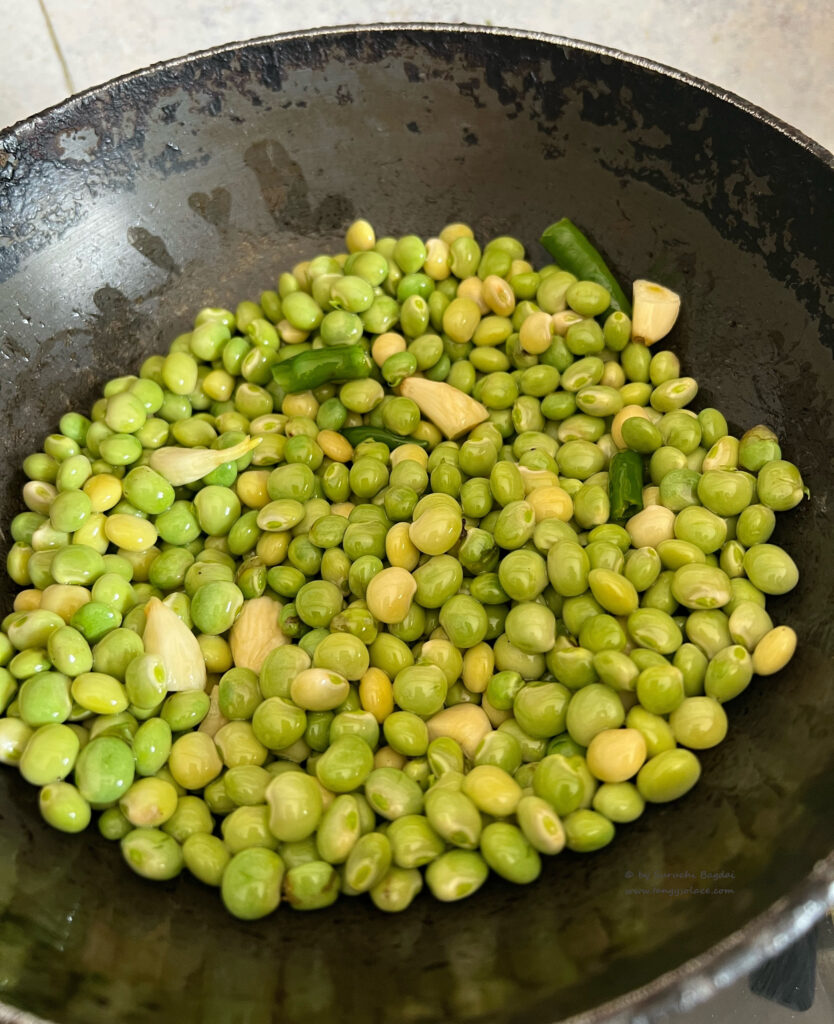 It is the heirloom memory queen of good times for me, this particular style of amti. However, before we move ahead let's take a moment and get this down amti is tangy , tangy is amti. Amazing! Right? .
But from where does the recipe come from ?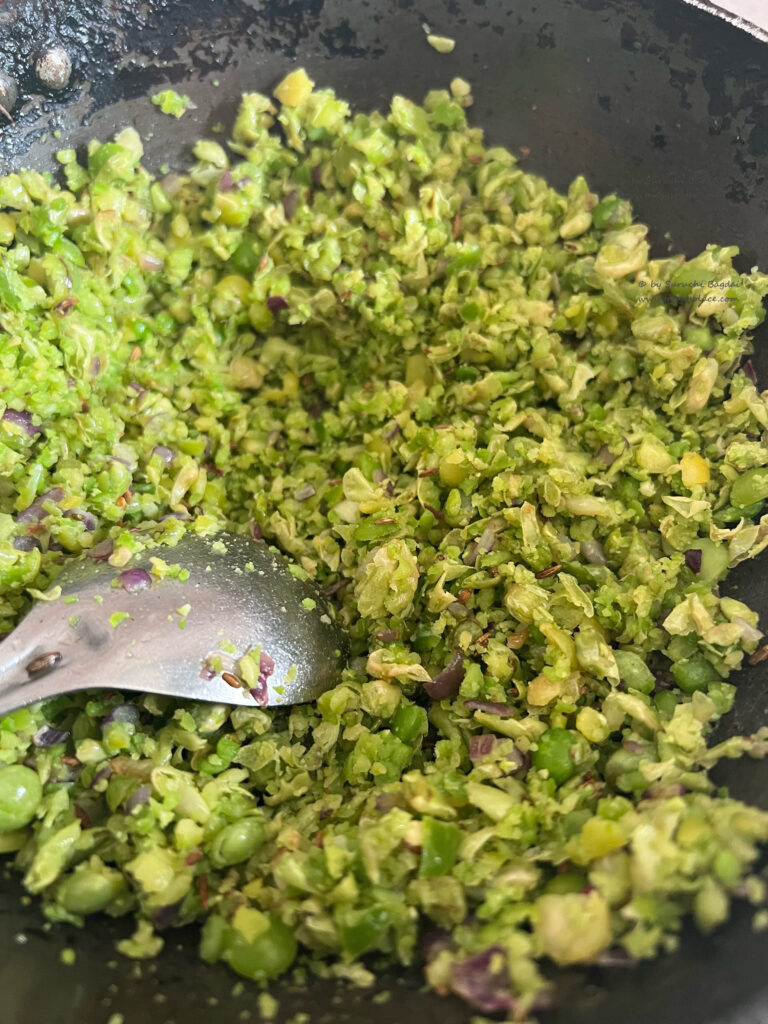 Based out of a small village in Vidarbha. I just had one visit there, but it was enough to make me realise the addiction people had of having a this amti every week served with a square roti and turi thecha. Yes serving you with a dose of extra recipe. Surprise!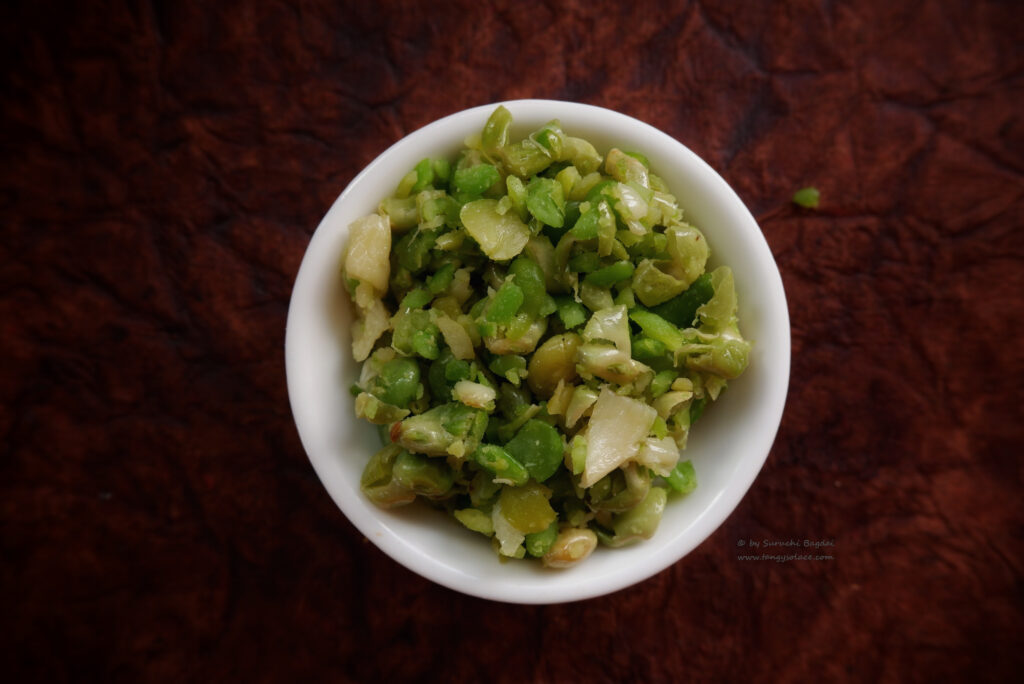 A huge high ceilinged old house yet filled frugally with old mattresses, cots, clay stoves, iron vessels and almirahs. A typical village home surrounded by a tiny herb garden, hens and chicks and a huge and a compulsory old patio swing.
Overlooking a small yet beautiful farm spread across growing pigeon peas, chickpeas and cotton in other parts.
Just like its farm owners the turi dana is rugged and enduring. Surviving in poor soil condition, tolerant of dry weather it is the cheap and basic protein and nutrient source of many Indians. Its dry version of split pigeon pea being consumed year round.
But nothing can beat fresh harvest.
Simple rustic and flavorful sour curry just based on the simple technique of bhunao(roasting) and simmering properly and you have a curry replete with hunger curbing flavors and how many chapatis did I eat losing count kind of quality.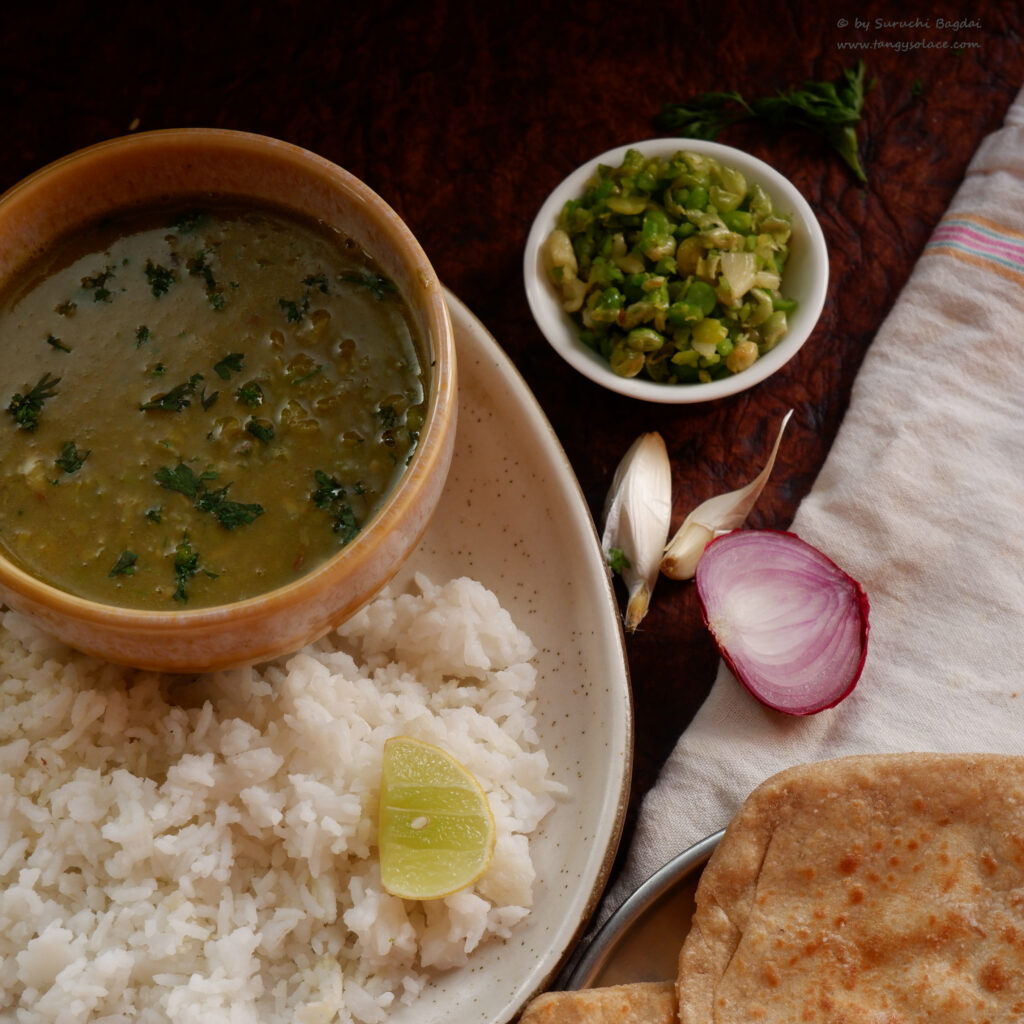 The liquid green color is evocative of the inherent spicy chillis inside and the tarri is a compulsory element it seems. Beautiful flavors released by pounding, roasting and crushing are slowly simmered till the amti though thin is smooth and velvety.
A bowl full of delicious dal slurpiness, the spicy oil flavor enticing you, followed by weirdly satisfying tanginess which is enough to excite you for the next bite.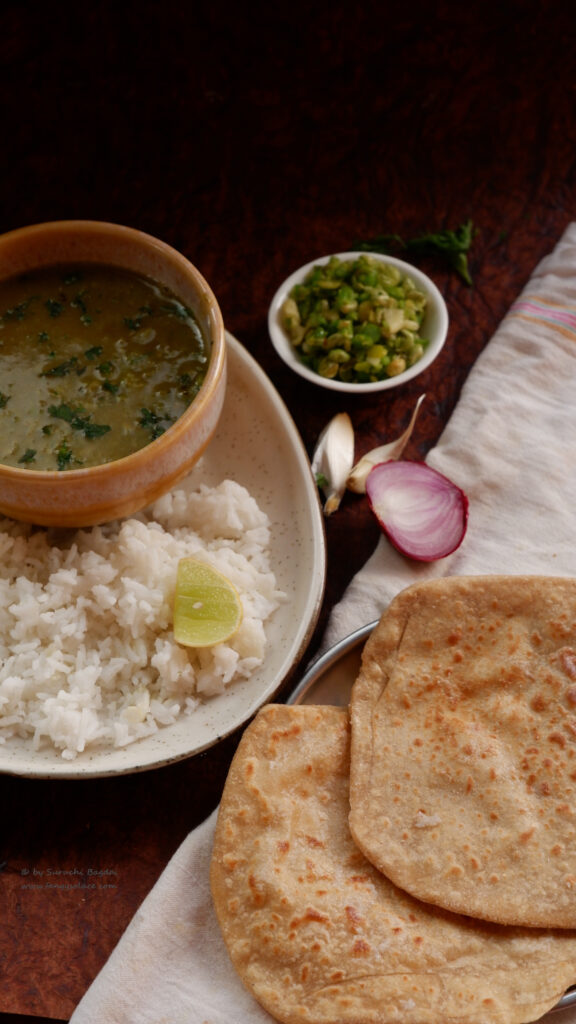 Obviously, recipes can be altered here and there and we at our home love doing so. We sometimes make it with an addition of tomatoes. But then I ask why. This sacred recipe is not to be altered with.
Relish this amti multiple times every winter from now on. And vow not to alter the recipe for best possible results. Yes?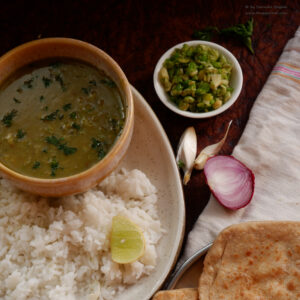 Turi dana ni amti (Fresh pigeon pea sour curry)
A rustic spicy slow cooked dal recipe made of fresh pigeon peas.
Ingredients
For pigeon pea thecha
1/2

cup

Pigeon peas

shelled

1/2

tbsp

Oil

1/2

tsp

Cumin seeds

4

nos

Garlic cloves

3

nos

green chillies

spicy variety (lavangi)

to taste

salt
For pigeon pea amti
1.5

cup

Pigeon peas

shelled

1

tbsp

Oil

1 tbsp is used for sauteing before crushing.

5

nos

Garlic cloves

5

nos

Green chillies

Spicy variety (lavangi)

4

tbsp

Oil

1 tsp

Cumin seeds

1

pinch

Asafoetida

1

no

Onion

about 60 gms chopped

1/2

tbsp

Ginger garlic paste

1.5

tbsp

Coriander-cumin powder

1

tsp

Red chilli powder

1/4

tsp

Turmeric powder

4

cups

Hot water

to taste

Salt

1/4

tsp

Garam masala powder

2

tbsp

Coriander leaves

1

tsp

Lemon juice
Instructions
For pigeon pea thecha
Add all other ingredients together and sauté on medium flame till slightly charred. Except salt.

Cool and Grind coarsely with salt.
For pigeon pea amti
Heat a tbsp of oil in a kadhai. And sauté pigeon peas, garlic and chillies as we did for thecha. Don't use cumin seeds this time.

Sauté on medium flame till slightly charred , cool and grind. Don't add salt.

Heat 4 tbsp oil in a kadhai. Fry cumin seeds, asafoetida. Add chopped onion and sauté on medium flame till translucent.

Add the turi dana (pigeon pea) mix. Sauté slightly.

Now add all the powdered masalas, except garam masala. Sauté stirring occasionally till oil separates. Meanwhile keep water to heat.

Add simmering hot water and salt. Lower the flame to low and allow it to simmer till the flavors from spices and dal coalesce together. And oil starts to float on top. About 15-20 mins.

Finish with coriander leaves, garam masala and lemon juice
Notes
The thecha recipe is additional and is not accounted in the total time. It takes about 15 minutes.