It's amazing how seasonal cooking can bring communities together. A little observation made me realize I have been posting my home-made recipes or my own recipes for a while now. So, I thought why not explore around and know more about different cuisines and what better place to start than home a.k.a. our pg.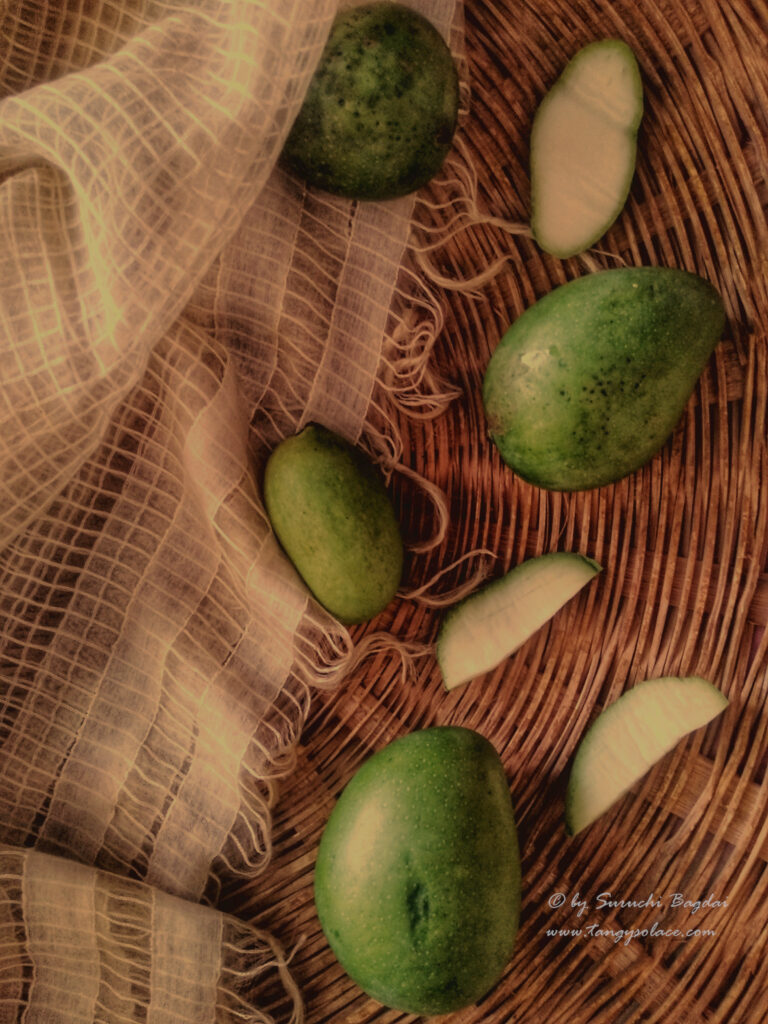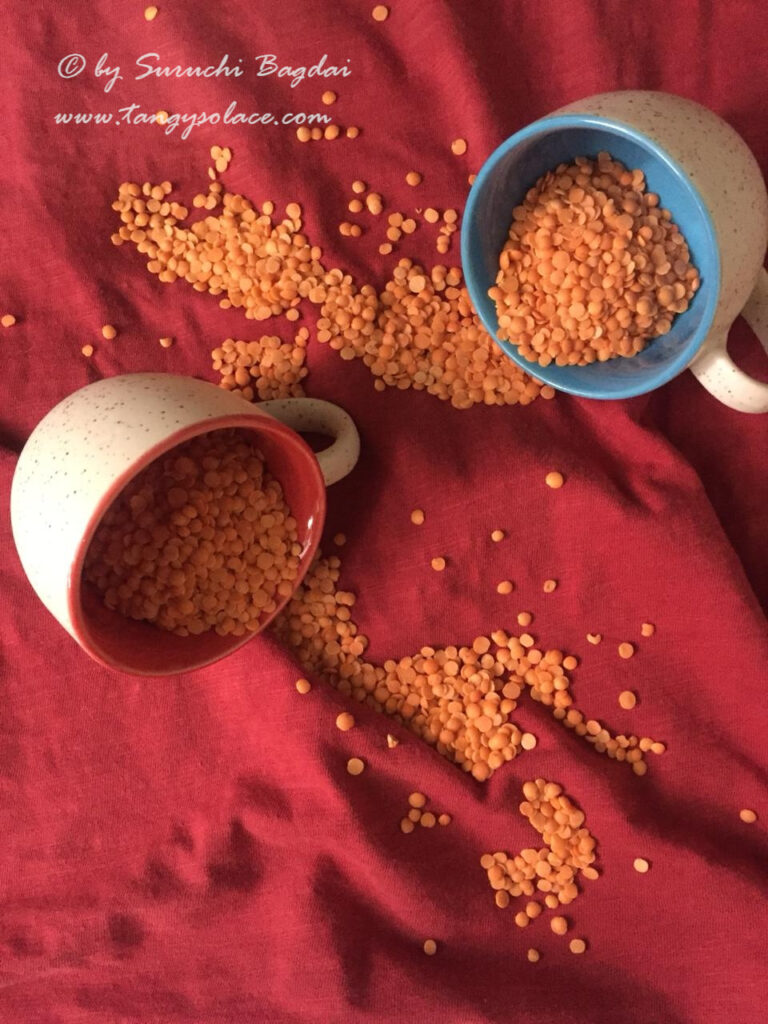 Poulo my friend is an amazing Bong woman and an explicitly good cook. It is so amazing to listen to her and realise how food is such an integral part in each of our stories. She misses and reminisces about her summer days and her mother's Tok Dal many a times.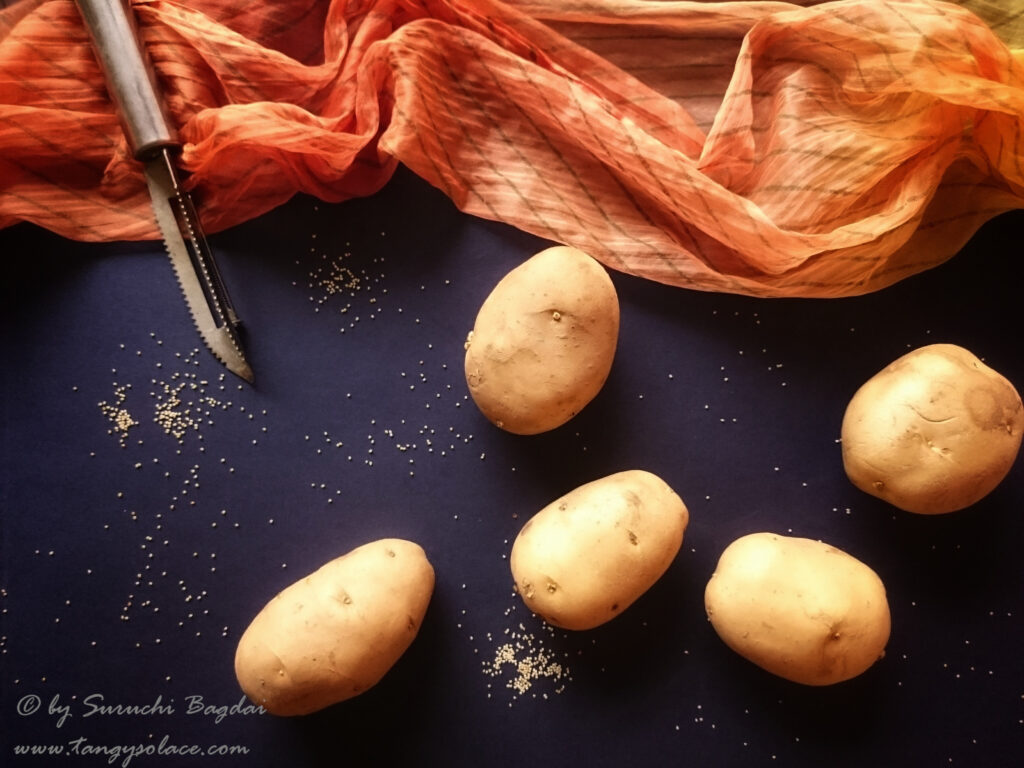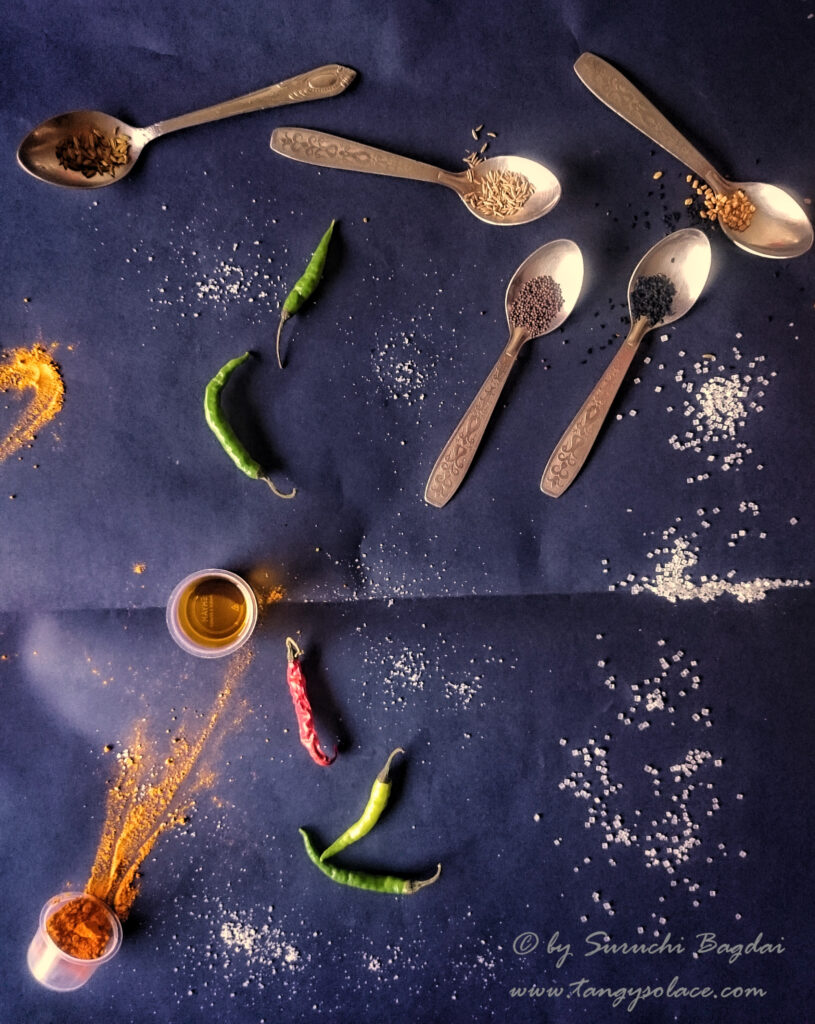 And she says it's never complete without a side of Aloo Poshto and yes what would a Bong do without rice.
Tok Dal is a simple masoor dal preparation flavoured with raw mangoes (lots of tang you see). The best way to enjoy summer according to her. The Dal should be balanced obviously and a predominant Kaccha Aam tang should be noticed.
Her incessant talk about Kolkata, its humid weather and fresh dose of Tok Dal in summers made me go down on my own lane of memories… I started thinking who doesn't share a special bond with mangoes even if you don't love them (Well are there any such people?). Summer vacations were defined by them and yes by the sweltering heat too obviously but we had Chava Ashta, cooler and cousins to tackle that (Didn't we?).
I have immense memories with mangos (again who doesn't) but yet this post is about a Bengali's tete-e-tete with Kaccha Aam.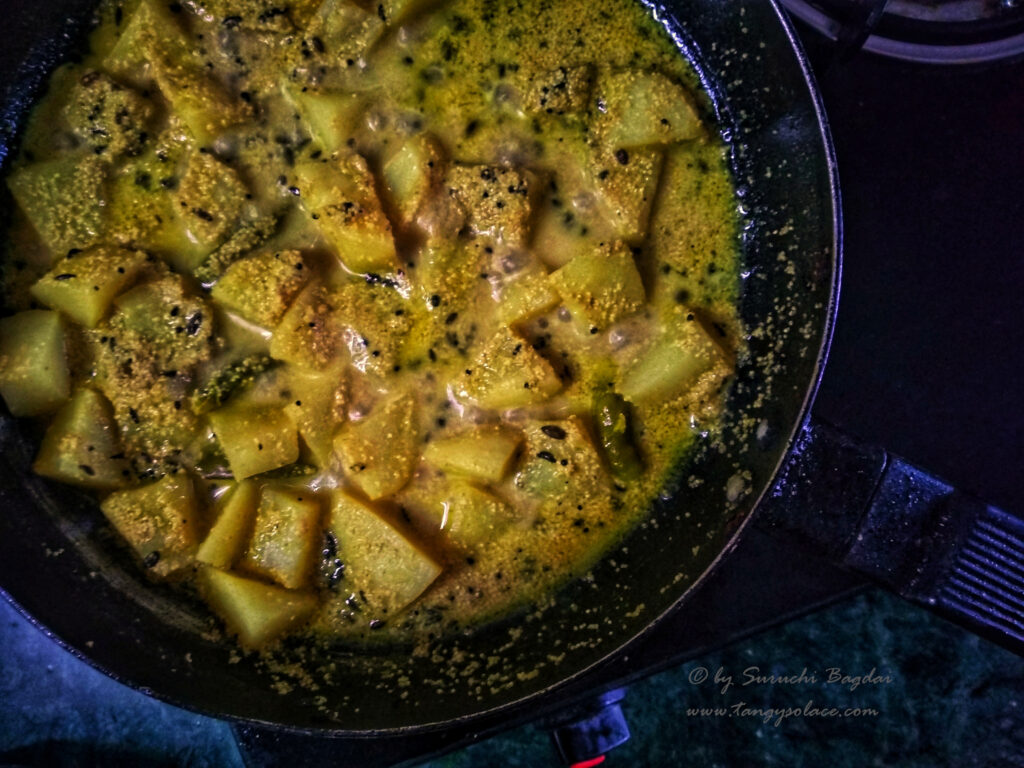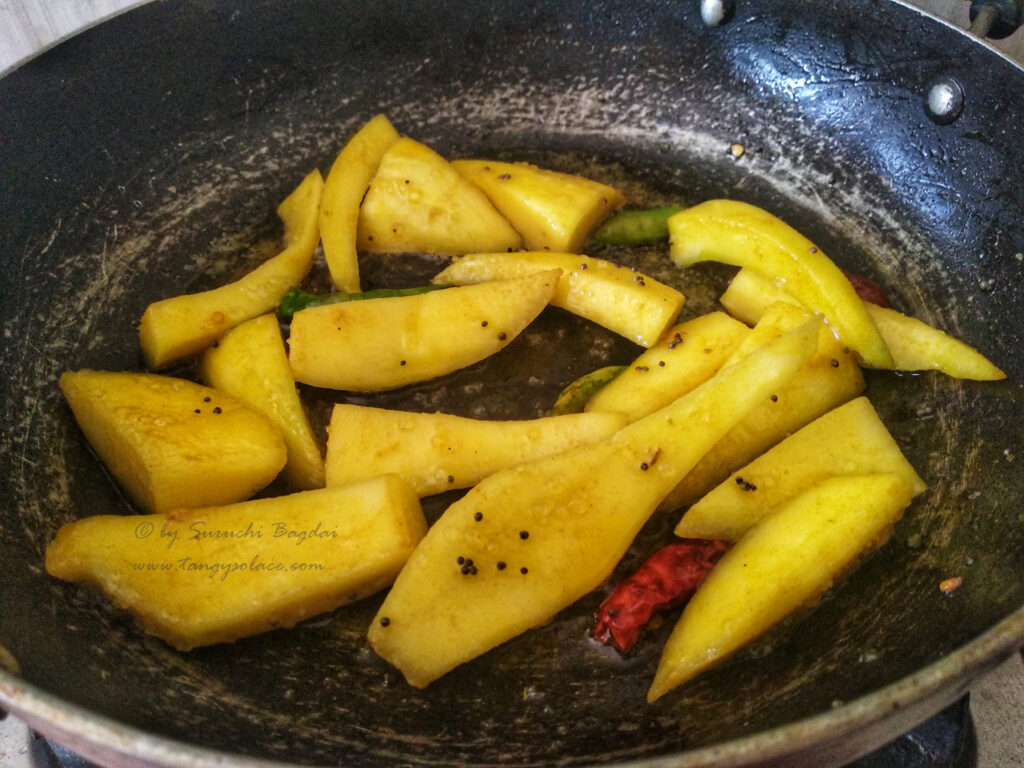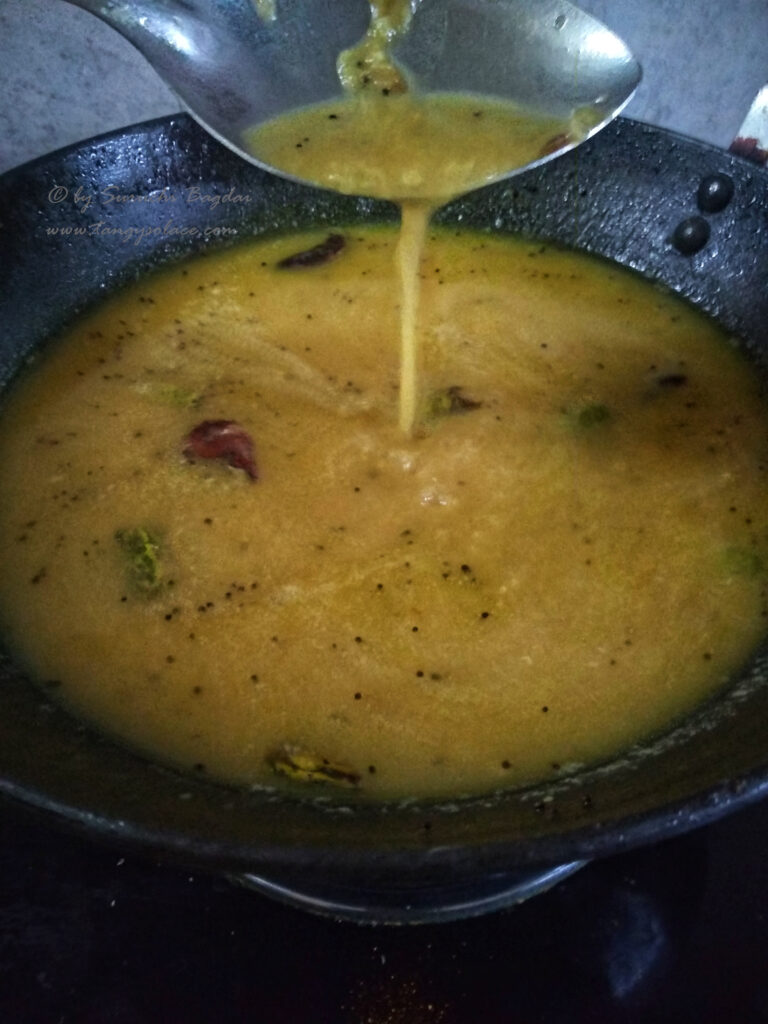 Summer comes with its own agenda of ill-health and cases of indigestion. Raw mango not only helps you fight them but also keeps you hydrated, offers needed vitamin C and provides immunity against sun stroke. Combined all this with the Aloo Poshto you not only get the desired nutty texture but also it helps cool your body.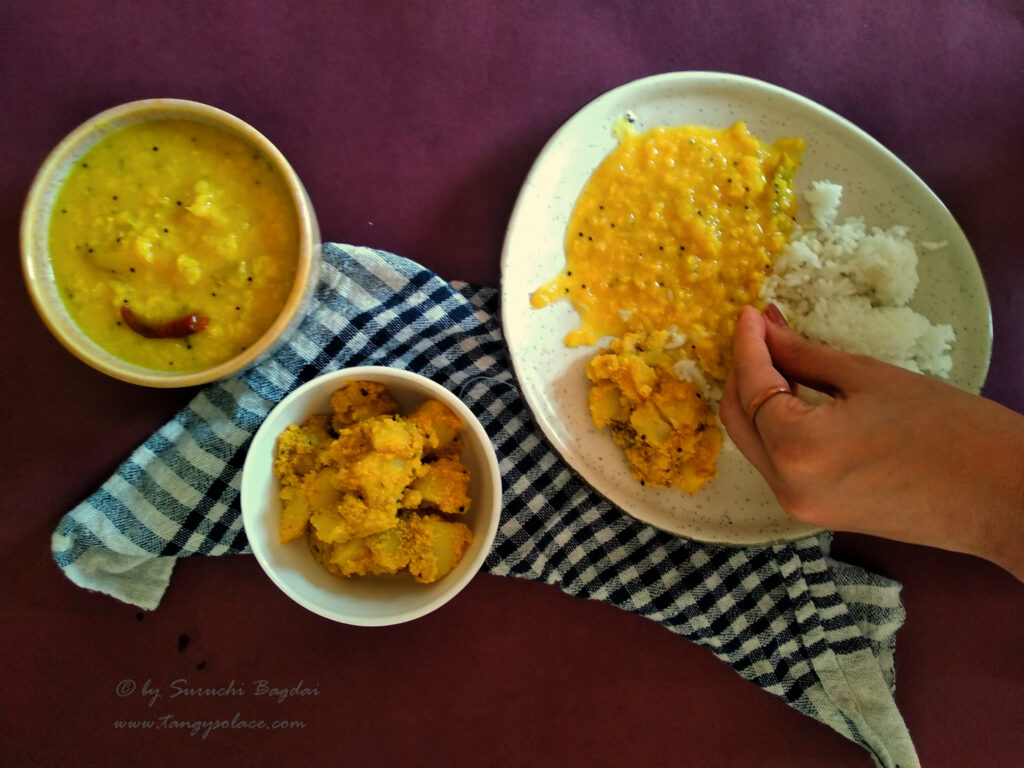 Although it's still a mystery for me that why Khus-khus (Poppy Seeds) is consumed so much in that part of India (Do you have any answer to this?).
So… who is ready to have some light Bong food here?
(emotionally proof read by Poulo herself :-p)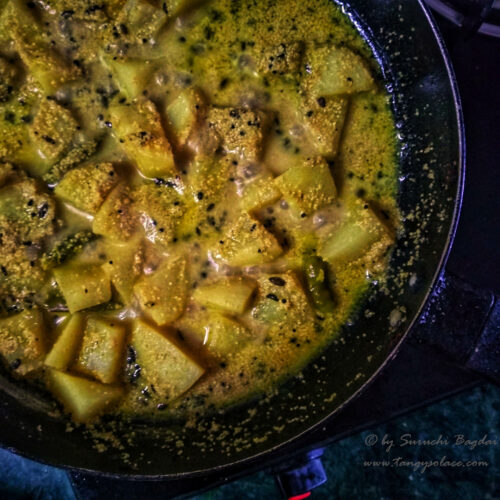 Potato with poppy seeds (Aloo poshto)
Ingredients
5

nos

Potatoes (medium size)

4

tbsp

Poppy seeds paste

2

tbsp

Mustard oil

1

tsp

5 spice mix(panch phoran)

2

nos

Green chili

1/2

tsp

Turmeric powder

Water as required

to taste

Salt

1

tsp

Sugar

(balance to taste)
panch phoran mix
1

tsp

Brown mustard seeds

1

tsp

Nigella seeds

1

tsp

Cumin seeds

1

tsp

Anise seeds

1/2

tsp

Fenugreek seeds
Instructions
Soak the poppy seeds in warm water for an hour. And a make a coarse paste out of it.

Also wash, peel and cube potatoes roughly into 1 cm cubes. Ensure to soak them in water to avoid oxidation.

In a pan heat mustard oil. Splutter the panch phoran mix. Add the green chillies and sauté it for a 15-20 seconds. Add potatoes and turmeric powder and sauté stirring frequently for about 2 minutes.

Add the poppy seeds paste and saute it again for a minute.

Add water and salt, cover with lid and cook for approx 20 minutes on low flame or till the potatoes are cooked through , well a little overdone. (such that you could easily press and it kind of loses its shape) Keep in mind to check the water content and stir in between occasionally.

The curry is supposed to be dry with the paste sticking on the potatoes . when the potaoes are cooked through , ensure that you boil off extra water.

Add sugar to the curry and cook for 30-40 seconds more mixing it properly.

Taste the curry and serve hot.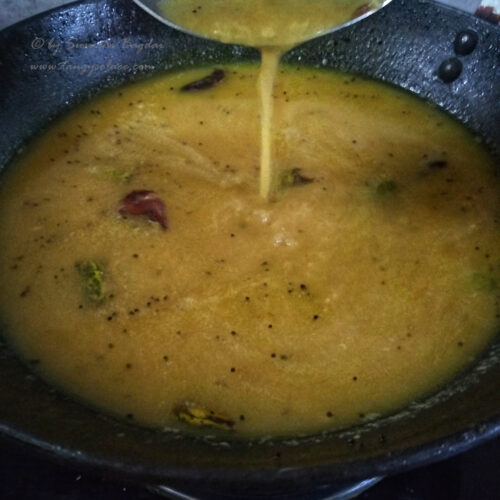 Red lentils with raw mango (Tok dal)
Ingredients
125

grams

Masoor dal

1

nos

Raw mango

3

tbsp

Mustard oil

11/2

tsp

Mustard seeds

1

nos

Red chili

2

nos

Green chili

1/2

tsp

Turmeric powder

Water as required

to taste

Salt

1-2 tsp

Sugar

(balance to taste)
Instructions
First of all clean and wash the masoor dal. Soak it in water for about 15-20 minutes. Cook on medium flame for 2 whistles, let cool and whisk it.

Meanwhile wash peel and slice the raw mango.

In a pan heat up mustard oil. Add mustard seeds and allow them to splutter.

Add both the types of chilies, turmeric powder raw mango and salt (only enough to cook mangoes) and sauté for a min. Cover and cook the mango for 2-3 minutes more till it softens. Stirring occasionally in between.

Cook till you can press the raw mango down with a fork. And yes do mash some mangoes down to get some pasty texture so that it amalgamates all around.

Now add the whisked dal and allow it to cook for more 15-20 minutes. Keep on removing the foam that forms on the top while it boils.

Balance the taste with sugar and salt to taste. And your dal is ready. Serve hot with rice and some aloo poshto if making.