The general process for me writing an article is researching, compiling, thinking about related anecdotes and sharing it all on the platform for the world to see and share their views with me. But between this planned chronology and the past nostalgia of old articles; real life happens at its own pace filled with ups and downs, days of productivity and days of numbness, steeped in illness and in health.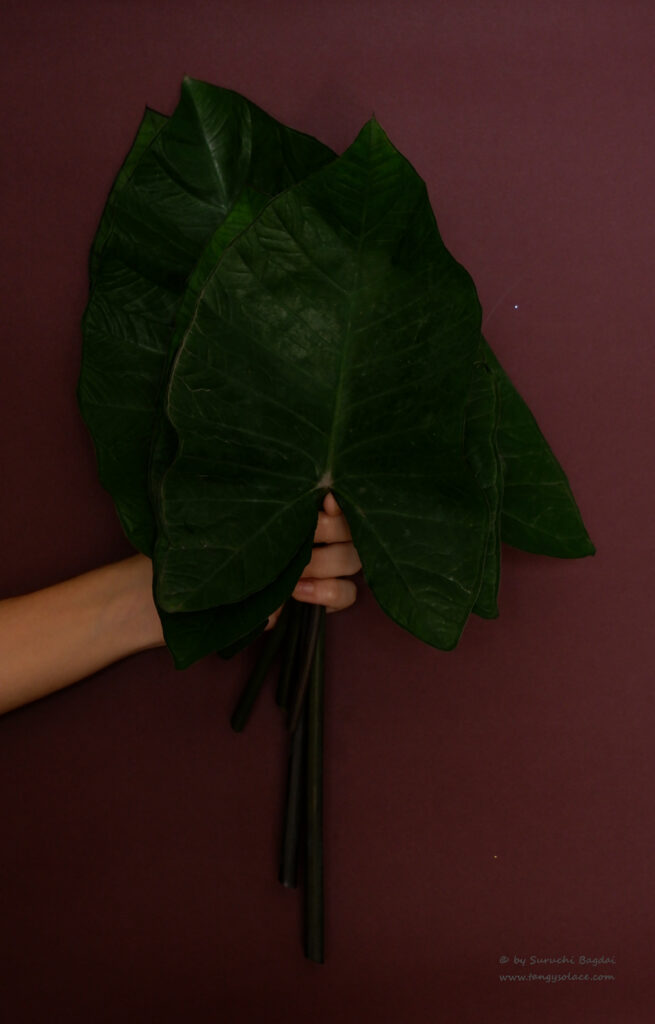 Some days I explored newer opportunities, started a small venture and on other days I found myself in caring duty for a family member and appreciated forming close bonds via faces rather than over screens. Although I had allowed myself a little levy with all these experiences and had somehow kept my blog on a back seat for few months it was never out of my mind and I always yearned to come back here.
But coming across and reading about the words doing rounds on the appropriation of regional cuisine especially Indian, Chinese and Mexican, I feel one must realize that it's high time a patron takes it in one's stride to explore more about the food one is eating. Expose themselves to the nuances of its nitty gritty. Ranging from why a particular species of the ingredient is used to the serving style, paying equal homage to the crockery especially preserved for that preparation.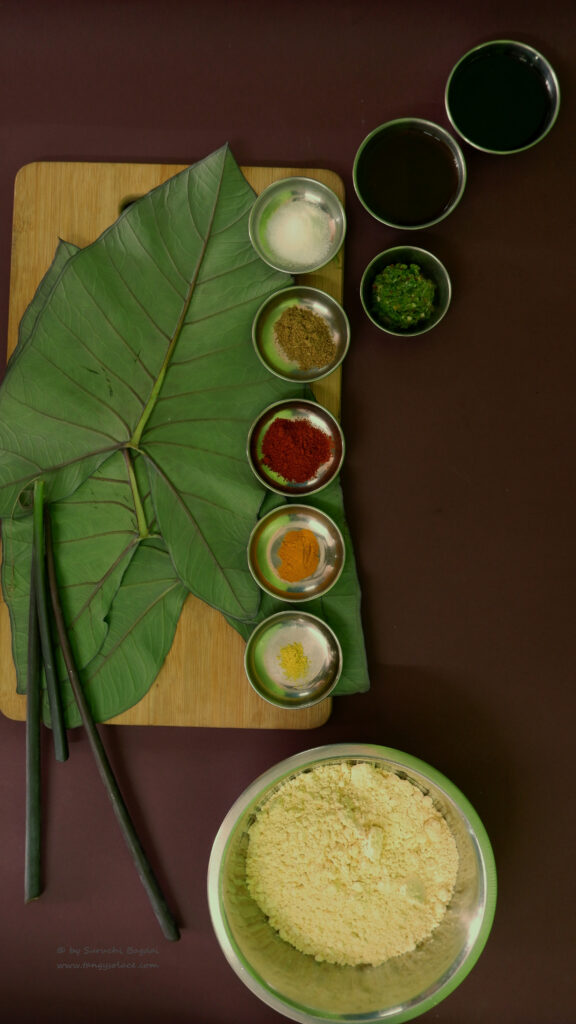 Upon perusal one realises how all elements come together in a beautiful symphony and the same strands of flavours explored all around the country would result in a different gastronomic marvel. Owing it to the changes in quantity and geography specific attributes in the ingredient's internal makeover. Just like same notes but different tempo delivering new music.
And hence, for this revived stage of life, I wish to celebrate this time with a lovely monsoon recipe and one of father's favourite Gujrati snacks- The Patra. In appreciation of his improving health and recently gained vigour and zest for life.
Patra is that lovely seasonal and traditional Gujrati snack of rolled Colocasia leaves that renders itself the name of Patra on account of the chunky pinwheels of these leaves.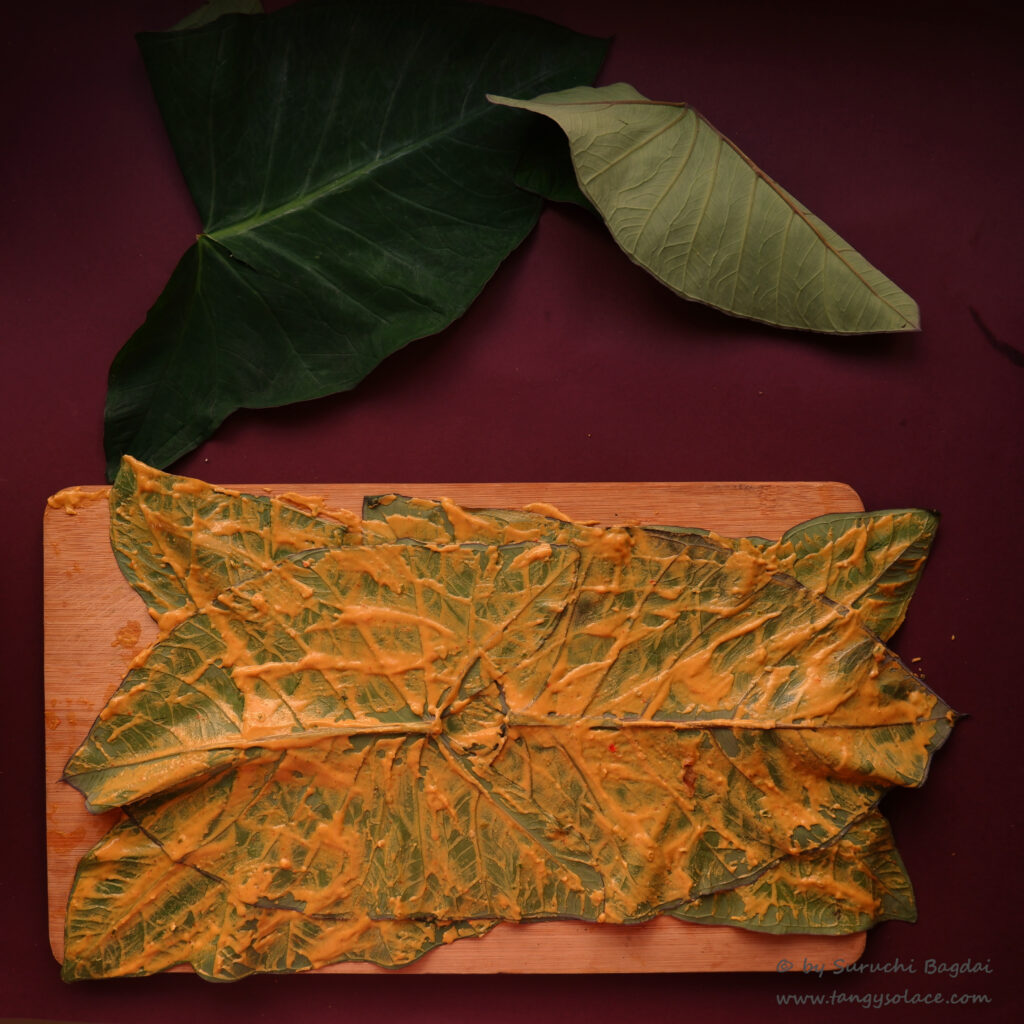 The leaves being rich in vitamin A and sufficient fibre are instrumental in maintaining great vision and healthy digestion.
This dish that is found easily at all farsan shops and very well-known across all communities and enjoyed all year thanks to extended storages but are best enjoyed fresh in monsoon with big leaves of Patra, dhopyache pan, Colocasia or elephant ears however you call it. Layered and smeared with a delicious paste and steamed till tender. Each flavor of sweet, tangy and spicy hitting your tongue at exactly the right moment to create a beautiful medley. Topped with a crunchy tempering and freshness of coconut and coriander it is a flavor bomb waiting to explode.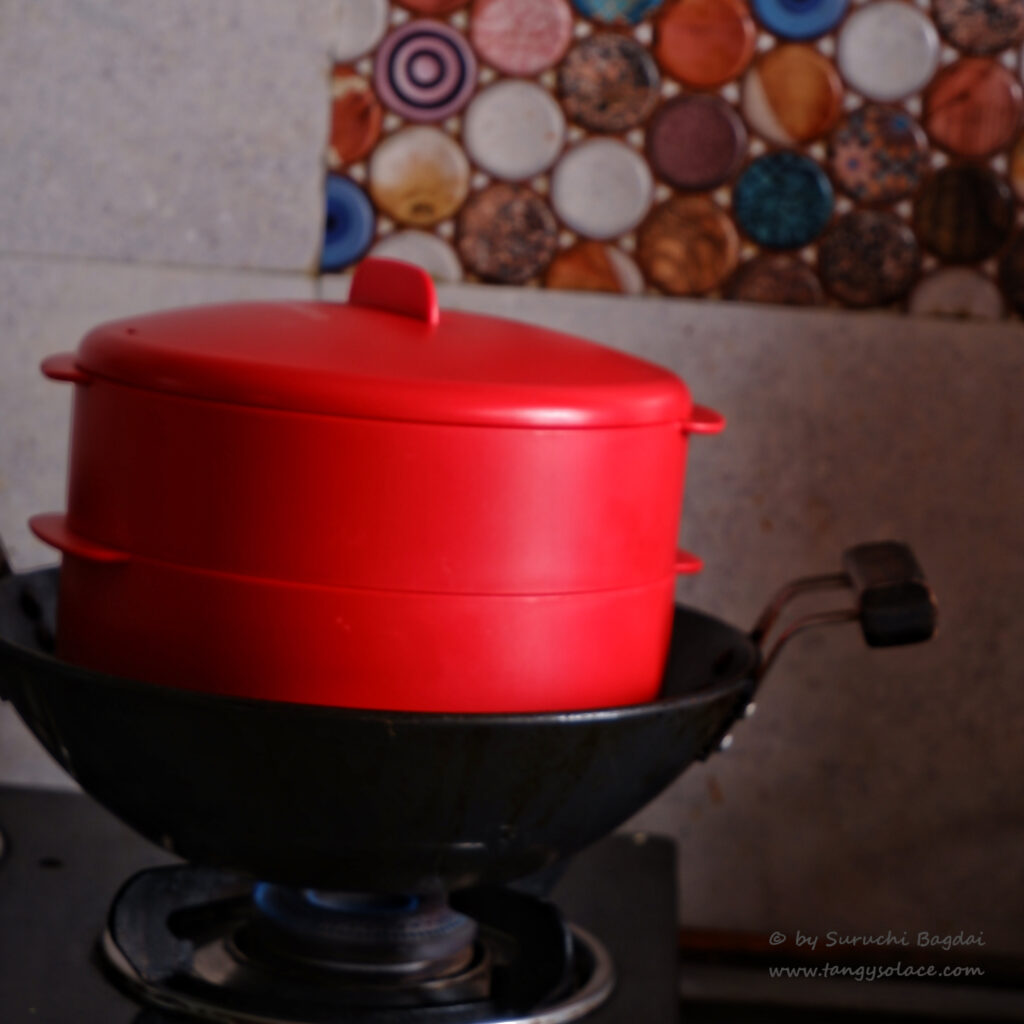 Please ensure that you use the purplish black stem Colocasia leaves (always used) as they are not as harsh for your throat and lends itself soothingly to the experience of munching multiples of this bite sized rolls.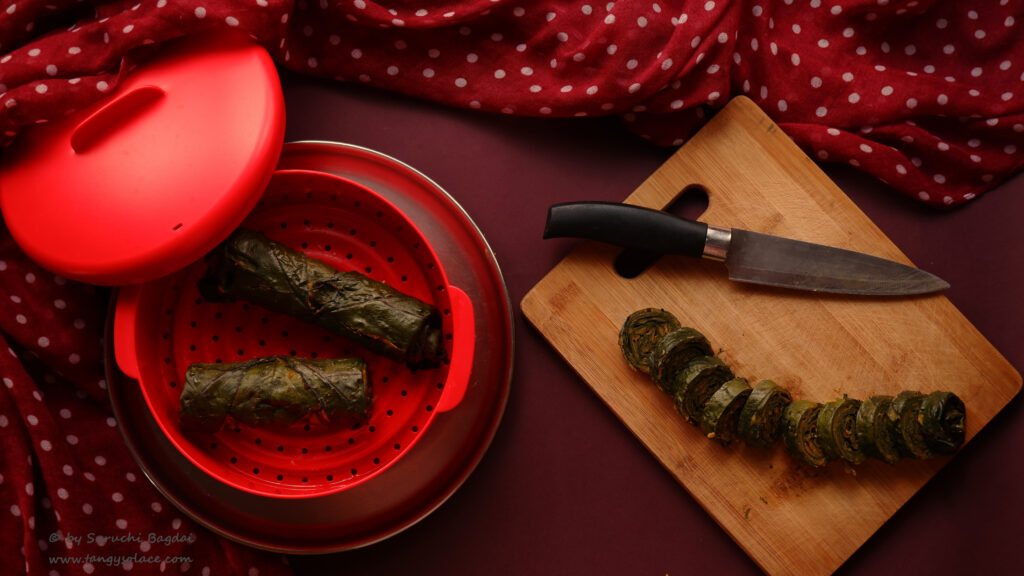 Although these big beautiful and boldly green elephant ears are not limited to one dish for the palate, being randomly used for turiya patra nu shaak, Gujrati version of paatal bhaji, or basic stir fry in my home or may be some other recipes in another cuisine (you may comment below if you know). I still wish to share this hugely popular farsan recipe because it is elaborate and cogent at the same time just like finding happiness in mundane things.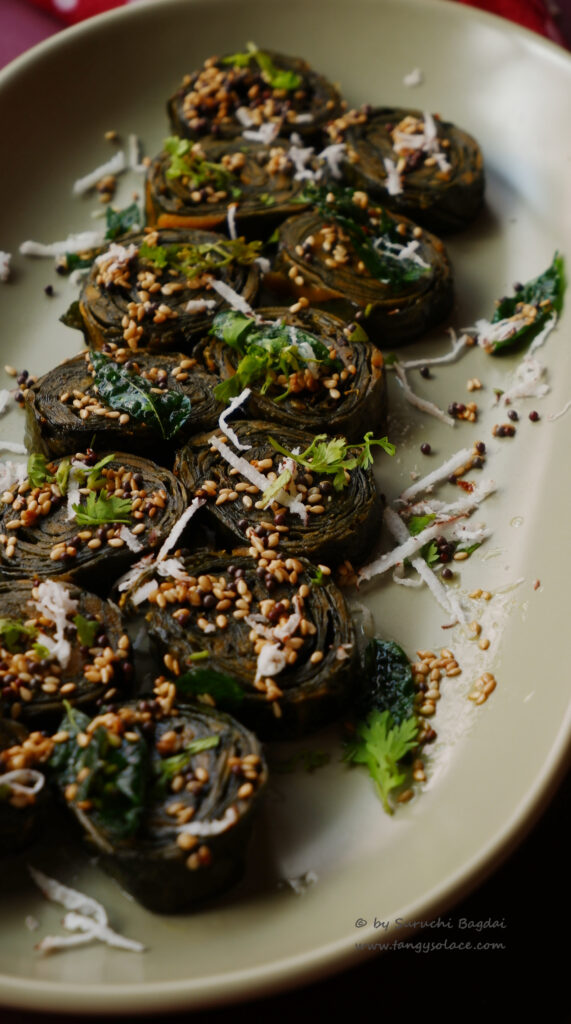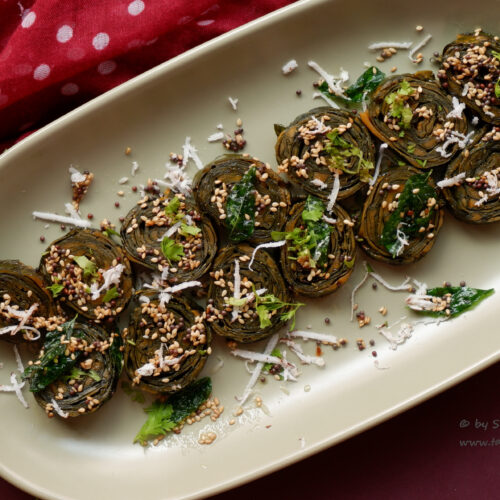 Gujrati patra (colocasia leaves pinwheels)
This drool-worthy and tangy snack is made out of the huge Colocasia leaves. Rolled into pinwheels your eyes would be immediately attracted. And mind you, you just cant have one of this delicious patra munchies.
Ingredients
For rolling and steaming
12

nos

Colocasia leaves (Arbi ke patte)

purplish black stems

2

cups

Bengal gram flour (Besan)

heaped cups

1/2

tsp

Turmeric

1 1/2

tsp

Salt

1

tsp

Red chilli powder

1

tsp

Coriander-cumin powder

1/4

tsp

Asafoetida

2

tbsp

Ginger-chilli paste

(Add between 1-2 tbsp)

1/2

cup

Tamarind paste

(Extracted from 1/4 cup tamarind pods)

1/2

cup

Melted jaggery

(Made from 1/4 cup grated jaggery)

1

cup

Water

Approx (to make a thick just pouring batter)
For tempering and shallow frying
6

tbp

Peanut oil

24

nos

Steamed Colocasia pinwheels (patra)

1

tsp

Mustard seeds

2

tsp

Sesame seeds

2

pinches

Asafoetida

1

sprig

Curry leaves

2

tbsp

Coriander leaves

(finely chopped)

2

tbsp

Coconut

(fresh grated)
Instructions
For rolling and steaming
1.Wash and wipe dry each of the Colocasia leaves under a gentle stream of water.

2. Remove the central stem using a paring knife.

3. Make a batter using all the ingredients mention in the rolling and steaming section. Taste and adjust consistency if needed. You want the batter to be spreadable and the taste spicy, tangy and sweet in harmony.

4. Now place one leaf on the chopping board lighter side up, ears facing out and stem side in and spread the batter. Then Place another leaf in opposite direction (lighter side always up) of the chopping board. Making an hourglass shape. Spread a layer of batter

5. Alternate the hourglass shape with the top two leaves and generously spread the batter.

6. Fold the layered leaves inside 1 inch lengthwise and spread batter on top.

7. Start pressing and rolling from bottom and apply batter after each tight roll. Continue till the end and secure the last fold with batter. Your roll is ready

8. Make two more rolls of 4 leaves each.

9. Prepare a steamer and oil the base of the steaming strainer.

10. Steam the Colocasia rolls for 25 mins. Remove and cool for 10-15 minutes and cut into pinwheels.
For tempering and shallow frying
First shallow fry the patra in moderately hot oil until crisp from both sides. (Ensure that you don't flip it immediately and allow it to cook for at-least 30-40 seconds per side or it will break)

Remove on the serving plate.

Now in remaining oil, splutter mustard seeds, sesame seeds, curry leaves and asafoetida. Pour this tempering immediately over the prepared patra.

Garnish with chopped coriander leaves and grated fresh coconut.
Notes
In some parts of Gujrat it is made using freshly ground bengal-gram and rice. (I am making the recipe followed in my house)
The stems are removed so as to aide in rolling and to avoid throat itching.
We love our Patras to be little spicy hence the extra amount of ginger- chilli paste.
Increase 5 minutes time for each leaf you add after setting 15 minutes for two leaves roll.