The only priority for my summer post this time was a beverage, my primary requirement and then my research started from that one tiny goal to add a beverage category in Tangy solace.
Feels so nice that it has led me to this beautiful fruit which has always come and gone in glimpses in my life. Although we may not be aware about it but we all are aware of the life long trend of it being confused and compared with other summer fruit the bael. How ridiculous? So what is it ?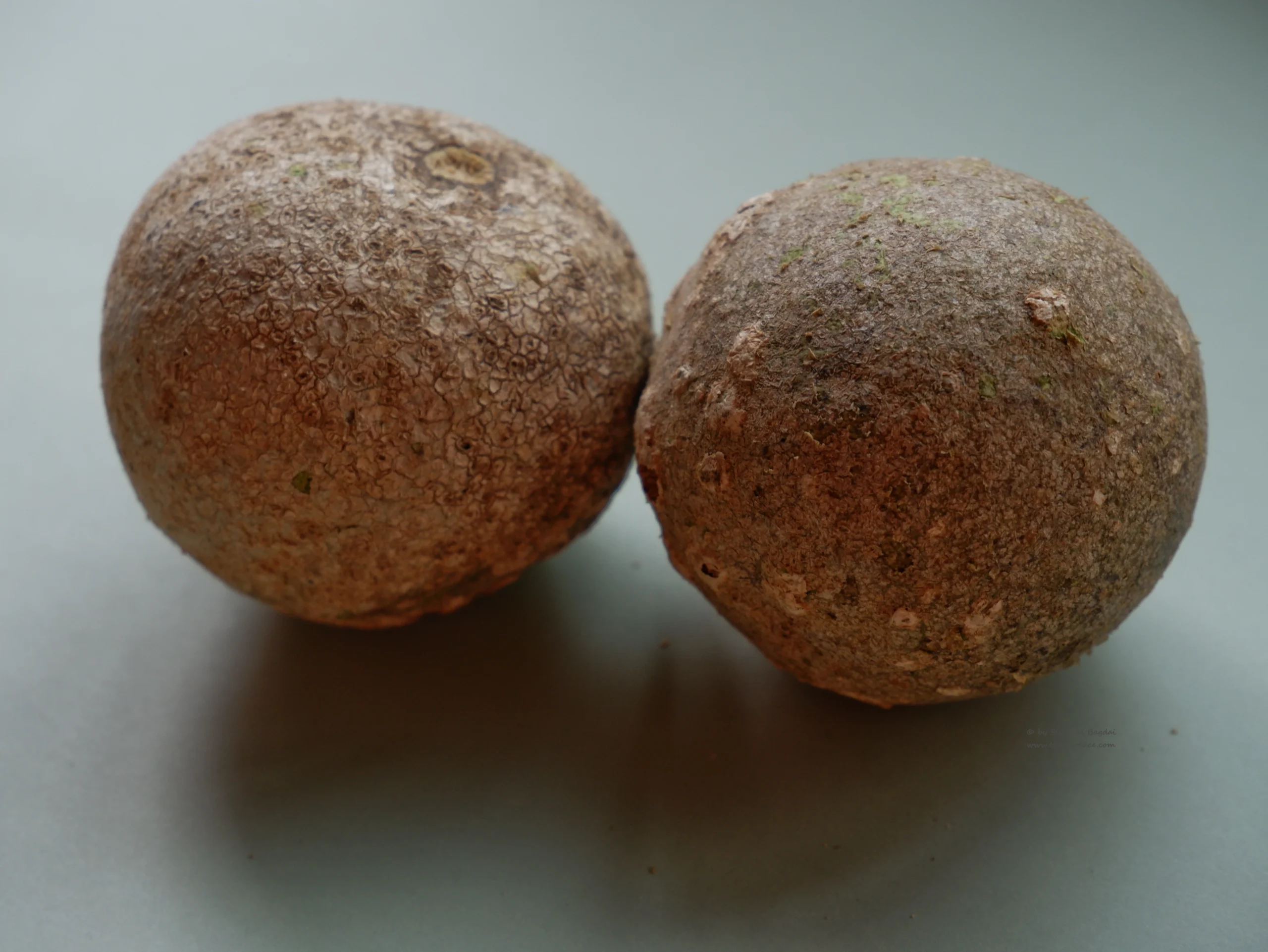 It is kavath. Or kotha, kavith, kath-bael, curd fruit, elephant apple, wood apple etc you know it by different names based on your locality.
And then I was interested to know more about it. And once you get interested in something you find that it is an old friend. Someone you looked at but never noticed.
You might have tasted its sherbet once at a distant relative's house visit, or a delicious chutney brought in by a neighbor, or that sticky fruit opened and lying for a minute on the kitchen platform whose pulp you dipped your fingers in and sneaked in a taste while your mother left it unattended for a minute.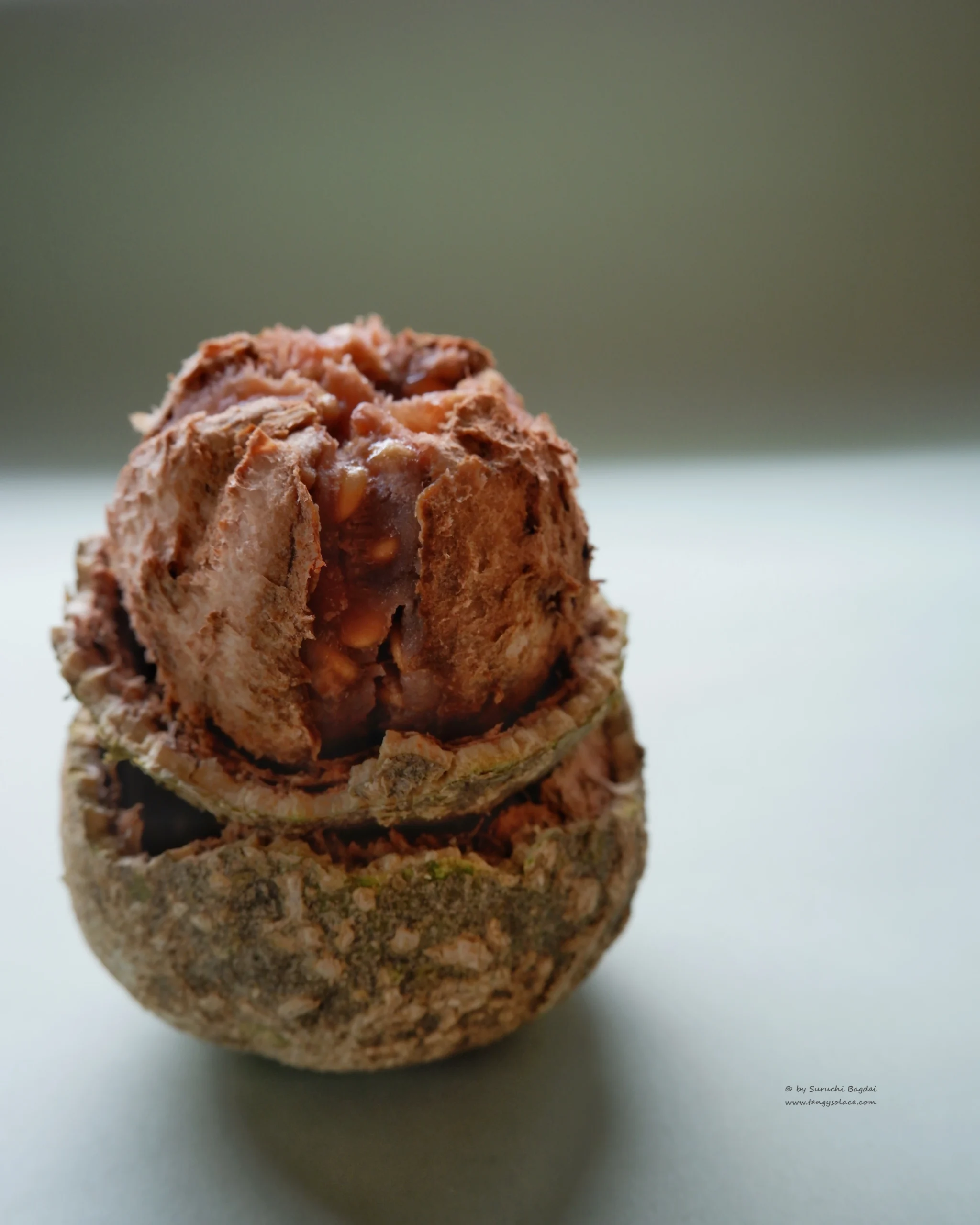 Or that fruit you saw every spring-summer transition period at your local seasonal ferriwalas with their tiny baskets filled with Kavath, Bael, Gunda, Kuni Keri, Charoli, Imli etc each item coming in and staying only a few months.
When I look back I still remember a small incident which hyped my curiosity in the fruit even more. A year ago a one day trip to nearby open fields or call it a picnic if you may in the month of February where I found hoards of tree with large canopy surrounding and covering the distance every few kms.
I kept peering through the blurry image my vision could produce from the moving jeep. Where I was perplexed by a fruit which looked like Bael but had leaves similar to tamarind, though slightly broader and less in numbers.
And naïve that I was I asked if it was Bael knowing thoroughly its leaves are trident shaped. And my dad on observing my perplexity came to my rescue and said -"No, Dear. This is another similar fruit Kotha bolte hai isse.
Kavath is visible during the months of November to April in my local markets .
So should we call it a winter fruit, a spring produce or summer beverage. All I know that it is tangy and cooling for your body. Something I would love to prepare a squash out of while its readily available and in season and have its drink in hot Nagpur summers.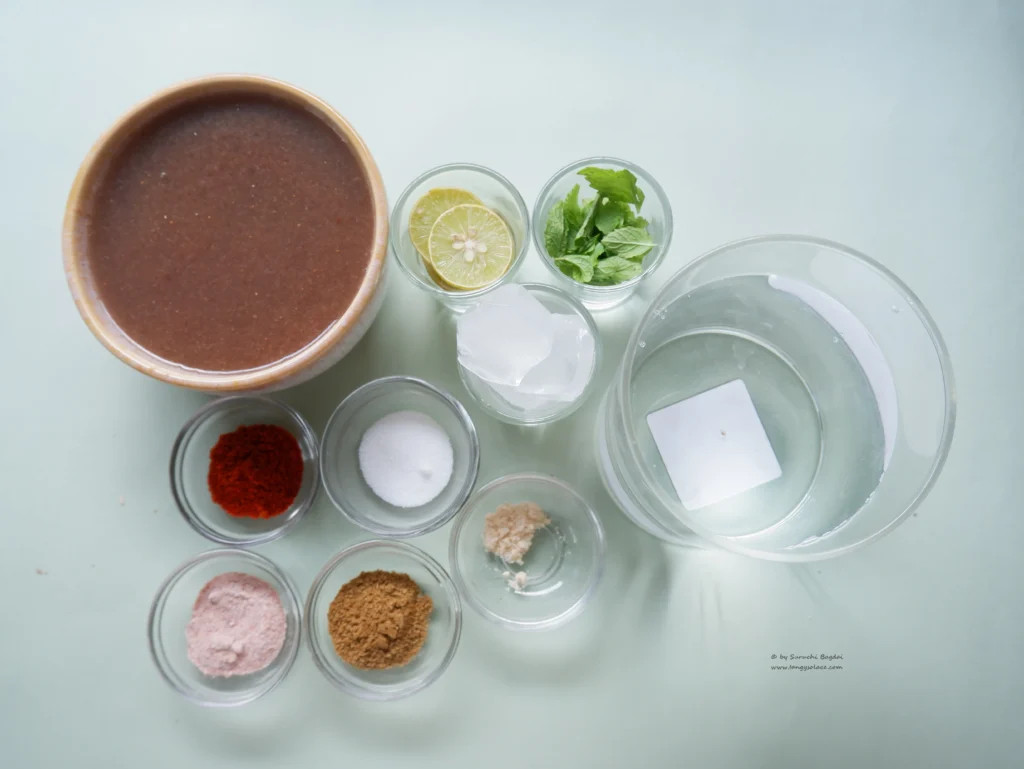 Its a little heavy to digest and care should be taken not to consume it more than once a week in small doses.. may be a portion of juice or shake, or other recipes that you can think of during summers.
While chutneys and burfis made in Winter and early spring helps you bring strength and can be had more. Know when to consume which recipe.
I may not have the right words to explain its taste. But as soon as you crack a ripe kavath open you get a pungent tangy sniff reminiscent exactly of ber fruit (Indian jujube ) mixed with a hint of asafoetida. Which might remind some people of fermented notes.
Its a woody hardy round ball having a ridged pale greenish brown color. Which on passing the ripeness test ( A no bounce back on dropping and a musky smell ) is filled with a dark brown pulp having a texture similar to tamarind in its pulp and fibrous threads, with tiny edible white seeds dispersed within .
Although Bael and Kavath both are called wood apple, are known for their tangy composition are tough to crack and similarly undergo ripeness test. For purpose of clarity, Bael has a smoother surface, Greenish-orange hue, elongation at the stem end and reminds you of smelling honey and plums.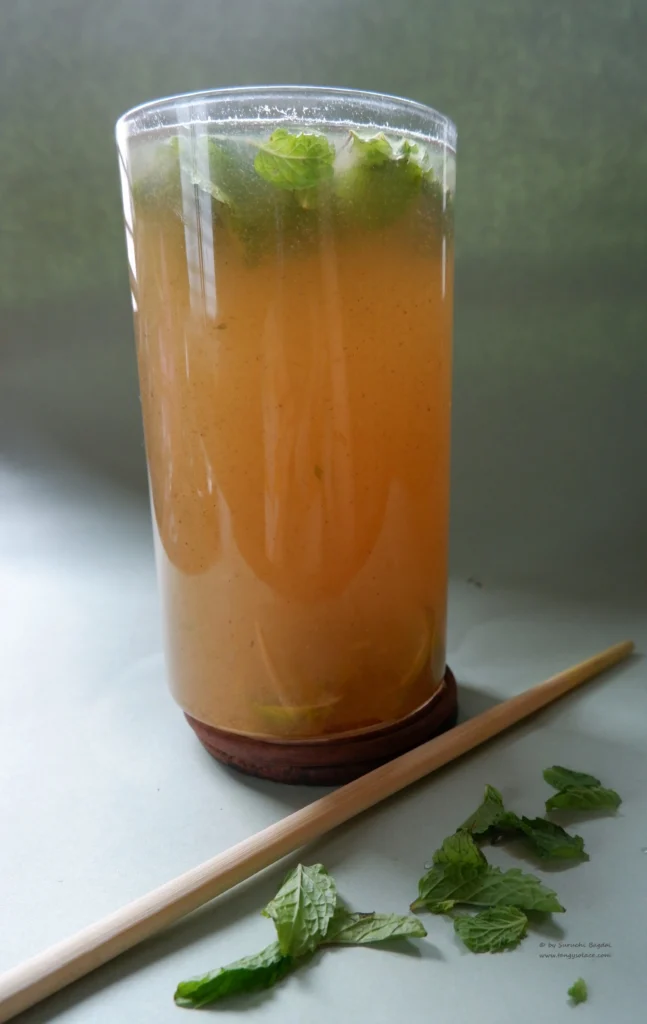 Kavath is replete with all the amazing nutrients from carbohydrates, protein, calcium, iron, vitamin C and micronutrients. It boosts your immunity, relaxes muscles, cools body temperature and is a great antioxidant. Above this there are much more and in depth nutrient analysis available at Healthy eats. Do have a read.
I will be sharing a recipe in two parts. where you prepare the squash before hand when kavath is in season and prepare this delicious drink as and when needed during summer months.
It is easily available till April and starts disappearing as May starts and hence we are at the brink of losing out on the 'in season' fruit. Right time to remove that prepared kavath squash and pour yourself this cooling summer drink.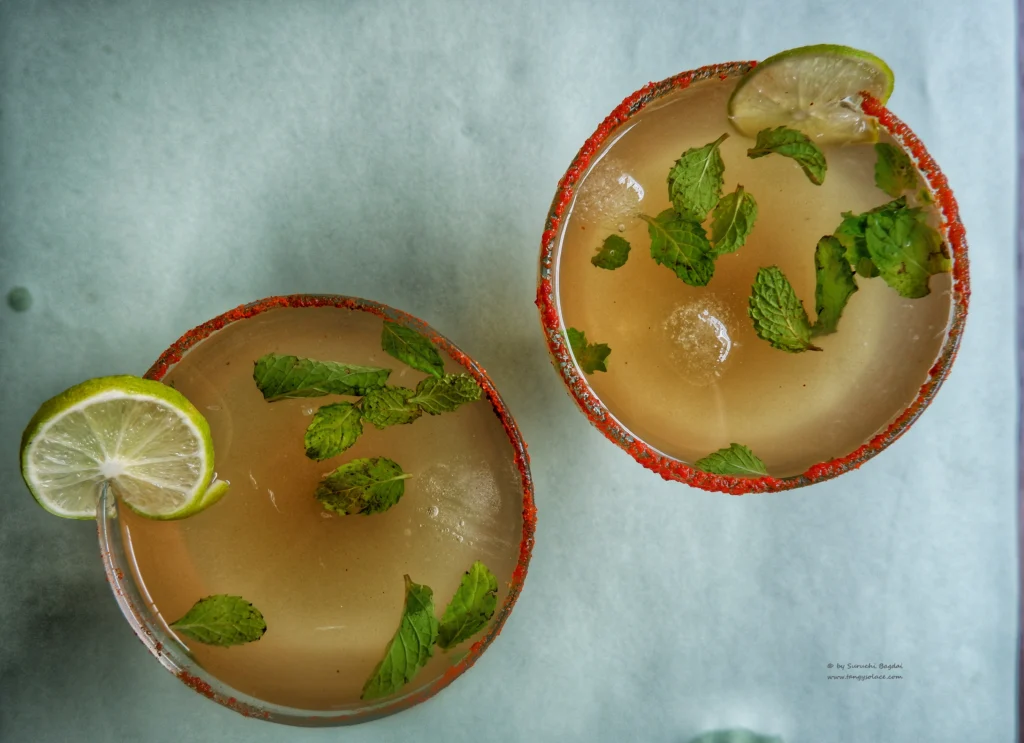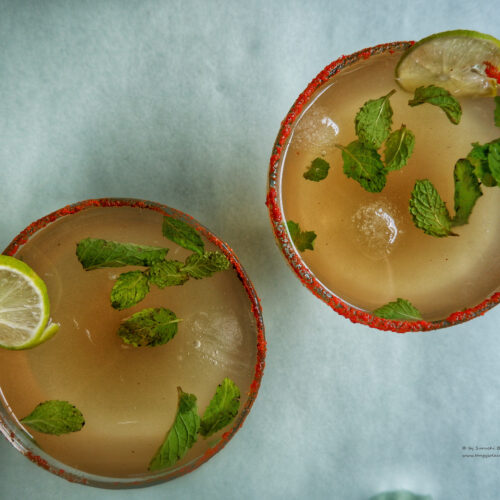 Kavath sherbet (Curd fruit virgin mojito)
A tangy summer beverage using a spring fruit.
Ingredients
The squash
2

nos

Kavath (elephant apple)

medium size

1/2 cup

Hot Water

to soak kavath

10

tbsp

Brown sugar /jaggery

1/4

cup

Water

for syrup
The kavath sherbet
8

tbsp

Kavath squash

1/2

tsp

Rock salt

1

tsp

Red chilli powder

for rim garnish

1

tsp

Salt

use 1/2 tsp for rim garnish, only 1/2 tsp in the sherbet.

1

tsp

Roasted cumin powder

2

pinch

Asafoetida

20

leaves

Mint leaves

keep 4-5 aside for garnish

2

nos

lemon

For garnish and to muddle

8-12

cubes

Ice

600

ml

Chilled water/ soda

(approx to top)
Instructions
To prepare the squash
1. Check the ripeness of kavath. Bounce it against a hard surface and note that it shouldn't bounce back

2. Open the fruit by hammering it lightly across its widest circumference until the surface cracks. Twist and open.

3. Scoop out the pulp in a big vessel using a spoon.

4. Soak this pulp for about an hour in hot water. Press and remove as much pulp as possible using a potato masher or your hands.

5. Pass it through a sieve to strain and get a smooth pulpy concentrate.

6. Heat a saucepan with above mentioned sugar and water. Stir till dissolved and boil for another 5 minutes on low flame till you don't get a thread but slightly thick syrup consistency. (Do not stir while simmering)

7. Cool and bring the syrup to room temperature. Add in the prepared kavath pulp
To prepare kavath sherbet
1. Chill the serving glasses.

2. Rub lime juice on the rim and roll it in salt, chilli powder mix.

3. In a glass pitcher muddle mint leaves, lemon slices of 1 lemon, spices and the prepared squash together. Fill it with water/ soda . (Keep few leaves aside for garnish. 4-5 nos)

4. Stir top to bottom using a stirrer or spoon.

5. Taste and make adjustments if needed.

6. Add 2-3 ice cubes to the each chilled glass.

7. Top them up equally with the prepared mojito

8. Serve immediately garnished with mint leaves.