If I had to answer a quiz mentioning recipes made in a jiffy- Khichi would top it for me.
Can it beat instant noodles though? Yes. Who cares about a minute or two here and there, they are close competitors. And you know we are team Khichi anytime. Aren't we?
Gujaratis can have Khichi any snack time of the day.
And you know for sure which is the best snacking season – The rainy season.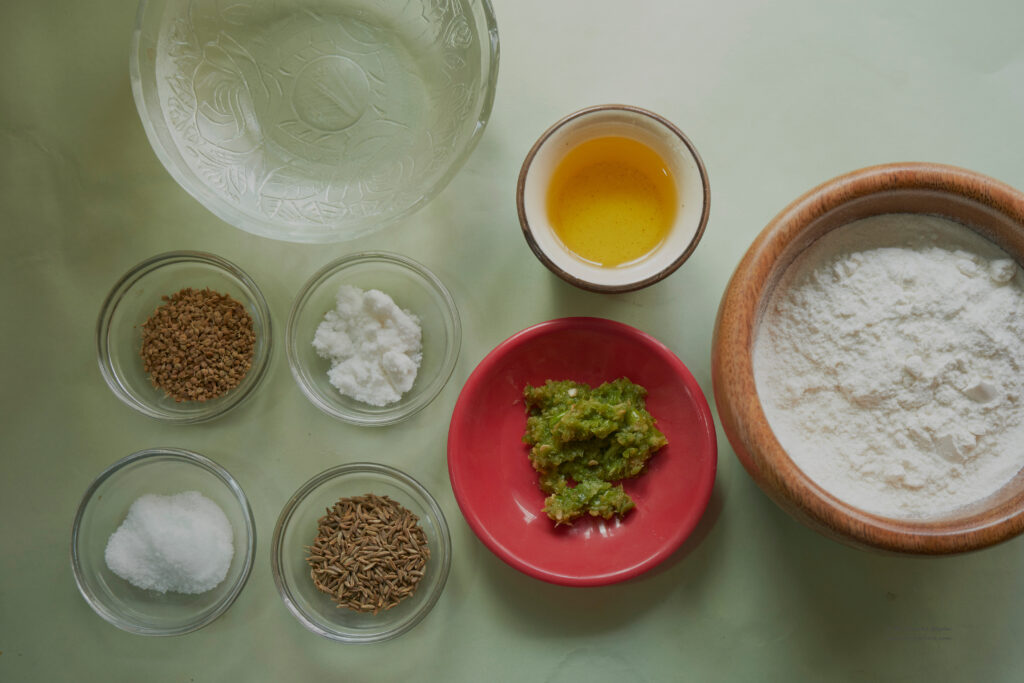 Piping hot tea, steaming hot Khichi and the optional yet highly recommended the simplistic- Lehsun marcha ni chatni.
You can very well pair it with anything of your choice- people have red chili powder, methiyo masala, actual achaar, singdana lehsun ni chutney, green chutney etc.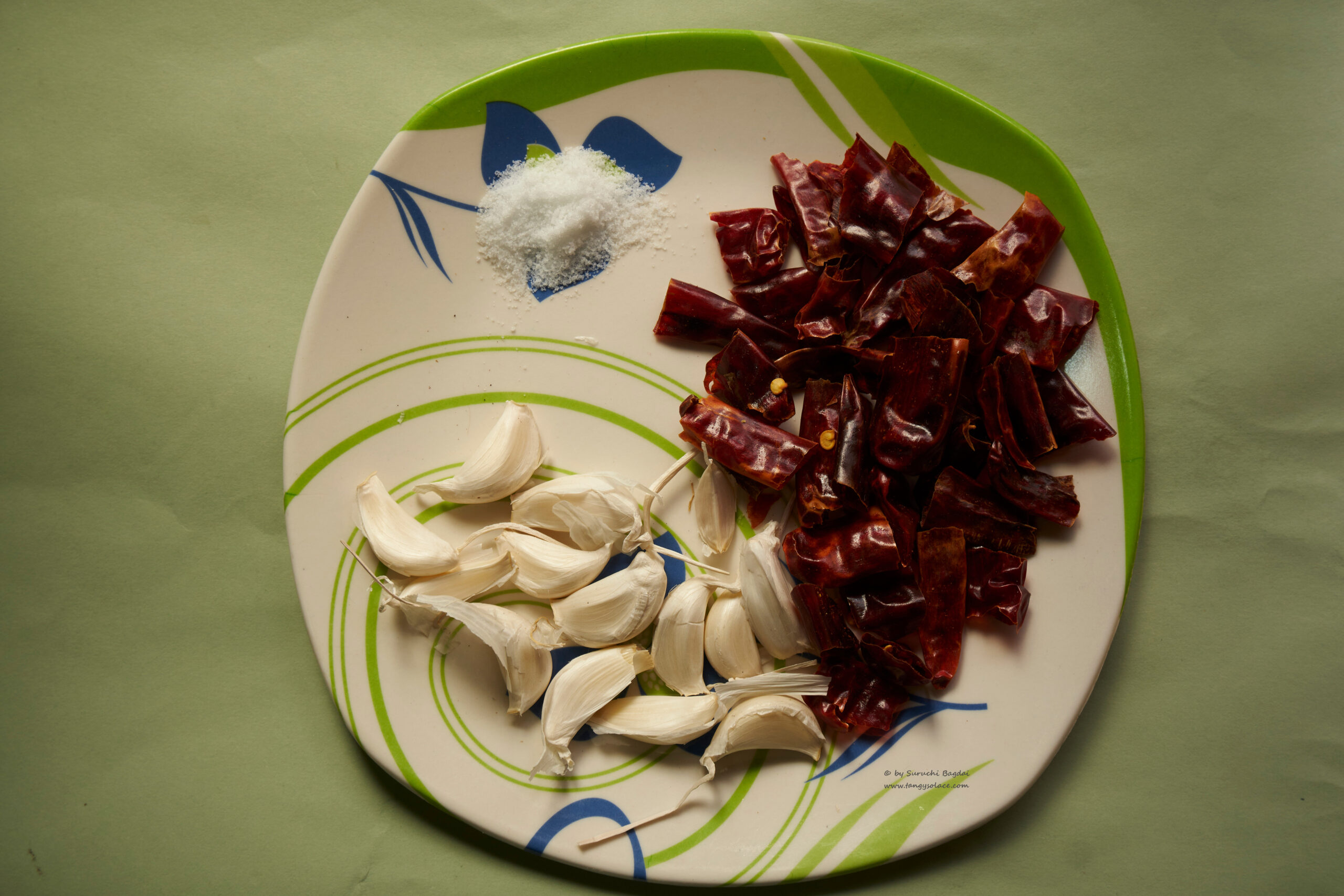 And the most beautiful thing connecting these two made for each other items is fat. Yes, literally oodles of raw groundnut oil swirled over your Khichi or placed in a different bowl with a side of your likened spice mix.
Sensing the richly flavored fat line your palate and the warmth from the sticky steamy dough encompassing it with just the right hint of hot spice blend is what makes your finger go for more.
Well, there are other obvious times to have Khichi as well. The summers when rice papads are made, if they are made in your house.
Unfortunately we don't, it's a labor intensive process and being a small family we have resorted to buying it from outside more often than making it at home.
But we usually help our aunt who call us over to eat piping hot Khichi every Papad making session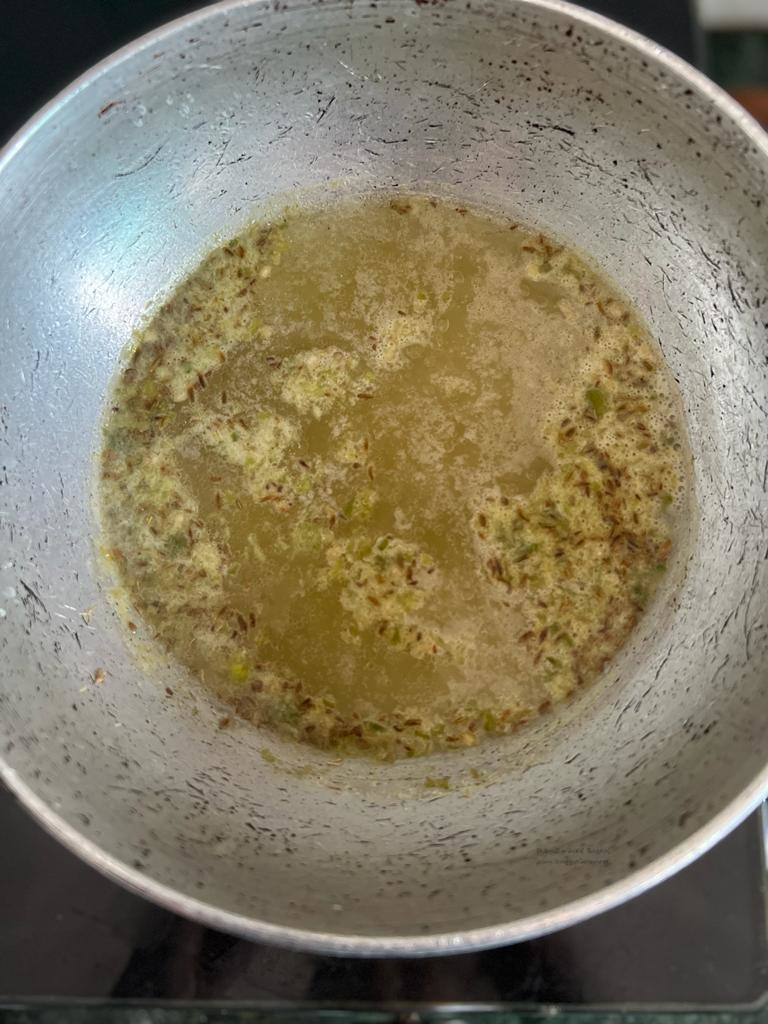 The entire room is filled with folded saris and an overenthusiastic team, all employed with different tasks of kneading the dough, rounding, pressing the Khichi machine, removing the pressed Khichi discs on sari oh so carefully without tearing and serving tiny plates of Khichi to people in other rooms as well as neighbors. Kids do love to tear and eat the semi set papads though. But still can't figure out why.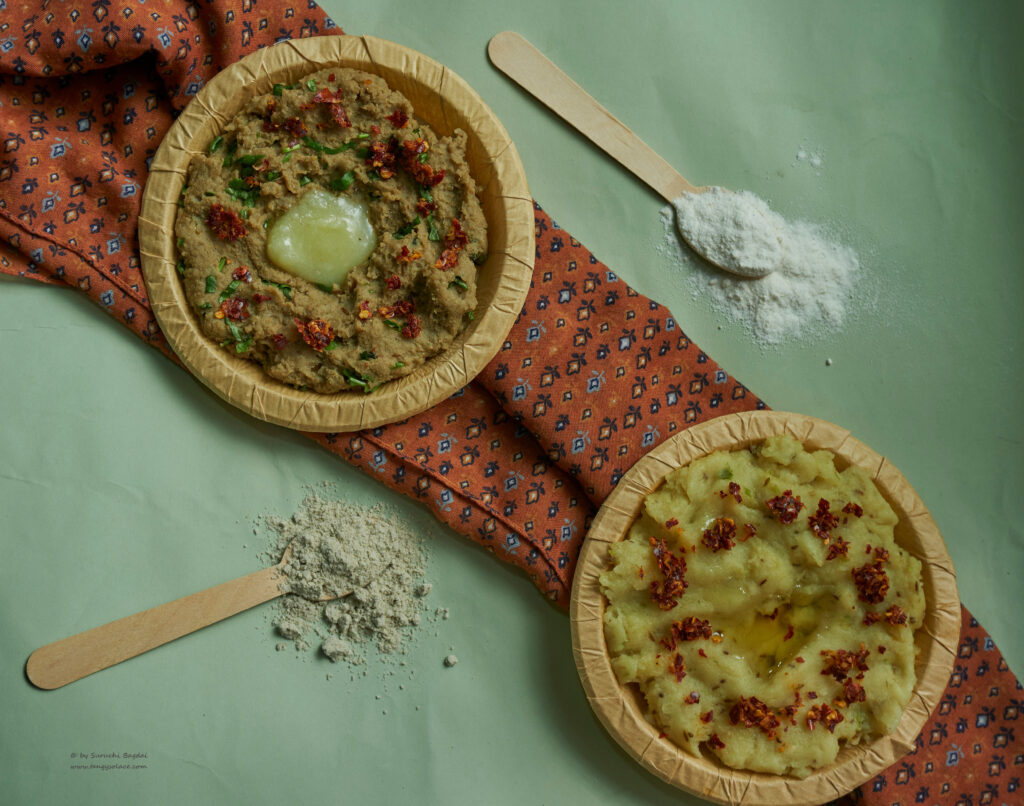 We majorly have the Rice Khichi but can obviously be made in variants -wheat, bajra, ragi, jowar etc – you can see pictures and notes for bajra variant too here.
Khichi making is like cooking level 1 class for Gujaratis, you learn it at orientation.
Practice Khichi then move on to may be Dhokla, Khandvi, Patra, Muthiya and the likes. Noticing a trend here are we – Gujrati steaming hot snacks are rainy favourites.
The rice Khichi is high in calorie and counted as energy dense snack. It keeps you full for longer. Steaming is what makes it healthy but is ruefully balanced by addition of oil and spices added for flavor.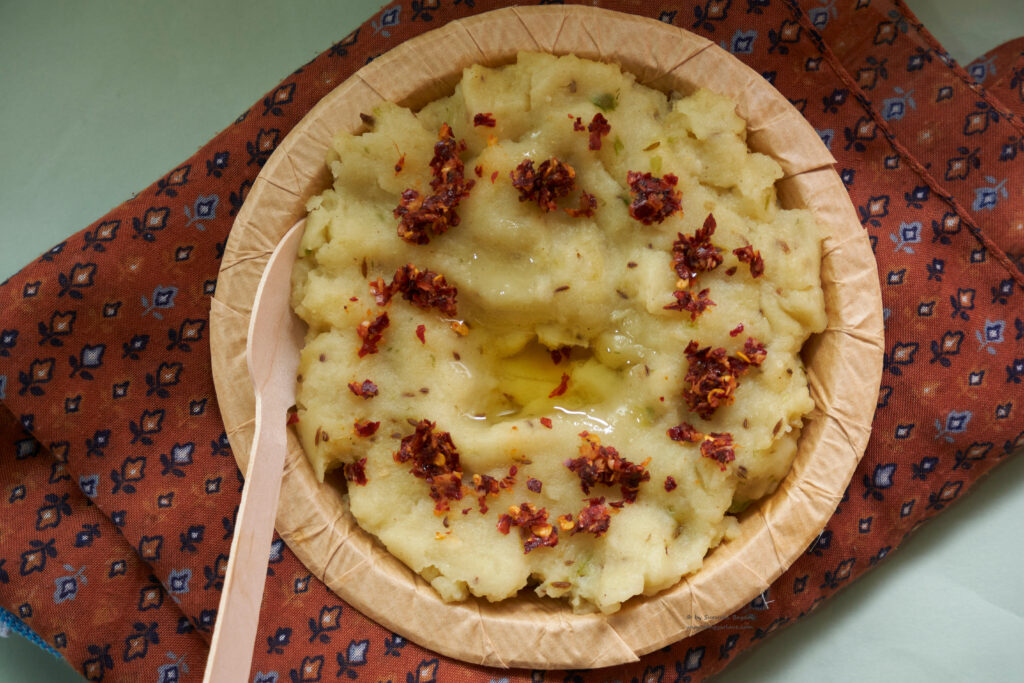 You don't get the fancy shapes here just a big doughy mass cooked together which is spooned onto your plates. For fancy shapes and flavors I highly recommend-Sanjanafeasts Crispy chilli khichi recipe
Kneaded or not kneaded is your choice . And, mind you not kneaded variant are specific preferences of some. And truth be said I have come to appreciate it too.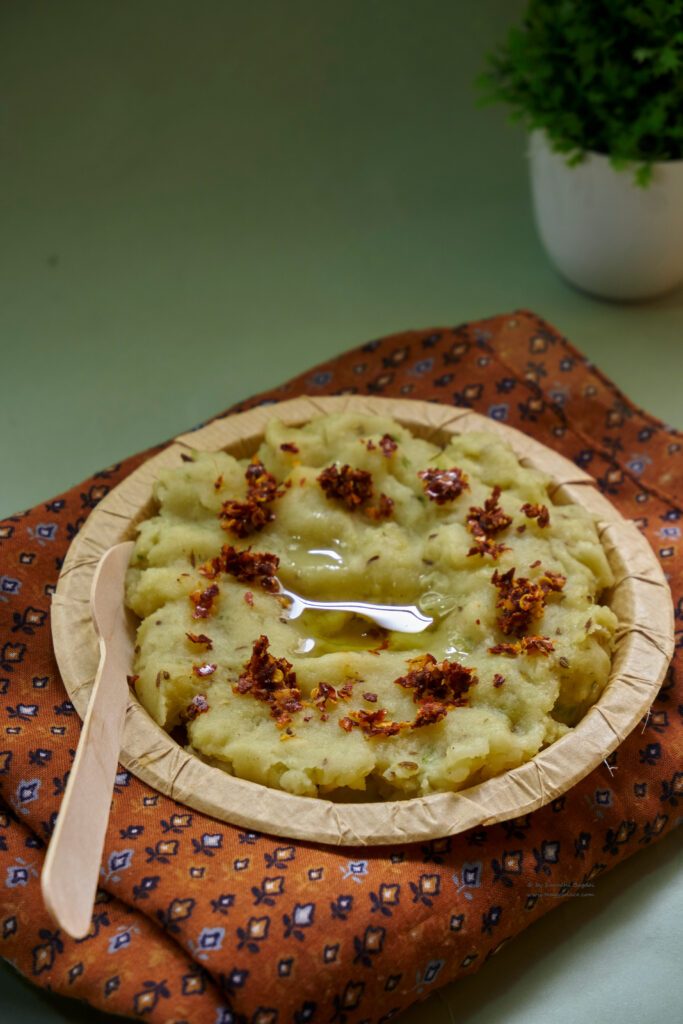 So here comes the recipe. Excited to share it with you all.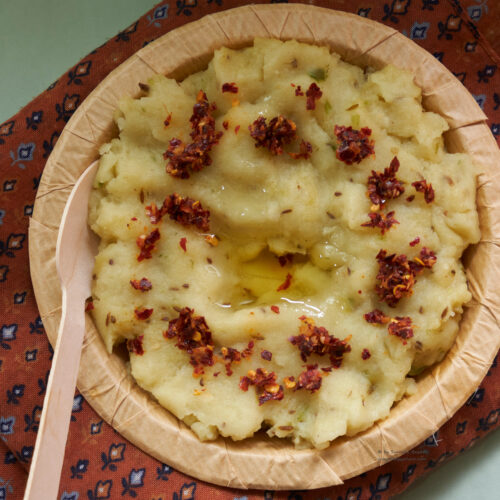 Gujarati Khichi (Steamed and spiced rice dough)
A spicy energy dense steamed gujarati rice dough snack apt for the drizzling rainy weather
Ingredients
For Chokha ni Khichi (Steamed and spiced rice dough)
1

cup

Chokha no lot (Rice flour )

Cup (250ml)

2

tsp

Salt

to taste

1

tsp

Papad khar (Sodium benzoate)

1

tsp

Chilli-ginger paste

1/4

tsp

Ajwain (carom seeds)

1/4

tsp

Jeera (cumin seeds)

1

tsp

Oil

preferably groundnut oil

2

cups

Water
For Lehsun Mirch ni chutney (Chilli-garlic mix )
15

chillies

Dry red chilles

15

cloves

Garlic cloves

1/2

tsp

Salt

to taste
Variant-Bajra ni khichi (Steamed and spiced pearl millet dough)-winter special
1

cup

Bajra no lot (pearl millet flour )

cup (250 ml)

2

cup

Water

1.5

tsp

Garlic-chilli paste

use green garlic if you get (use instead of ginger-chilli paste)

2

tbsp

coriander leaves

chopped

Rest all ingredients same as Rice Khichi
Instructions
For Chokha ni Khichi (Steamed and spiced rice dough)
1. In a heavy bottom pan bring water to a boil.

2. Add salt, papad khar, jeera, Ajwain, ginger-chilli paste and oil. Just mix once.

3. Lower the flame and add rice flour and cover and let it cook for 3 minutes undisturbed.

4. Meanwhile keep oiled rolling pin or wooden spoon ready at you disposal.

5. Turn off the flame remove the pan and mix the dough with the help of rolling pin in only one direction. Use your arm strength for a minute here to whisk away all the lumps and form kind of a dough.

6. Note that it sets on cooling. So work quickly.

7. Keep it back on low flame covered for 5 minutes to moisten, cook in steam, absorb all flavors and become homogenous.

8. Serve hot topped with the lehsun-mirch ni sukhi chutney and groundnut oil.

9. The guest may or may not knead the khichi as per their liking.
For Lehsun Mirch ni chutney (Chilli-garlic mix )
2. Deseed and destalk red chillies. And break them if you if you need

3. Dry roast each ingredient on low flame for 2 minute

4. Grind them in batches as needed to form a coarse paste

5. Finally add salt to taste and grind once to mix

The chutney is ready to serve. Best topped with groundnut oil
For Bajra variant Khichi
1. Follow the steps as mentioned for Rice Khichi and modify ingredients as mentioned.
Notes
Use fresh milled flour whenever possible for best results. 
You may use baking soda instead of papad khar if that's not available. Ratio of soda being 1/4 times less.
You may reheat the Khichi in microwave at 60% power for 40 secs or in a steamer for about a minute.
Adding jeera gives water a greenish yellow hue. You may add it as early or as late depending on your preference. (Anytime before adding the flour)
The last step where you add the khichi back on flame and cooked covered can be modified- off flame after whisking press the dough with glass or bowl to smoothen it.  Shape into roundels and reheat them on greased tray in a steamer.