There are loads of vegetable for us in our local Markets to make some yummy curries or dry vegetable preparations from and then there are fruits too which we go and buy, usually to consume them as they are or make juices and even as dessert fillings who love them to use so.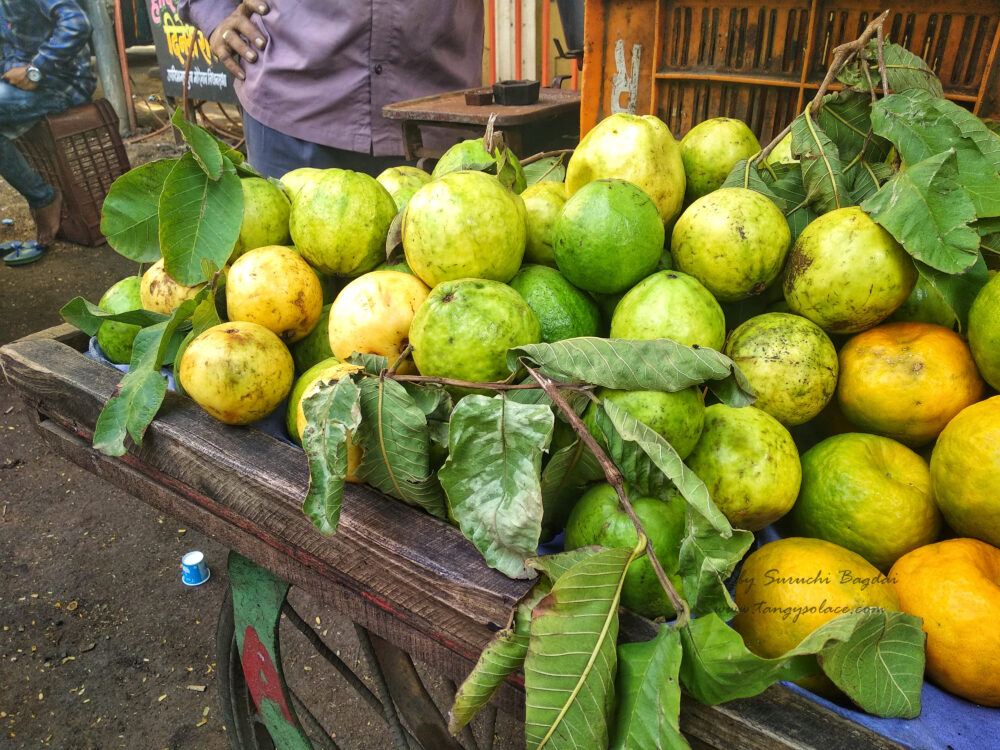 But don't forget we can use these sweet and tangy fruits to make some warm spicy veggies too (not literally turning them though)
Jack-fruit, guava, apple, banana are some examples and yes isn't tomato a fruit and isn't brinjal too?
But yes we are talking about those fruits which are more on the sweeter side and are usually enjoyed off your hand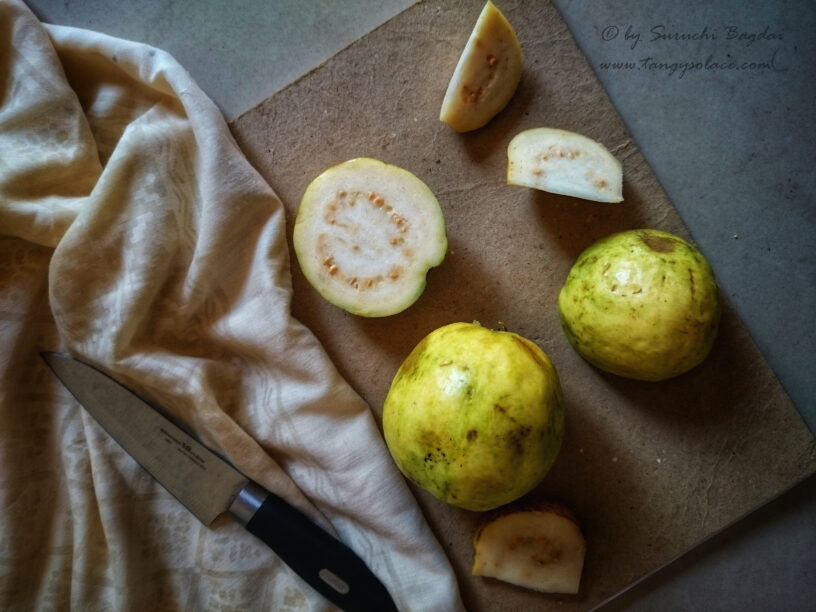 Today we are talking about guava or jaam or peru or amrood whatever you like or any other names that you know of. These months of winters you could see all your fruit vendors selling lots of guavas cut and kept in front of their carts to lure you in with their white and pink colors and its creamy seedy texture inviting you to take a bite in its sweet tart flavor. And they have it all raw to ripe spread across in heaps as it depends on the buyer how they like it and when they want to consume it or for what purpose it is? Like we need ripe guavas for our sabji.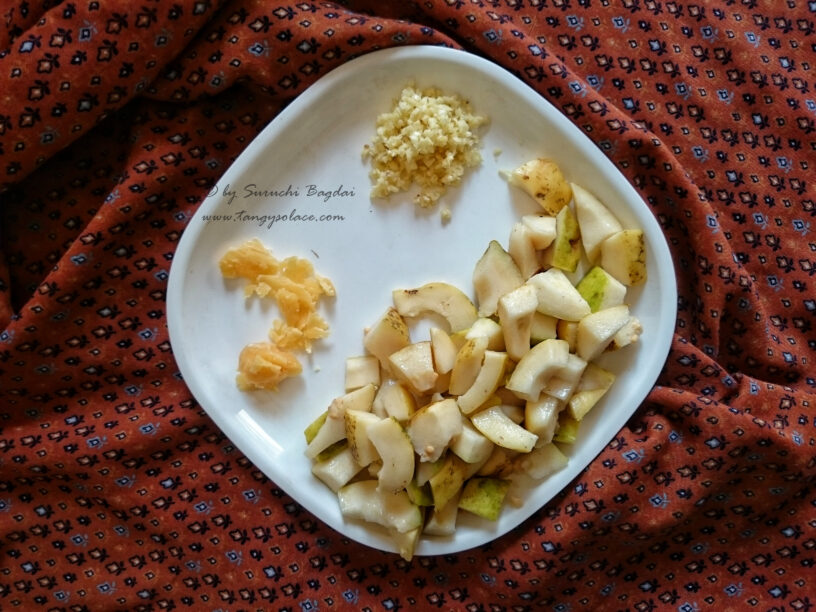 Well Wikipedia says we were the largest producers of guava in 2011. But I am not sure if we were the largest exporters and what fun guavas can be grown in potted plants and you can start enjoying the fruit in 2 years.
They are a rich source of vitamin C, dietary fibers contains a good amount of vitamin A and potassium keeping your infections at bay, your gut smooth and controlled blood pressure.
I used to love the jaam shaak when I was small it was sweet and spicy at the same time and definitely it was different then other, basically for the very reason of getting to eat a fruit with a flatbread and not feeling weird in fact it became more tastier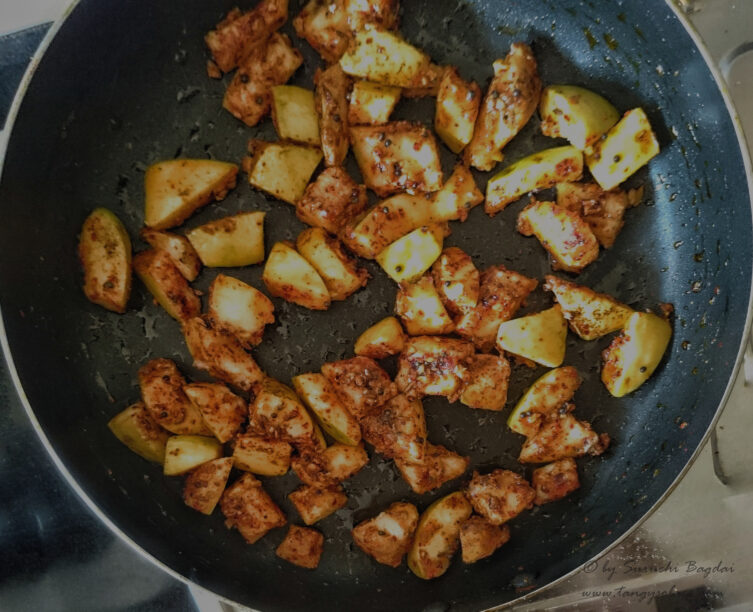 In fact who hasn't tasted guava with salt and chili powder or experienced most of their childhood around it and not loved it and now I feel it's been years I had tasted one when my aunt made it recently during my hometown visit and my thoughts went spiraling down the memory lane. So today, I am going to make the jaam nu shaak again so you can try it with the help of the recipe while I enjoy it with some piping hot phulkas off my tawa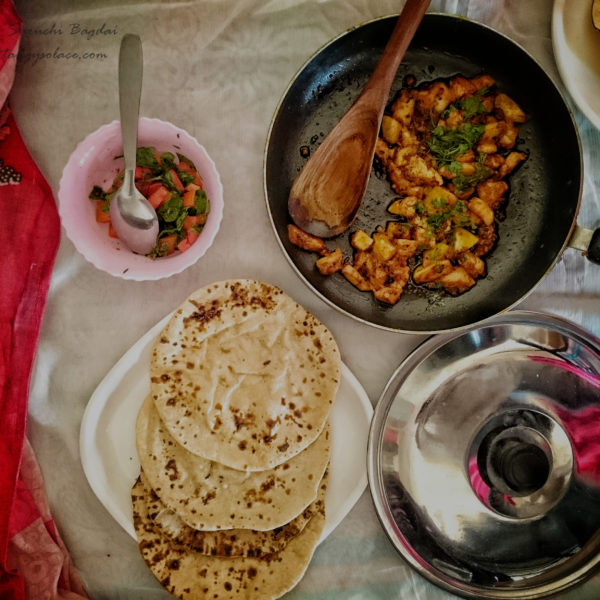 Jam nu shaak (Dry guava curry)
Ingredients
250

grams

Guava(ripe)

2

tbsp

Oil

1/2

tsp

Mustard seeds

1/2

tsp

Cumin seeds

pinch

Asafoetida

1/2

tsp

Turmeric powder

1

tsp

Garlic paste

2

tsp

Red chili powder

2

tsp

Coriander powder

1/2

tsp

Garam masala

to taste

Salt

2

tbsp

Water

1/2

tbsp

Jaggery

(as per liking)
Instructions
Wash and cut the guava into bite sized pieces. Ensure that you remove the seeds off but do not remove the skin as you want the fiber goodness.

Heat oil on a medium flame, then add the mustard seeds, cumin seeds and aseofotida. Let the seeds crackle.

Add turmeric powder, garlic paste and let it cook till the raw flavour of garlic goes away for half a minute or so.

Then add guava to it and add spices i.e red chilli powder, coriander powder garam masala and salt.

Then add 2 spoonfuls of water and let it cook you do not want to add too much of water as the curry has to be dry and the guavas pieces soaking up the spices.

It doesn't take much time for the guava to get cooked through almost ….. check yours before turning off the flame.

Then turn off the flame and add jaggery as per your taste(you can even use sugar if you don't have jaggery on hand)

I love it best with phulkas enjoy your too its ready.