There is always a quintessential recipe which all families follow lest there are guests coming to your house.
And one such recipe I find common in Gujrati households especially mine or my relatives would be the rassawala bataka nu shaak , with or without the added meaty baingan in winter or let it roll by and you would find loads of added peas or vataana to eat as a plethora of them are in season.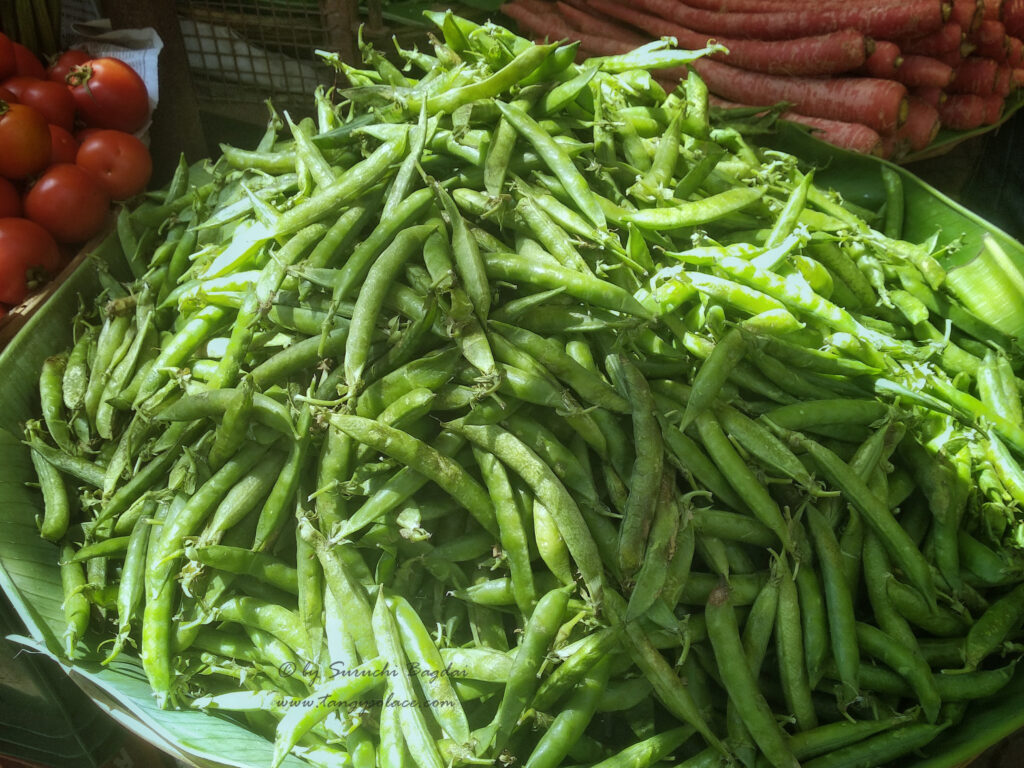 Variety of achaars, cut vegetables, Papad, puri, a nice sweet dish usually kheer or aamras, sambhaaro and our curry with the humble potato.
I know for sure, just like me you too love it, it's that spicy goodness which you can mix with the oh so soft rice that your family makes and slurp the tarri with the sticky morsels while the big chunks of potato and peas offer a nice contrast and demands you to chew it right.
This is precisely the time when elders in my home decide to buy in bulk, de-shell and deep freeze them until they last to make delectable varieties.
Peas are those vegetables for me which were the first to come around in packets frozen and the other was corn. May be there were others too but these were the ones we focused on when we looked in a supermarkets deep freezer .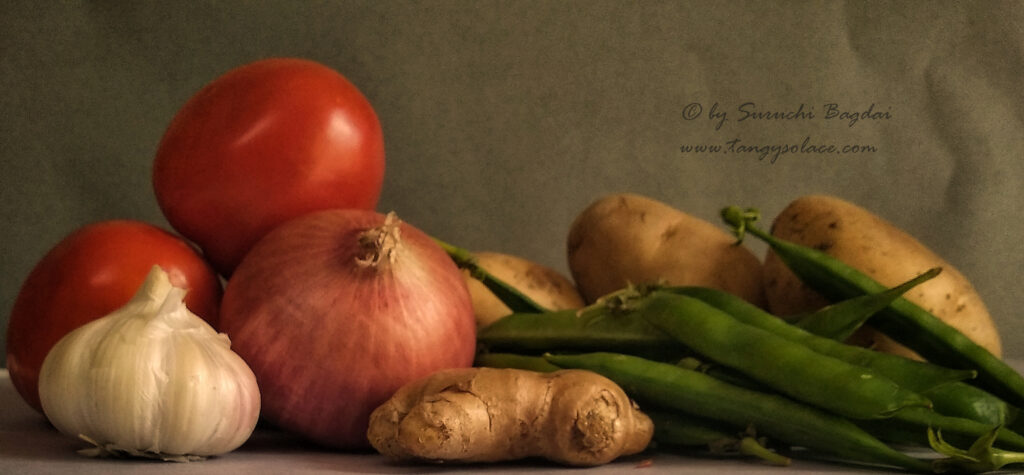 I am not a frozen pea fan or even for that matter fresh peas gone starchy, although all these can be used for curries.
The best way to buy peas is-1.First of all eat seasonal kids
2. When u buy look for velvety green skin and a feel of medium sized peas, the bigger bulgy ones with almost greyish tinge are usually not that sugary.
But there's always fun seeing an abundance of unshelled pea pods brought home when in season. Quite of them washed and snacked right then raw without any form of unnecessary cooking, some used in making curries like we are doing today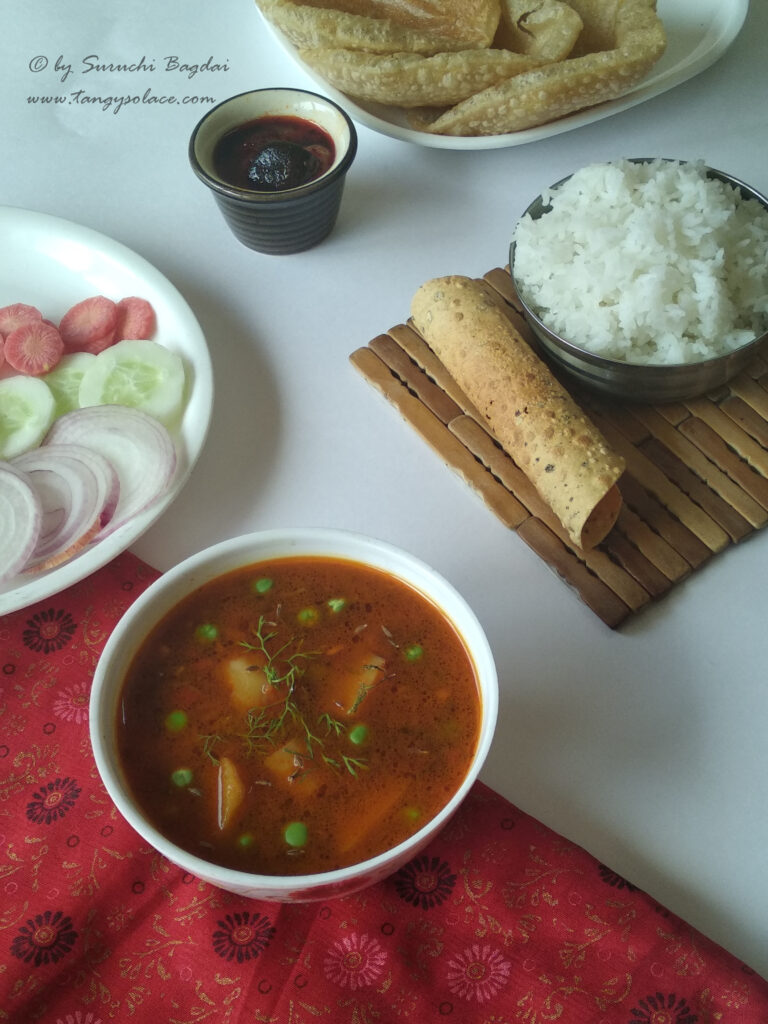 Majorly of them devoted to a good sauté on a kadhai to bring out all its caramelization topped with some salt to enjoy also known as the time we spent binge watching tv and snacking this sweet salty goodness and our maa and badi maa asking us not to be so imprudent about it.
Ok! What's so adventurous here you might ask. you just pull through the skin and eat up all the seeds. right? Well its foolhardy because we know pods may contain worms in them so its always better to check and eat But do ensure that you don't deny yourself of the salty goodness of the skins.
Apart from the energy source carbohydrates peas are also vegetarians haven for much needed protein and also offer a good dose of fibre along with adequate quantities of vitamin A.
It regulates blood sugar levels and helps in maintaining good eye sight be cautious though over consumption usually leads to bloating.
I think me and my roomies have dined our way with this beautiful pea sauté and could manage just some peas for the curry. Well here's a recipe to try.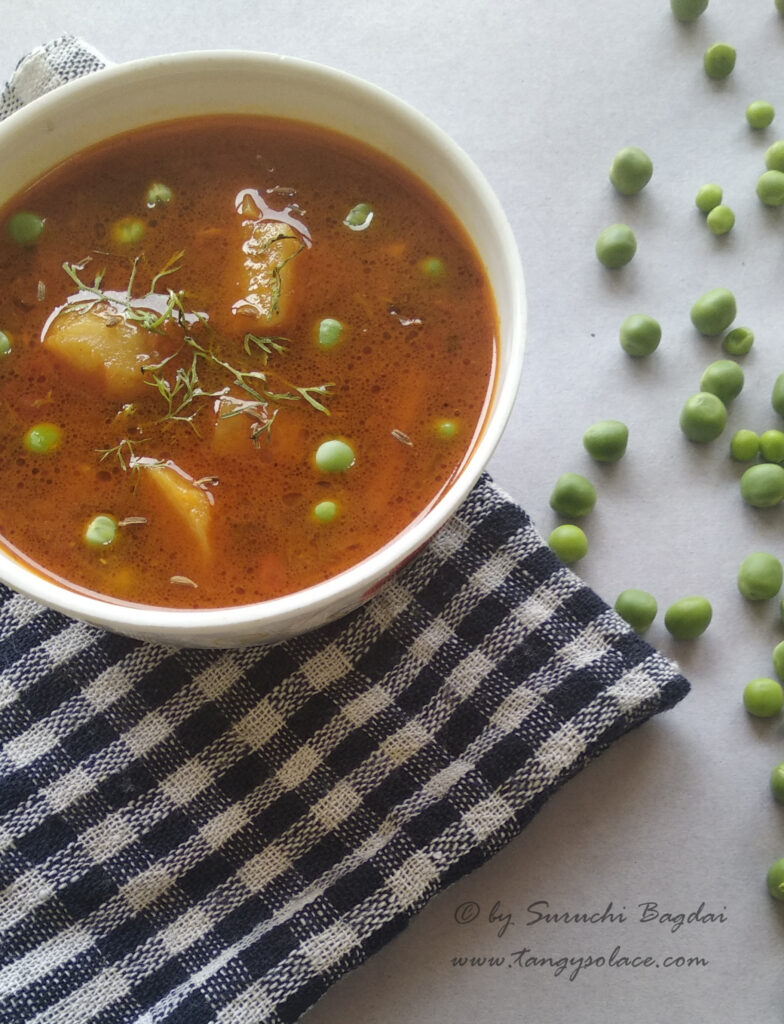 Maybe next time some guest rolls over to your house you serve them this no fuss simple seasonal variety with puffed up hot puris just like my family does keeping traditions as they say and what better way to bid farewell to winter than these tiny sweet green balls a.k.a "vataana"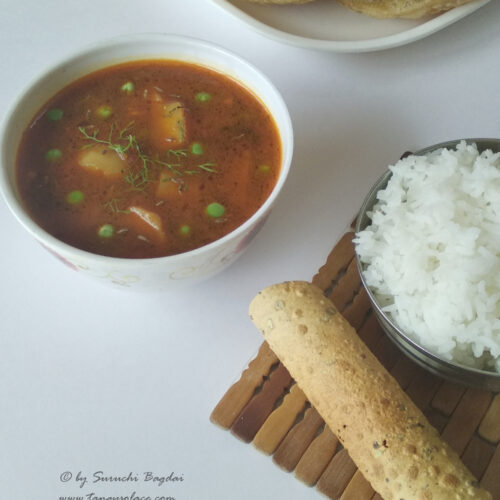 Potato and pea curry (Vataana bataaka nu shaak)
Ingredients
2

tbsp

Oil

1/2

tsp

Mustard seeds

1

tsp

Cumin seeds

1

pinch

Asafoetida

1

nos

Onion large (finely chopped)

2

nos

Green chilly(finely chopped)

5-6

cloves

Garlic finely chopped

1

inch

Ginger finely chopped

2

nos

Tomato medium (finely chopped)

1

tbsp

Coriander powder

1/2

tsp

Cumin powder

1/2

tbsp

Chili powder

1/4

tsp

Turmeric powder

3

nos

Potatoes (medium size)

boiled and cubed

1/2

cup

Fresh peas

shelled

as required

Water

to taste

Salt

1

tsp

Sugar

2

tsp

Kasuri methi

crushed

2

tbsp

Malai

4

tbsp

Coriander leaves (finely chopped)
Instructions
Wash and prepare your vegetables.

Heat oil in a pan. Add cumin seeds, mustard seeds and asafoetida and saute till they crackle.

Now add the chopped onions and let them cook on medium flame till golden brown.

Add the chili and ginger garlic and saute for about 30 seconds and add in the chopped tomatoes and a bit of salt.

Allow the tomatoes to cook completely and add the powdered spices saute and let them cook for about 30 seconds on low flame stirring continuously.

Add in the peas and some water and cover and cook for more 5 minutes.

Add in the boiled potaoes. Adjust the consistency with water to make a curry.

Adjust sugar and salt. And finally finish with some broiled kasuri methi, homemade fresh cream and coriander leaves.