Summers approach and the fruity smell of mangoes, melon, lychee etc linger around you enhanced by the smoldering heat. Well, how interesting it is that seasons, smells and nostalgia are so connected. If you still haven't got the hang of my rambling, remember the petrichor smell?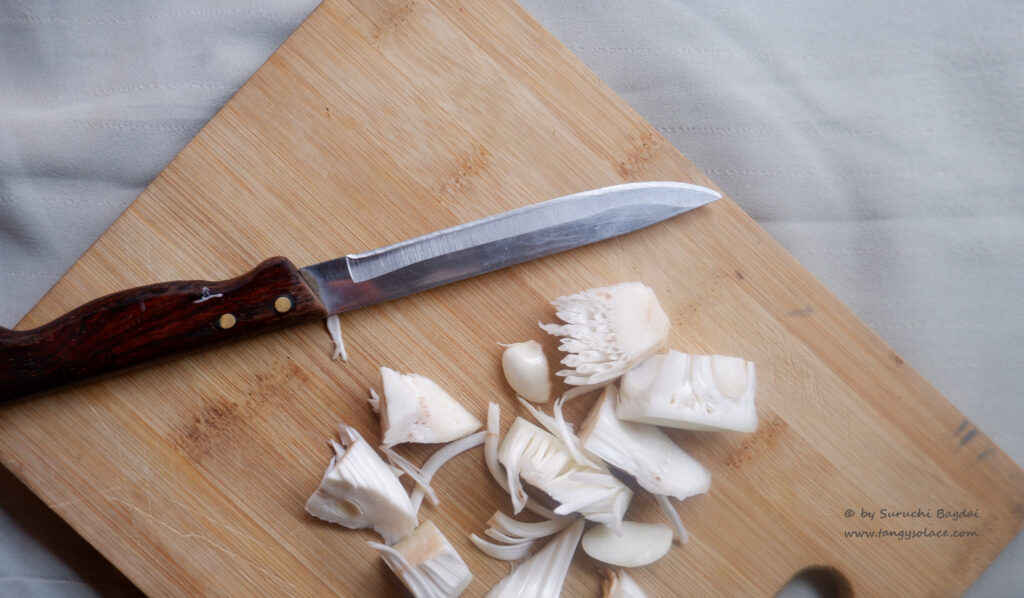 Ah now you get it!
But where is jackfruit here? Well for me its weirdly a very big yet a very small part of my childhood.
The strong smell- I never really admired it, or maybe it was never made common or acceptable thanks to the aversion to try new things in the family and nor did I understand the difference between raw and the fruit variety. For me it was all the same.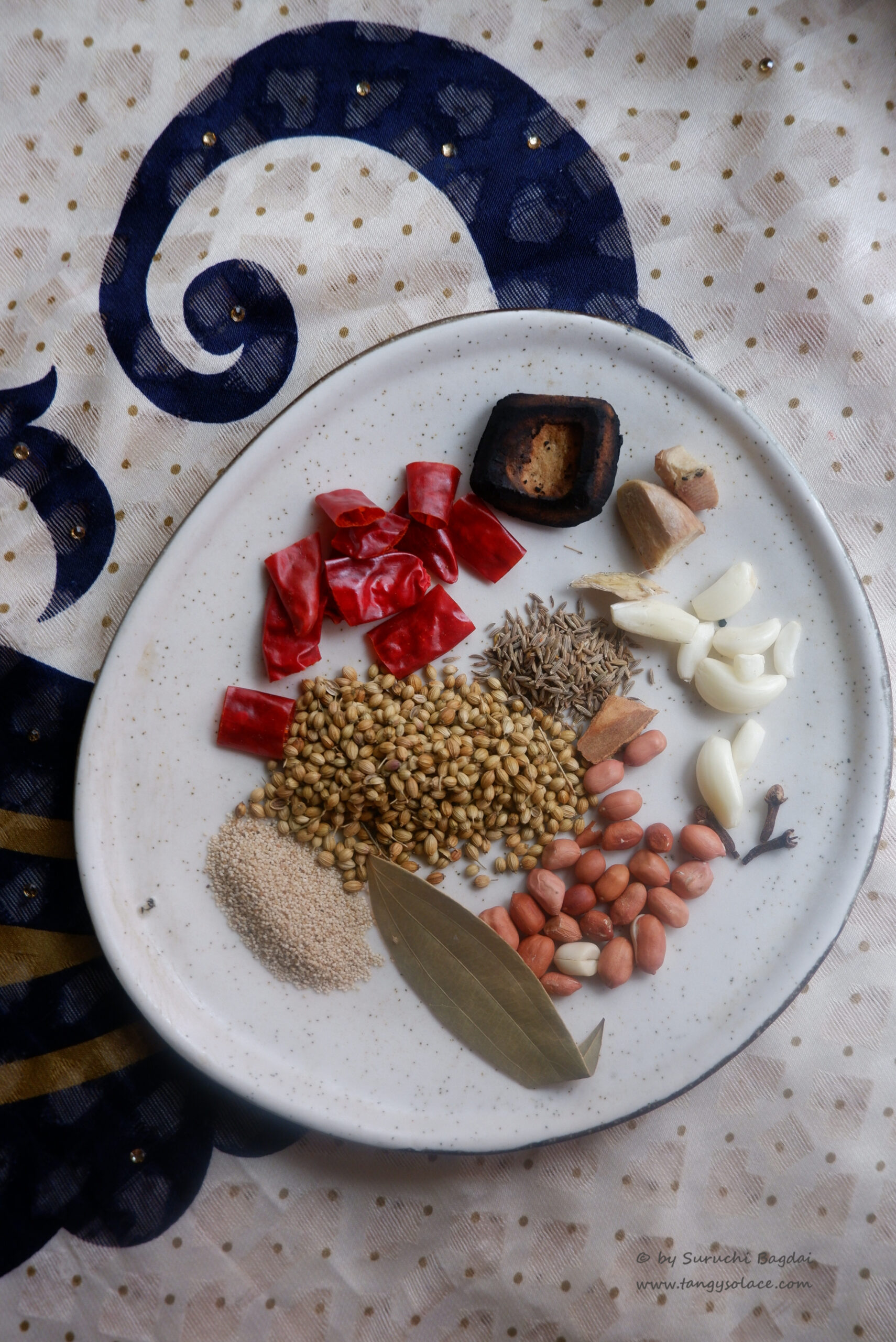 And sometimes when my mom or aunt prepared the curry, I would be not be ready to try it out remembering the matured versions smell. Wish I knew better.
With maturing taste buds, beneficial nutrition filled with a heavy dose of carbs giving you a steady source of energy in the tropical climates, being a rich source of fruit protein and antioxidants, I am in love with both the types.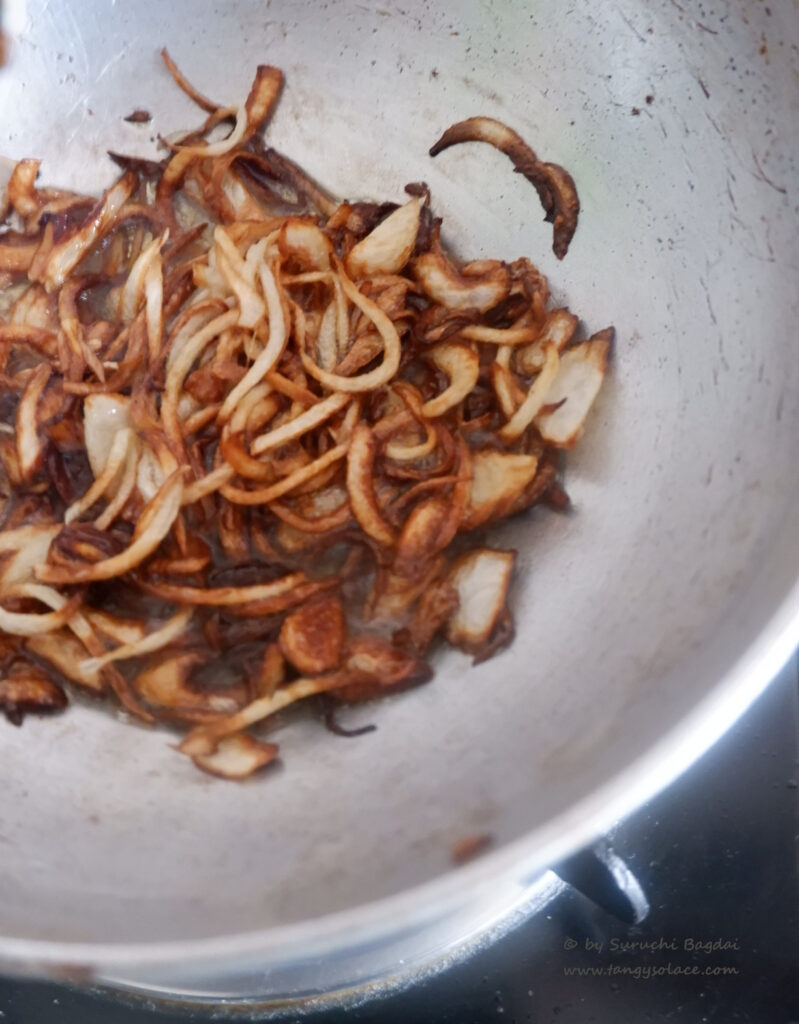 And variability in acting as mock meat it is every vegan's trending go to food.
And I aspire to offer a traditional regional jackfruit curry from Vidarbha as an ode the region that has always fed me as well as to bridge the gap between modern trends and traditional recipes.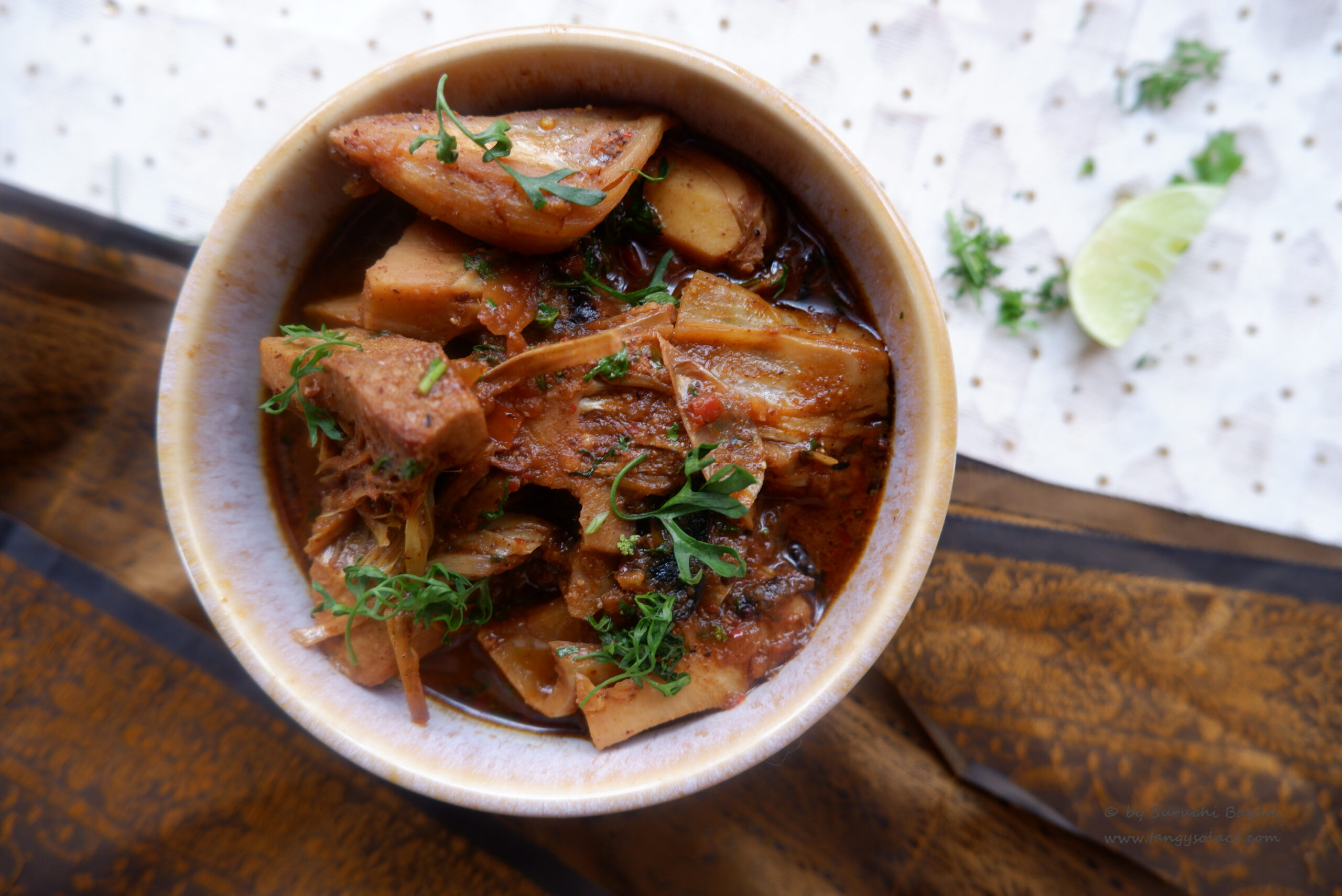 This recipe was shared to me by my sister-in-law. So, a big shout out to here for frequently sharing some or the other food story/recipe.
There are some fruits and veggies that you discover so late or may be appreciate that you wish against it.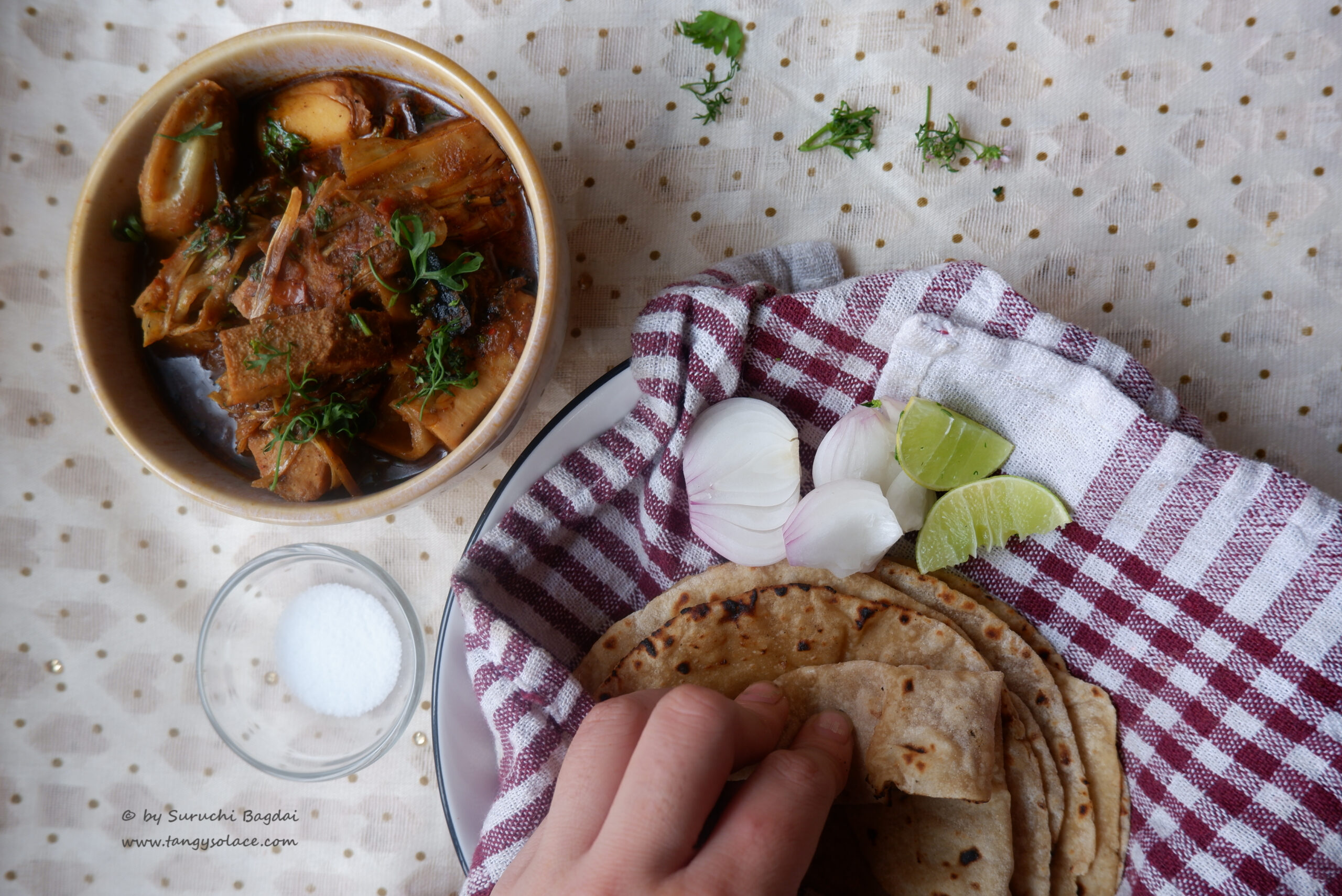 But better late than never, welcome to the team jackfruit we have missed you.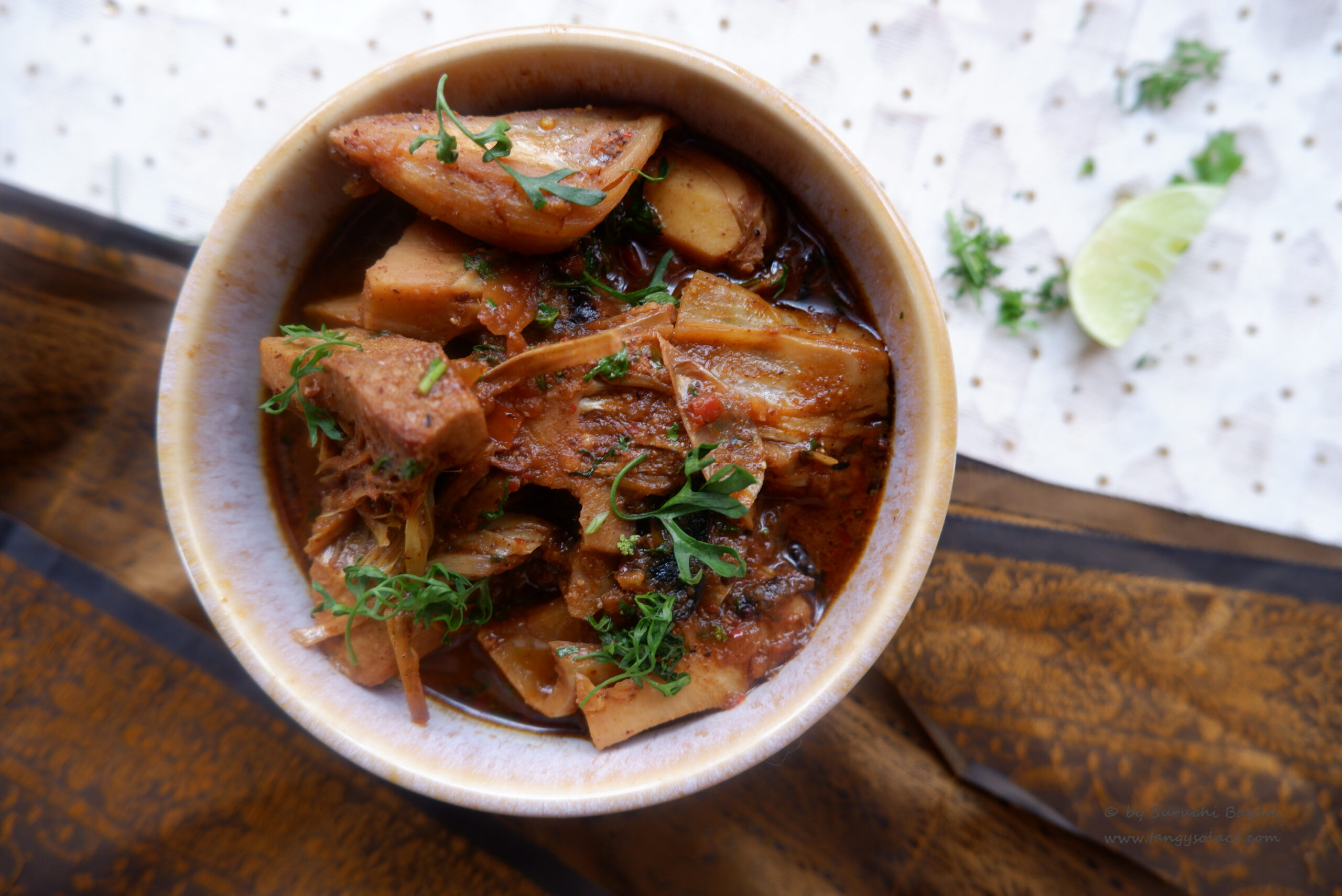 Vidarbha Fanas masala (Vidarbha style jackfruit curry)
Ingredients
For powdered masala
2

tbsp

Coriander seeds

Dry roast

1

square inch

Flame roasted coconut

Later cut into small pieces

1

tsp

Oil

1

nos

Bay leaf

1

inch

Cinnamon

3

nos

Cloves

1

tsp

Cumin seeds

1

inch

Ginger

8

cloves

Garlic

1

tbsp

Peanuts

1

tsp

Poppy seeds

3

nos

Red chillies
For pre-prep
1

tbsp

oil

1

nos

onion

large

5

tbsp

oil

250

gm

Cut Jackfruit

Ensure oiling before cutting into cubes.

2

pinch

salt
For curry
4

tbsp

Oil

Leftover from jackfruit sautéing process

1

tsp

Mustard seeds

1

tsp

Cumin seeds

1

pinch

Asafoetida

2

nos

Tomato (optional)

Medium (The tomatoes are usually replaced with 1 tsp of amchur powder or fresh mango slice during summers)

1/2

tsp

Turmeric

1

tbsp

Coriander powder

1

tbsp

Red chilli powder

2

tbsp

Masala powder

4

tbsp

Brown onion paste

Onion already considered above

3

cup

Water

(=200ml)

250

gm

Jackfruit

(Already considered above)

to taste

salt

2

tbsp

Coriander

1/2

tbsp

lemon juice
Instructions
For powdered masala
1. Dry roast coriander seeds and remove.

2. Roast coconut on naked flame.

3. Roast all other ingredients in oil in the mentioned order.

4. Cool and grind together to a dry powder.
For pre-prep
1. Slice onion and sauté in oil till properly browned.

2. Cool and make a paste.

3. Heat up oil to sauté the cut jackfruit cubes.

4. Add the cubes pinch of salt and sauté for 3-4 minutes on medium flame.

5. Cover and cook on low flame for 10 mins. Stirring occasionally to avoid sticking at all costs.
For the curry
1. In the same pan and leftover oil, temper mustard seeds, cumin seeds and asafoetida.

2. Cook the powdered masalas for a minute on medium flame.

3. Add chopped tomatoes, pinch of salt and cook till they mash properly and release oil.

4. Add the prepared brown onion paste.

5. Add jackfruit water and salt and bring to a boil.

6. Simmer on low flame till the jackfruit is completely done and oil floats on top.

7. Finish with fresh coriander and lemon juice.