The karwanda launji…Sounds so exotic right or too local?
What can I say? So happy to see a new dish being added to my repertoire. While I was brainstorming over the next monsoon recipe for my blog maa came in to say she has brought karwandas and enquired whether I wanted some.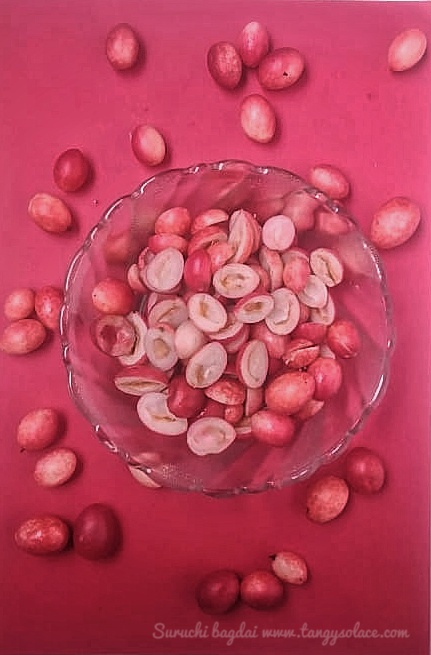 And I was thinking-but the karwandas available in Mumbai, the purplish and soft type to be enjoyed of hand which are served on leaves for some 10-20Rs, half of which are irresistibly tasty and the other half the lady's revenge for her hawking monotony sneaked in equally among each packet. But all of them are equally sticky mind you. Was she talking about those?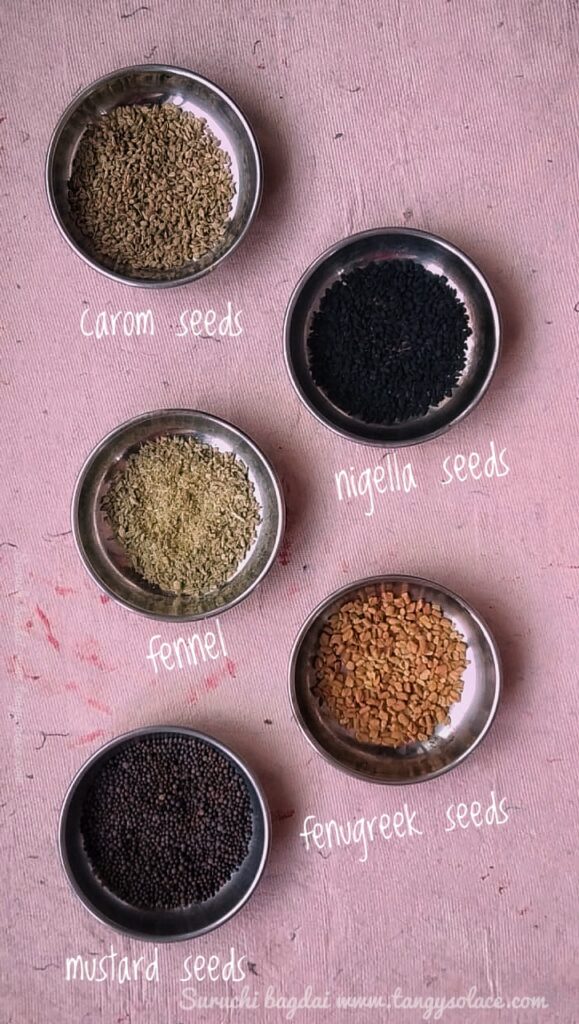 And when she showed me the oblong just ripe red pink varieties, I was like how could I even forget these beauties achaars and chutney have been made in its praise, and it suddenly struck all though both varieties are available in both the regions it's just that one version is more popular in one area than another.
Could the causes be differences in markets, varieties grown, purpose of growing, its ultimate culinary purpose… Who knows maybe?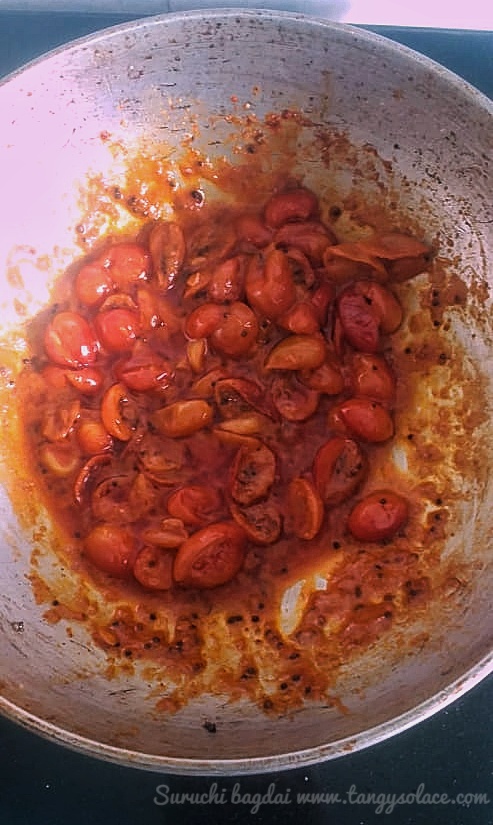 I would rather eat these tangy bites on their own with some salt sprinkle to round of the sourness and accepting the astringent puckering feel once in a while. And for its closeness to cranberry all cranberry fans why don't you try making a juice out of it and tell me how this local substitute works.
Found in abundance in areas of high temperatures during monsoons we can't ignore its availability in India and the neighboring countries. A Rich source of vitamin C is great for immunity building especially during the season and current scenarios of the pandemic.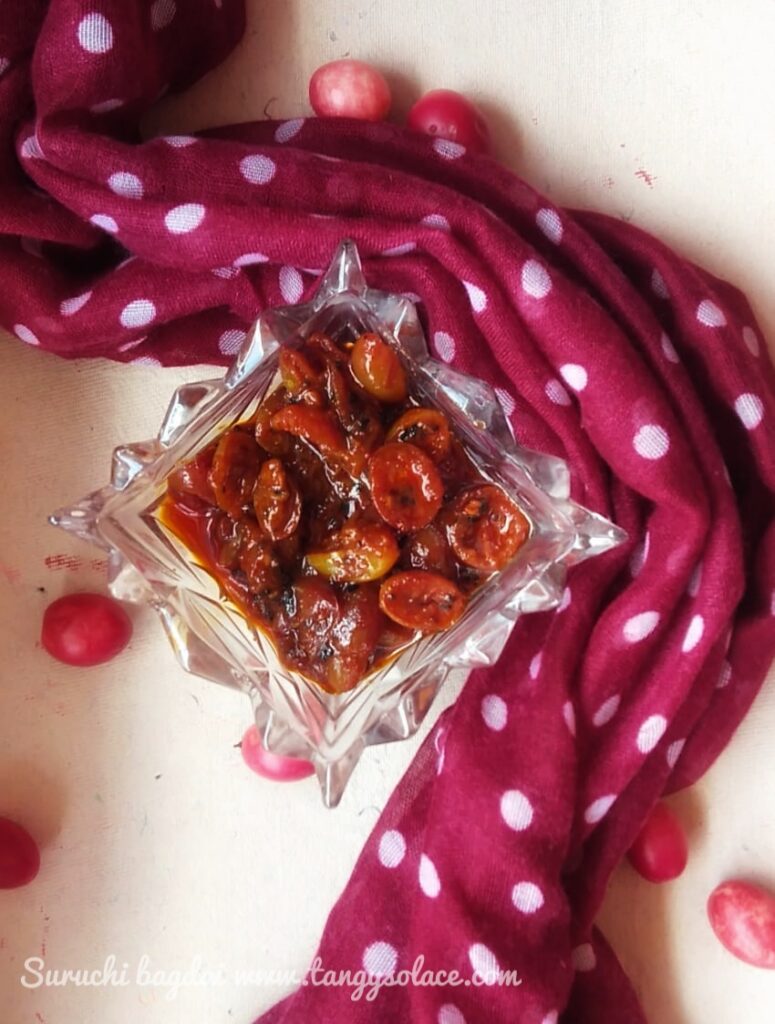 And while I was biting through one of that sour karwanda berries she asked if I would like learn to make a launji out of it. Her Nani used to make it a lot and they used to enjoy it a lot as a relish. The similarity to panchphoran makes me wonder if my nanis source was a bengali auntie. Sounded interesting the only thing baffling was why hadn't I tasted it before? The expression in her eyes were clear to say changed times and changed choices and how some recipes fade to the background.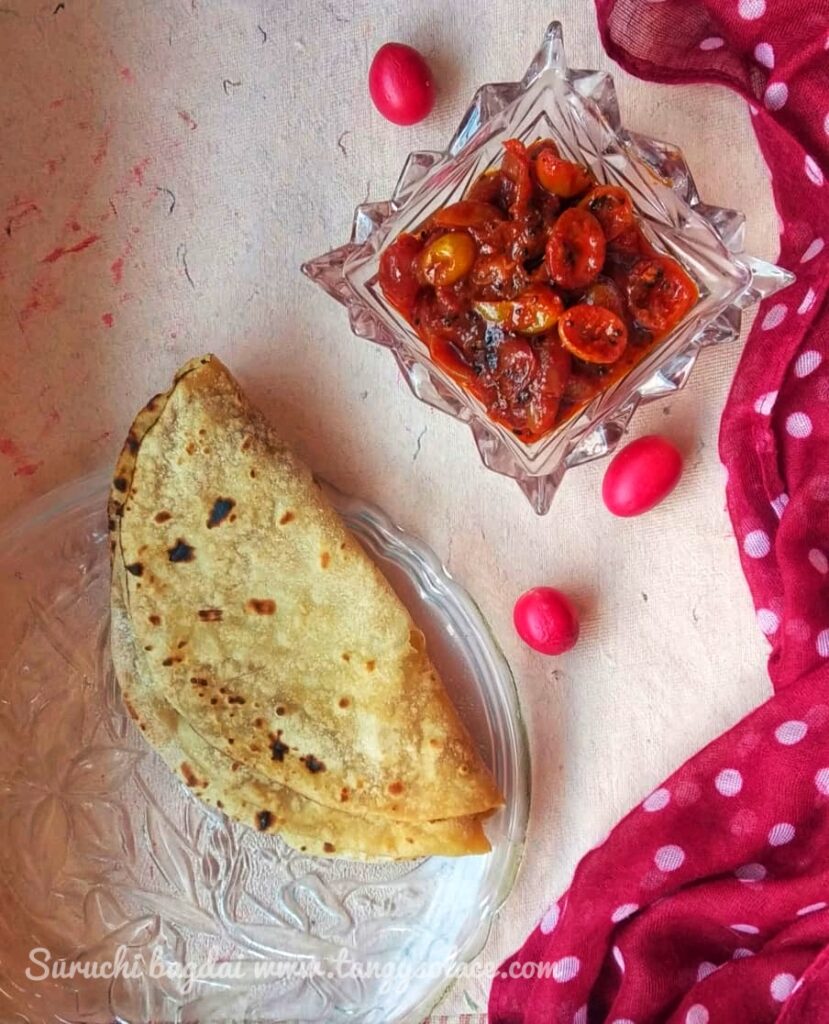 So, let's all learn this interesting recipe but one doubt needs to be cleared right what is launji?. Imagine a wildly sweet and sour tempered Indian relish and you are good to go. A seasonal cook depending on the ingredient. Let's begin.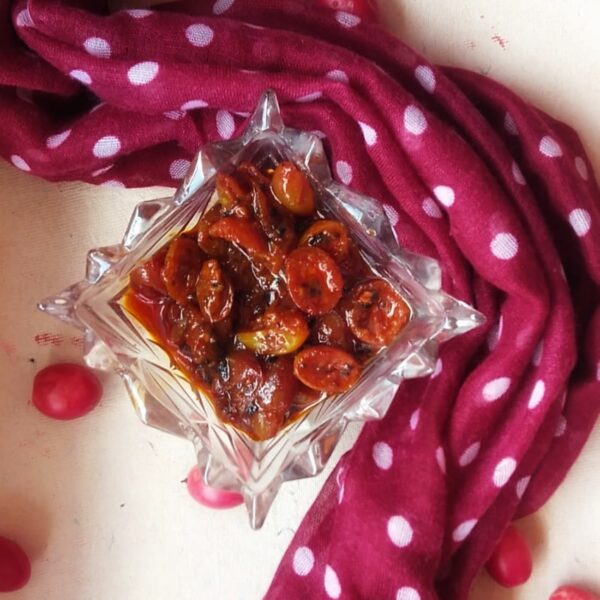 Karwanda launji (Sweet and sour carandas relish)
Ingredients
3

tbsp

Oil

1

tsp

Mustard seeds

1/2

tsp

Carom seeds

1/4

tsp

Fenugreek seeds

1

pinch

Asafoetida

20

nos.

Carandas

seedless and cut in four

1/4

tsp

Turmeric powder

1 1/2

tsp

Red chili powder

1

tsp

Coriander powder

as needed

Water

to adjust consistency

to taste

Salt

5-6

tbsp

Jaggery

1/2

tsp

Fennel powder

1/2

tsp

Nigella seeds
Instructions
Wash and prep your carandas in seedless 4-5 wedges.

In a pan heat oil for tempering.

Crackle mustard seeds, carom seeds, fenugreek seeds and asafoetida in quick succession.

Add your karandas and stir and cook until you start to see them soften.

At this point add in your spices and saute well, cook 'em well.

Once the carandas soften mix in the grated jaggery and simmer for 2 mins

Add salt to taste and adjust consistency with water to get saucy texture.

Finally finish off with the fennel powder and nigella seeds.