Aged pickle is a tangy accompaniment with every meal in an Indian house hold and summers are the go-to time for pickles, you find yourself shopping for lots of raw mangoes trying to find wholesale sources. You make them in bulk as you plan for them to last at least a year. How many kinds of mango pickles can your house boast of? And yes, I am sure we all have many in our culinary journal of tried and tested grandma recipes.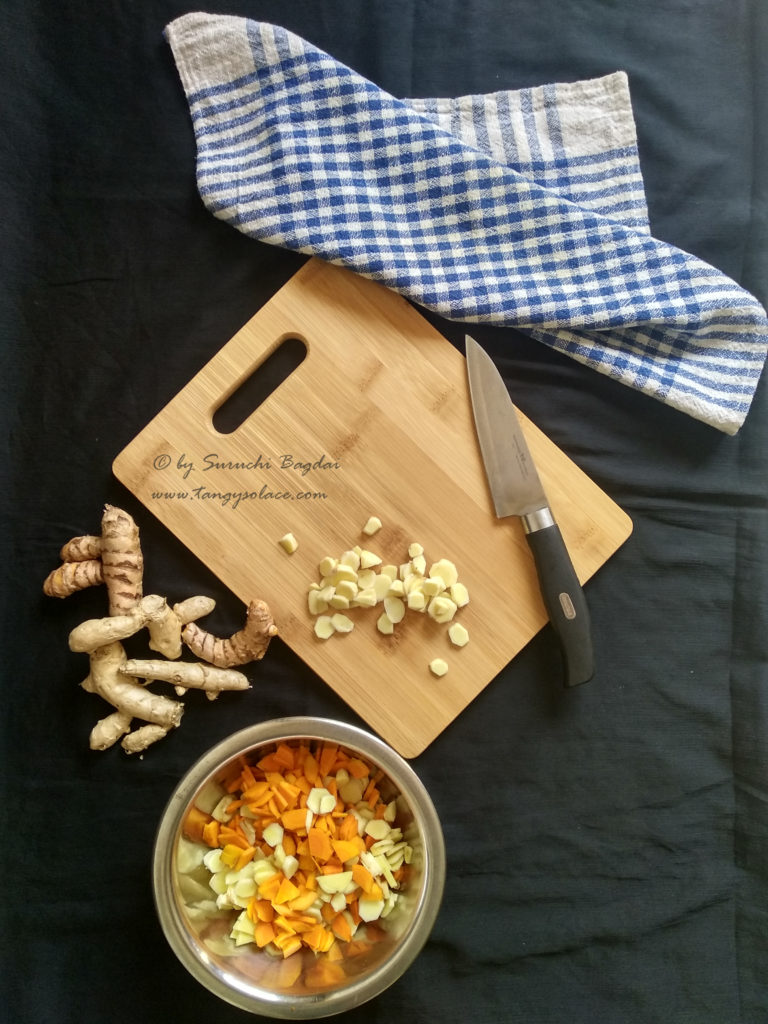 But then there are some pickles which are best made in winters as you find this produce at its best in winter season. All of India prepares various winter pickles for their households. Turmeric, gooseberry, carrot and other pickles which I may not be even aware of.
  One of the pickles prepared in my home is haldi adamuri nu athaanu. Adamuri is the gujrati name for mango ginger. And this pickle is a testament to the perfect wedding of turmeric and mango ginger flavours. The flavour of mango ginger resembles the sourness of raw mango along with the sharp astringency of ginger and hence the name but do remember it is neither related to ginger nor mango but part of the turmeric family.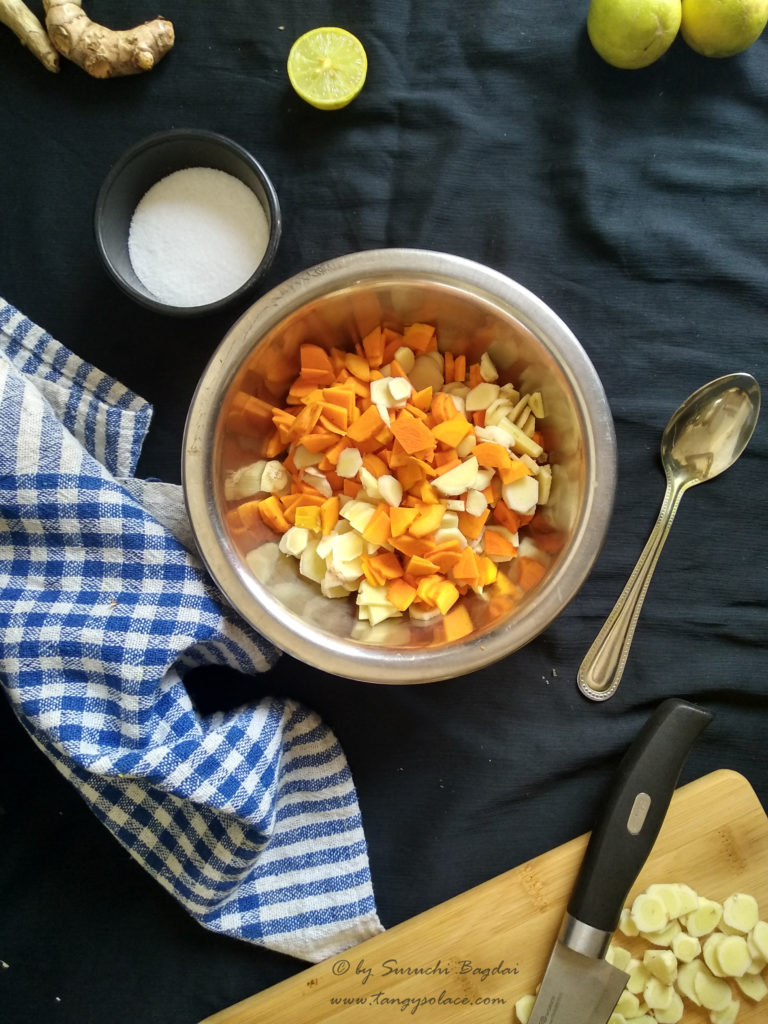 Mango ginger is a great appetizer, it helps with digestion, also an expectorant helping us relieve from cough and cold and not only that it also helps in detoxifying your body because of its antioxidant properties. Haldi as we all have experienced throughout marriage ceremonies that it is a great antiseptic, it's been well known to help against swelling because of its anti-inflammation attributes. And both have at the very least have anti-bacterial and anti-fungal qualities to keep your immunity strong and is a very strong reason to incorporate it in our diets in right dosages.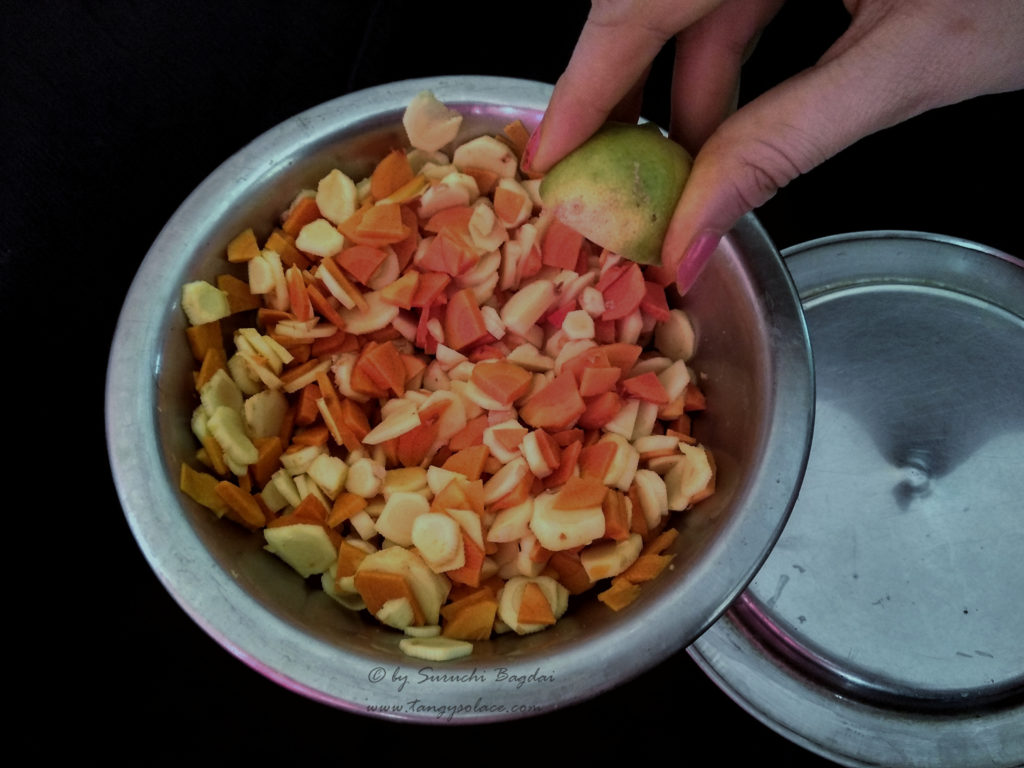 And what better way than pickling them?
Pickling is a revered activity in my family it is the time when culinary knowledge and techniques are passed down through the generation it is a true time for family bonding but it is also a guideline in cleanliness too as you
would always find your elders shouting on you for not being hygienic enough or double dipping (it is almost a sin while making pickles ) all this because the pickle is meant to be stored for long duration and gifted to friends and relatives. So slightest complacency might ruin it but I know I was far away from these ideals and would secretly eat some salt drained rhizomes while acting to help out.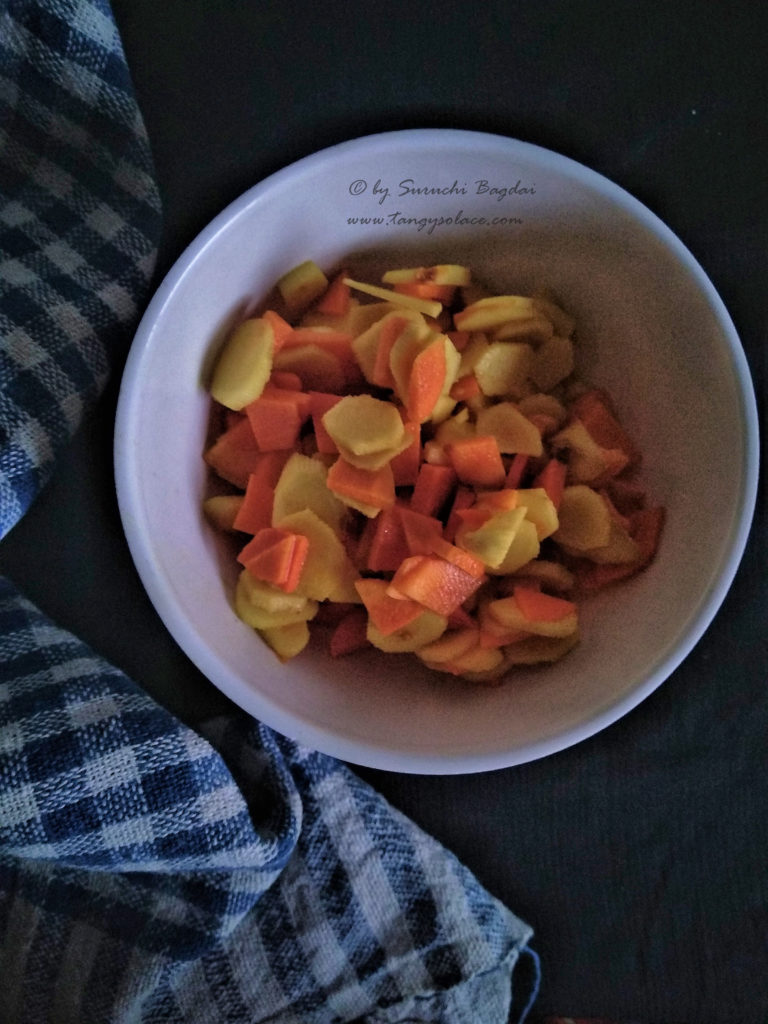 Although I don't need to wait all year round to enjoy this achaar as it is always stocked but I specially wait for winters only to live the experience of making it with my family. But as I stay away from them now, I really miss that and wish to recreate that same fresh achaar here. This achaar can be prepared in various ways and as I am well aware that I am still starting out I would make a simple pickle. Although a little daunting I hope that soon I would be able to make the masala pickle with a little practice but till that I hope you all try this simple recipe and bottle up the nutrients and flavour and enjoy while it lasts. I am pretty sure your smacking lips and licking fingers won't allow that for long.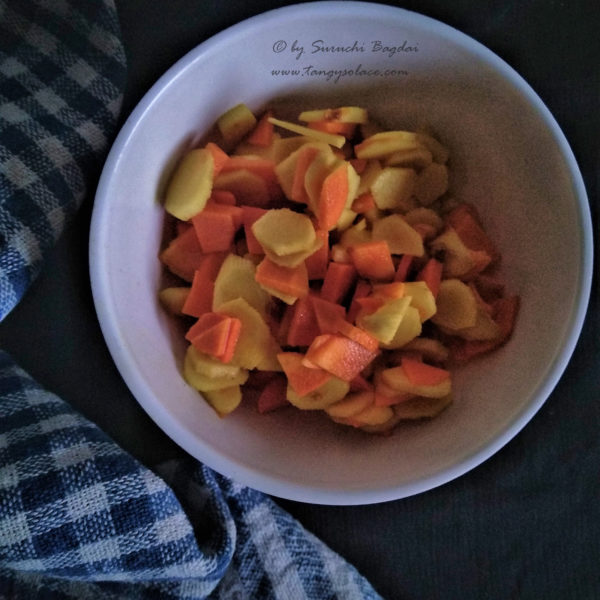 Haldi adaamari achaar (Turmeric and mango ginger pickle)
Ingredients
250

gram

Fresh turmeric

250

gram

Mango ginger

3-4

nos

Lime

to taste

Salt
Instructions
Wash and peel fresh turmeric and mango ginger.

Then cut in dices, slice them or grate them to your choice.

Add fresh lime juice to it and salt according to taste.

Keep it covered in a mixing bowl or container for two to three days fill in sterilized bottles and enjoy with your meal.

Don't forget to stir it two times bottom to top every day for first two days before you transfer.